PROVO — BYU running back Jamaal Williams is expected to hear his name called during the NFL draft, potentially as high as round two, but three-five, according to some projections.
Same with linebacker Harvey Langi, a multifaceted athlete who played as many as four positions in switching between running back, linebacker, defensive end and fullback and is quickly rising up draft boards.
But there's another athlete from BYU who remains an intriguing prospect for NFL scouts: quarterback Taysom Hill.
The 26-year-old signal caller worked out as a quarterback for at least 28 teams during his Pro Day workout at BYU last month — and he's starting to have a few of them come around to him as an NFL playmaker prior to Thursday's NFL draft in Philadelphia.
"Taysom Hill for BYU had an injury history, and most people don't really know him. But he is one who several people who looked at his film think has a future in the NFL, if he can just stay healthy," said Ian Rapoport, an analyst with the NFL Network.
OK, but what about that health? Hill's season ended early in four of his five seasons of eligibility — three times to Utah State and once in the season-opener at Nebraska of what should've been his senior year, when he obtained a medical redshirt.
If an NFL team isn't sure about Hill because of his injury history, that can be expected. But he assured reporters after Pro Day that he is 100 percent healthy after an elbow injury suffered in the Cougars' 2016 season finale against the Aggies.
"My rehab went faster than what I expected, so I did a few more drills on little preparation," he said. "I'm happy with what I did."
The Pocatello, Idaho, native's first step was to run an adequate 40-yard dash in front of pro scouts — and he put up a shifty 4.44-second time. For comparisons, such a time would've finished among the best. Texas A&M quarterback Trevor Knight ran the fastest 40 for a quarterback at 4.54, and Tennessee's Joshua Hobbs had a 4.64.
Hill also posted a 38.5-inch vertical jump, and a long jump of 10 feet, 2 inches on a day when he initially wanted to just run the 40 and finish without talking about his future position.
"I'm talking about playing," he responded to multiple questions about his future in the NFL.
As an athlete, Hill's numbers stand up well. He compares favorably to Stanford's Christian McCaffrey, even.
The Cardinal do-everything running back posted a 4.48-second 40; a 10 foot, 1-inch broad jump; and a 37.5-inch vertical leap at the NFL Combine — and he's rated as the No. 8 overall prospect by NFL.com.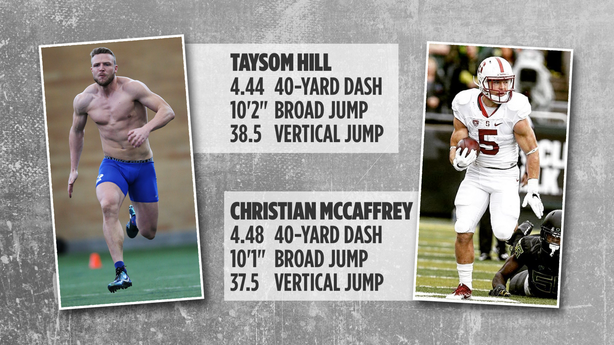 Still, Hill will turn 27 in August — and for comparison's sake, his freshman year at BYU was McCaffrey's sophomore year at Valor Christian High School in Colorado. Age can be a detriment to a lot of NFL teams.
But Hill has one former NFL quarterback in his corner: BYU offensive coordinator Ty Detmer.
"He's had offseasons where he hasn't been able to work on his technique because of injuries and other things," said Detmer, who had a lengthy NFL career. "If somebody takes him and works with him, they'll have a mental and physical guy who has all the tools.
"He's smart, and he has a few things to clean up — but that comes with work and reps and offseason training. There have been several years where he hasn't been able to do that."
There's little doubt that Hill will be successful in his post-BYU career — even if that doesn't include football. He graduated from BYU's Marriott School of Management with a degree in finance last April, and held several prestigious internships and work experiences with Fortune 500 companies.
But the chance to play pro football comes in a limited window for the elder statesman of the BYU program. And he wants to see where athletics can still take him.
"I love the game," he said. "The time frame to play at this level is short, so I'm going to take advantage."
Photos
Related Stories
0 Pending Comments
Sorry, we are not accepting new comments on this story, but if you have more to contribute please email
newstip@ksl.com
Showing of 64 comments
Sorry, we are not accepting new comments on this story, but if you have more to contribute please email
newstip@ksl.com