Estimated read time: 5-6 minutes
This archived news story is available only for your personal, non-commercial use. Information in the story may be outdated or superseded by additional information. Reading or replaying the story in its archived form does not constitute a republication of the story.
LOS ANGELES — Jaxson Dart's first experience with BYU and USC football on the same field had nothing to do with the home team when he made an official visit to the game in 2019, or the visitors to whom he ultimately committed two years later.
It had more to do with a punter.
"The very first thing I remember was walking and seeing Ben Griffiths the first time," Dart said of the Trojans' 6-foot-7 punter from Melbourn, Australia. "Their field (at BYU) is a little higher, and I remember thinking that is the tallest punter I've ever seen in my life."
After a laugh, Dart continued about the Cougars' 30-27 overtime win.
"BYU games are always super packed. They're fun to be at," Dart said after practice earlier this week in Los Angeles. "I remember it was an intense game, it went back and forth, and BYU was super excited to get that win. We're going to try to take it back and get those bragging rights."
Now the starting quarterback as a freshman a year after leading Corner Canyon to the school's third-straight state title, Dart knows he has his work cut out for him.
The first time he saw BYU and USC — from the sidelines that clear September afternoon in Provo — he didn't really have a rooting interest. Sure, BYU was the first team to offer him a scholarship, after his sophomore season when then-quarterback coach Aaron Roderick saw him throw during an incoming juniors camp and offered him a scholarship to BYU on the spot.
But Dart, whose father Brandon played safety at Utah from 1994-2000, grew up a Ute fan and didn't really hold much allegiance to the Cougars. Truth be told, he didn't really fancy the Trojans, either.
"With SC, Utah had always struggled with SC, so I had some hard feelings toward them, too," he said with a smile. "I didn't really have a rooting favorite for that game."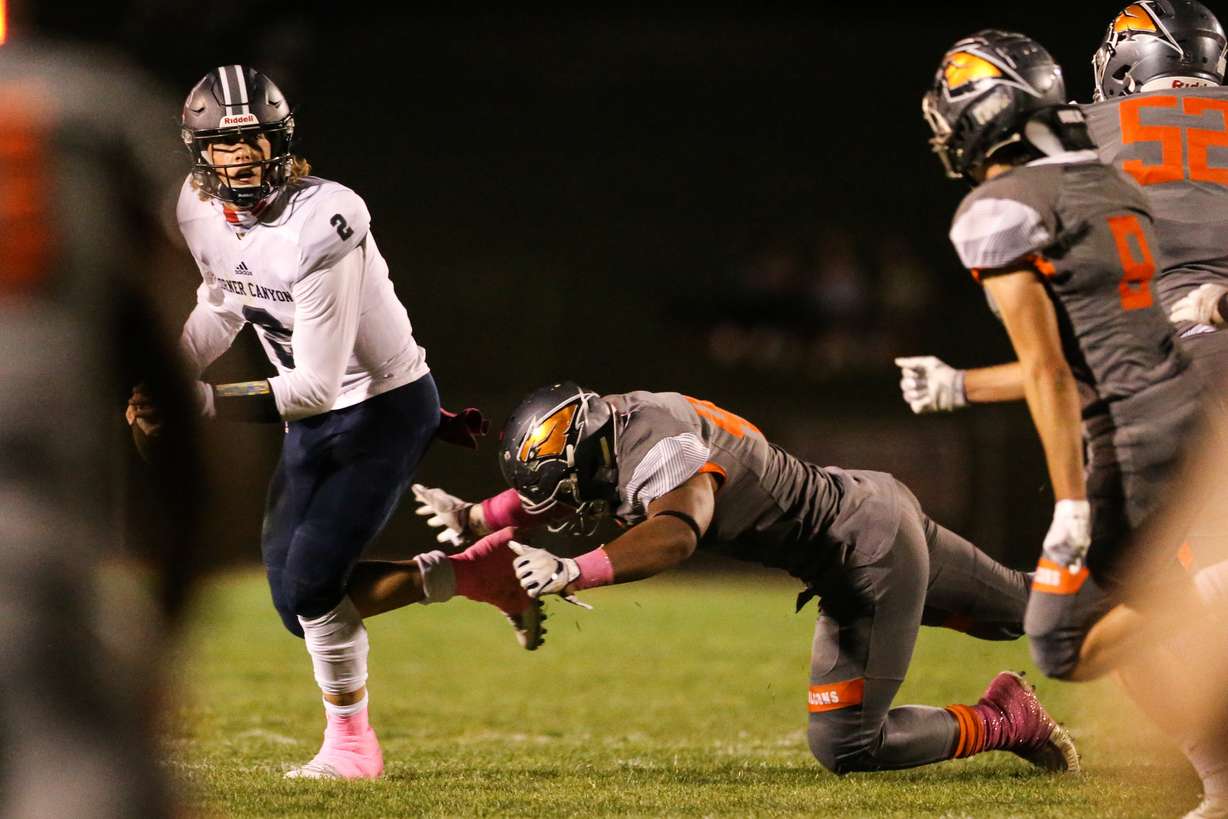 This time, it's different. The 6-foot-3 freshman from Kaysville will start his second career game when USC hosts 13th-ranked BYU (9-2) invades the Los Angeles Memorial Coliseum, looking to go 5-0 against the Pac-12 on Saturday night (8:30 p.m. MT, ESPN).
There will be no holding back for the former Utah Mr. Football and National Player of the Year by Gatorade and MaxPreps with 914 passing yards, seven touchdowns and five interceptions on the year. The state's all-time leader with 67 passing touchdowns in a single season is taking his spot at the helm of a USC franchise in transition, with interim head coach Donte Williams and a squad still awaiting a new head coach since Clay Helton was fired in September following three years of speculation.
For many, there is no better leader for the Trojans (4-6) in a time of transition. Just ask the coach who first offered the Kaysville native a scholarship while he was still in his three seasons at Roy High.
There's something special about Dart.
"If you do this long enough, you can tell within a few minutes which ones are the guys who have a chance to play at this level," Roderick told KSL.com. "He stood out right away at this camp.
"I wish him the best. He's an awesome kid, and he's going to have a great career down there. I'm always cheering for him — except for this week."
Beyond his arm talent, poise in the pocket, and overall athleticism — Dart totaled 10,683 yards through the air en route to 12,018 yards over four years at Roy and Corner Canyon, with 135 total touchdowns — he also had that off-the-field "it" factor that the Trojans are just starting to see.
"He's an excellent player, and a great kid," Roderick said. "Their offense is scoring a lot of points, with good players at every position."
Dart will be key for a USC side needing to win each of its final two games to earn a bowl game. Wide receiver Drake London is injured and presumably off to the NFL, where he'll likely be joined by former starting quarterback Kedon Slovis.
The Trojans rank 27th in total offense nationally, but just 89th in rushing offense, with Keontay Ingram averaging 91.1 yards per game to pace USC's 139.3. On the other side of the line of scrimmage, the Pac-12 hosts also give up an average of 172.8 yards on the ground, as well.
But against a BYU defense that has been known to drop eight players into coverage — the Cougars did back in 2019, and it famously led to the game-sealing interception through Dayan Ghanwoloku — Dart knows he'll have time to throw, if he stays patient and takes what the defense gives him. From there, it's up to USC to do what USC normally does: score, and score often.
"When they drop eight, it's not like they're going to get a lot of pressure on me, so I'm gonna have some time and I just got to take what the defense gives me," he said. "We'll just slowly march it down the field if that's what it takes."
Every game matters for a USC team in transition — both for bowl eligibility, and for the future. Dart will play a role in that future, and that's his focus even as he plays out the Trojans' final games of the season.
"I want to go out this year with no regrets," Dart said. "I want the whole team to have that same approach; coach Donte talks about it a lot in our team meetings. We've got to have the same mentality, to compete, and win each day leading up to the game.
"End this year off in a really good way, and help us carry into next year."
How to watch, listen and stream
No. 14 BYU Cougars (9-2) at USC Trojans (4-6)
Los Angeles Memorial Coliseum
Kickoff: 7:30 p.m. PT
TV: ESPN (Dave Flemming, Rod Gilmore, Stormy Buonantony)
Streaming: WatchESPN
Radio: BYU Radio, KSL 1160 AM/102.7 FM (Greg Wrubell, Riley Nelson, Mitchell Juergens)
Series: USC leads, 2-1
Remember LA: The Cougars are visiting the Coliseum for the first time since 2003, when eventual Heisman Trophy winner Matt Leinart threw for three touchdowns en route to a 35-18 win. BYU has just one win in the three-game series, a 30-27 overtime victory in Provo on Sept. 14, 2019.
Sup, Coach: USC has two members of the coaching staff who played at BYU, including defensive line coach Vic So'oto. The 2010 graduate played tight end, linebacker and defensive during his career with the Cougars, totaling 45 tackles and a team-high 11.5 tackles for loss and five sacks as a senior in 2010. Additionally, defensive qualify control assistant C.J. Ah You played at BYU in 2001 and 2003 before finishing his career at Oklahoma. He is the brother of BYU recruiting and player personnel director Jasen Ah You and uncle of BYU safety Chaz Ah You.
Pac-12 Perfection: The Cougars are looking to go 5-0 against the Pac-12 for the first time in program history. BYU has four wins against the Conference of Champions in 2021, including Arizona, Arizona State and Utah ahead of its final game against a member of the Pac-12 South.
×
Related stories
Most recent BYU Cougars stories