DRAPER — Jaxson Dart thought he was doing something with the Pac-12 Network, and maybe some team media things like the "Fresh 15" video feature he had recently gone through in his first year at USC when he arrived at his old stomping grounds at Corner Canyon.
But what his high school coach Eric Kjar neglected to tell him was that his name was about to be placed in the ranks of the best high school football players in the country.
And the guy lifting him to the honor by turning over the trophy? Former Clemson quarterback Trevor Lawrence.
Dart was selected as the Gatorade National Football Player of the Year, the first such honoree from the Beehive State, the organization announced Wednesday morning.
"It honestly doesn't even feel real yet," said Dart, who received the award via private video conference from Lawrence late Tuesday afternoon. "It's going to take some time to sink in, for sure. I'm just in shock, and can't believe I'm in the same discussion for awards as some of those guys."
Dart is the first national football player of the year from Utah since Gatorade started sponsoring the award in 1985. The latest honoree joins a long list of athletes that includes Emmitt Smith, Peyton Manning, Kyler Murray and Justin Fields — as well as a group that has won six NFL MVP awards, made 31 Pro Bowl appearances, and received two Hall of Fame honors.
The award caps a remarkable senior season for Dart, who earned Deseret News Mr. Football honors and went on to a bevy of national awards, including MaxPreps National Player of the Year.
Dart has conducted himself well in the whirlwind year of 2020 with media interviews as he's steadily risen up the ranks from Roy quarterback to Corner Canyon star to four-star recruit headed to Southern California. So he wasn't surprised that the Pac-12 wanted to interview him, for a feature or a game day package, or whatever it was.
Even Lawrence, arguably college football's top quarterback over the last three years until he was selected with the No. 1 overall pick in April's NFL draft by the Jacksonville Jaguars, took notice.
The coveted 6-foot-6 NFL rookie-to-be had never met Dart prior to their virtual encounter this week. But he quickly learned an important lesson about the rising college quarterback about whom one high school teammate bound for Oregon gleefully said "that kid's going to the NFL."
"I know what the Gatorade National Football Player of the Year stands for, and I know he's doing something right, because they look at more than just football. That says a lot," Lawrence said. "He seems like a humble guy, but he's pretty confident in who he is. I think USC is in good hands, from what it seems like to me."
Dart didn't ask a whole lot of questions about the chance encounter — until he saw Lawrence's face show up on his computer screen, and then he immediately reacted with emotion.
"I think right then that I thought it wasn't for the Pac-12 anymore," he joked. "That's when he announced that I had won the award, and my family and friends came in from the back."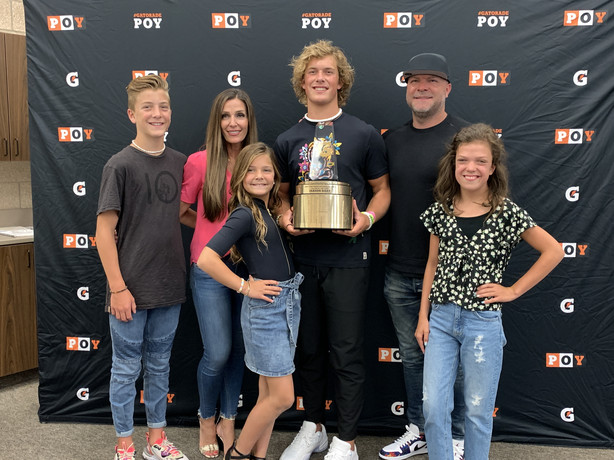 Subsequently, Dart was surrounded by family, coaches and teammates — including Kjar — who showed up to physically deliver the trophy, as Dart knew from his virtual interaction with the most recent top quarterback in college football.
After a whirlwind season that included moving, changing schools and winning a state title, the son of former Utah safety Brandon Dart was again making national headlines — and not just for his work on the field.
"Time and again, we see Gatorade National Players of the Year go on to great things, such as playing on professional teams, winning National Championships, as well as becoming coaches and role models for future generations of athletes," said Gatorade senior vice president and general manager Brett O'Brien in a statement from the organization. "Jaxson Dart joins a list of impressive student-athletes who have won the prestigious award and we are confident he is headed for a lifetime of similar accomplishments."
Lawrence took a moment to talk with the shellshocked Dart, then he described the types of players and athletes who have received similar awards in the past — from Manning and Smith to former U.S. women's national team star Abby Wambach and WNBA standout Elena Delle Donne.
"It's really special to be a part of that," said Lawrence, who signed an endorsement deal with Gatorade last month. "I love how it's three things involved in that. It's obviously what you do on the field, what you do in the classroom and in your community. I think that's a super cool thing for an award that prestigious to make all those things just as important as the other one."
All of those aforementioned players — including the rising star and most recent No. 1 overall draft pick Lawrence — have gone on to accomplish great things, both on and off the field.
Now it's Dart's turn.
"There's no shortcut to get what you want," Lawrence said, sharing part of what he told Dart on that video call. "You've got to work for it. No matter who you are, no matter what you want to do, it's going to be hard to get to what you dream of doing."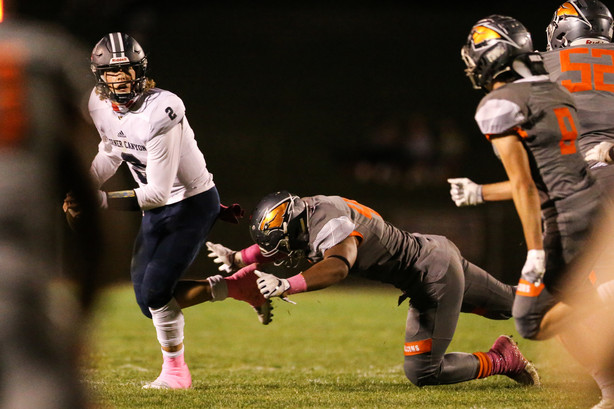 Dart moved to Draper prior to his senior year looking for more opportunities in Kjar's offense, and the senior exploded on the local and national level with the Chargers in 2020. The 6-foot-3, 215-pound signal caller completed 69% of his passes for 4,691 yards and 67 touchdowns — the best in the nation, according to MaxPreps — in leading Corner Canyon to an undefeated 14-0 record with wins over most of the top teams in Class 6A and a third consecutive state championship.
Dart ranks fifth in Utah High School Activities Association history with 10,683 passing yards, sixth with 603 completions, and third with 135 career passing touchdowns. His single-season mark of 79 total touchdowns is the second-best mark in state history, and the most since Logan's Riley Nelson accounted for 84 in 2005.
The four-star recruit and No. 7 pro-style quarterback by 247 Sports in the 2021 signing class, Dart graduated early from Corner Canyon and enrolled at Southern California, where he immediately jumped into spring football with the Trojans.
In USC's spring game in April, Dart connected with wide receiver Michael Jackson III on a one-handed grab in the back corner of the end zone during the annual cardinal-and-gold spring showcase at the Los Angeles Memorial Coliseum.
Dart is one of six quarterbacks (including three freshmen) on USC's roster, including returning starter Kedon Slovis, the Heisman Trophy contender who completed 70% of his career passes for just shy of 5,500 yards and 50 touchdowns.
Can see some #SCTop10 plays happening in these guys future 👀 @JaxsonDart@mike3jack#FightOn✌️ pic.twitter.com/lgDHlBoYJK

— USC Football (@USC_FB) April 17, 2021
"This spring has been a dream come true," Dart said. "USC for any quarterback in the west is the mecca of college football. It's an elite program with great people, and I've loved it so far.
"I think my biggest thing was just to learn the offense as fast as I can. I always had faith in myself that if I worked hard, things would work out."
The Gatorade Player of the Year award honors more than on-field excellence, but also places emphasis on classroom and civic engagement. Dart volunteered regularly at his local food bank and through a number of clothing drives, while also assisting elderly members of his community.
After graduating with a 3.98 GPA, Dart enrolled at USC as a communications major, where he is taking classes at USC's acclaimed Annenberg School for Communication and Journalism.
He plans to become a sports broadcaster one day — if and/or after the football thing doesn't work out.
Dart doesn't know where he'll put the Gatorade trophy, but he knows he'll remember this day for years to come.
"I don't think it's going to be something I forget overnight," he said. "This will be something I celebrate my whole life. But I feel like I have a lot more dreams to chase.
"This will be something I celebrate for the rest of my life, and with the men and women who have won it before, it's crazy to even be in the same category as them."
×
Photos
Related Stories