Estimated read time: 4-5 minutes
PROVO — The record isn't the same and the roster has slightly fewer five-star talents on it, not to mention an interim head coach whose future with the program is uncertain.
But as BYU prepares for its regular-season finale in Los Angeles, USC is still USC.
The Trojans (4-6, 3-5 Pac-12) are coming off a 62-33 drubbing by crosstown rivals UCLA and face a must-win game on senior night against their final nonconference opponent in order to earn a postseason bowl bid under interim head coach Donte Williams.
That leaves Southern California — the 11-time national champions fallen on hard times with its fifth coach in the past decade — facing a rare must-win game to simply prolong its season. Still, the Trojans have "tons of talent," including former Corner Canyon quarterback Jaxson Dart who is expected to start his second collegiate game Saturday (8:30 p.m. MT, ESPN).
"I'm excited about the matchup against USC," BYU coach Kalani Sitake said Monday. "A ton of talent and athleticism. It's their senior night and we are expecting their best shot. We know that they are still playing for bowl eligibility.
"This is our opportunity to play our best. I'm looking forward to the matchup."
It's not the only thing that will be rare Saturday night in the LA Memorial Coliseum.
For only the 13th time since 1926, the Trojans won't be playing national rival Notre Dame or UCLA on Thanksgiving weekend. In the Cougars' first trip to the Coliseum since 2003, they'll find a team playing a non-rival on the holiday weekend for just the second time since 1999.
Of course, that's not all bad for USC; the Trojans won 11 of those previous 13 games, and haven't lost to anyone not named UCLA or Notre Dame on Thanksgiving weekend since Washington in 1941.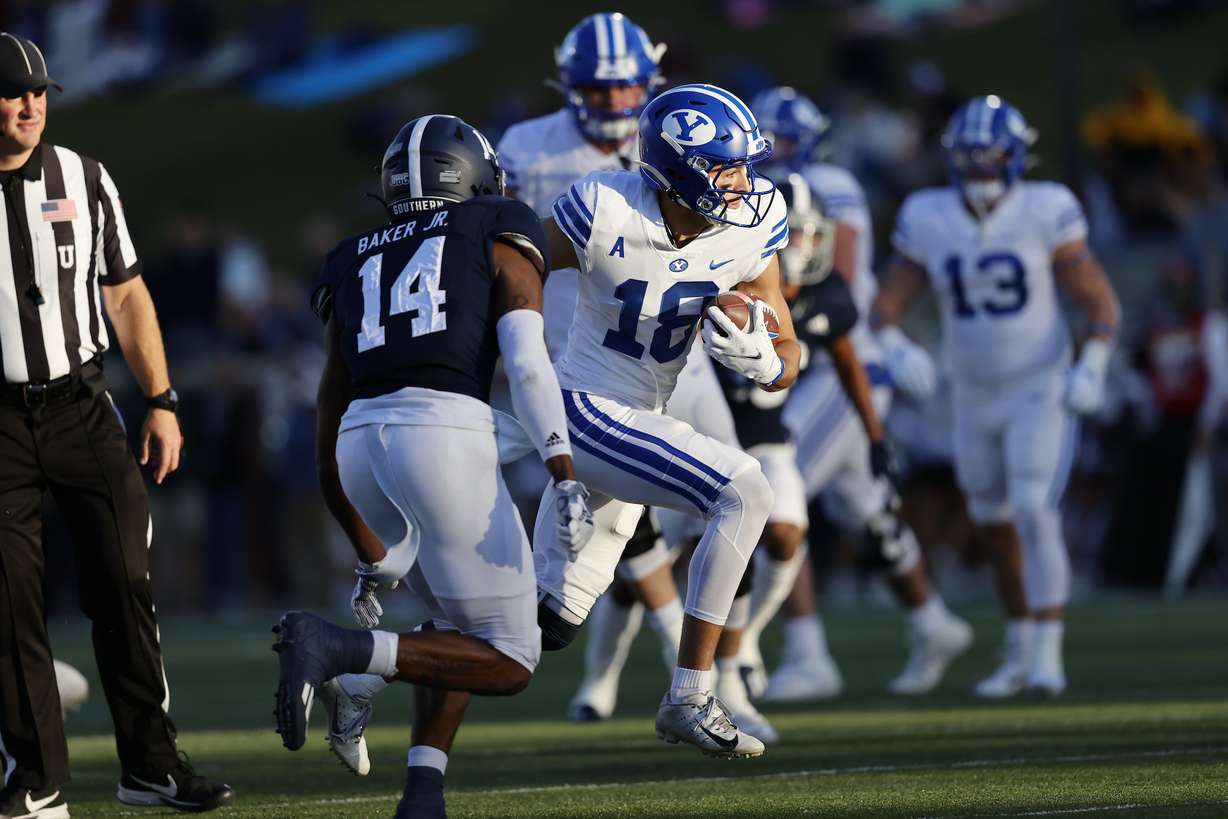 Even without the lofty record next to the logo, USC is still USC — especially for the 20 players on BYU's roster from California.
"USC is definitely a team that was everybody's dream school to go to," said BYU defensive back Malik Moore, who prepped at Point Loma High School near San Diego. "USC is a historic place to play and hopefully Cougar nation fills it and it's a good show out for us."
Moore added he's had friends and family asking for tickets to the game since "before we played Arizona" in the season opener. Ditto for fellow defensive back Kaleb Hayes.
"It's going to be amazing," said Hayes, an Oregon State transfer from San Bernardino. "I'm very ecstatic to play USC. I've never been to the Coliseum; we played them there my freshman year at Oregon State, which I redshirted. But I heard it was exciting; the stadium itself just has a name to it.
"It's going to be great to play there."
BYU is ranked in the Associated Press Top 25 in both football and men's basketball for the first time since 2007. It follows the Cougar Cagers' first 4-0 start of the Mark Pope era, and comes a weekend after the school won two cross-country national titles, a conference title in women's volleyball, an NCAA Sweet 16 match in women's soccer, and a club championship in extramural men's soccer.
All of those accolades — and then some — have two things in common, Sitake said: athletic leadership, and fans.
"We have great people here working on campus. We have awesome student athletes," he said. "Teams are having success. The No.1 thing is the fans. That's the common denominator amongst all teams. We have a huge advantage. I don't know how many we had at the Georgia Southern game, but it was at least 10,000. The fan base is unbelievable and they make some noise. All sports want to keep their fans happy."
BYU football is still playing for something, as well — the chance to win 10 games in back-to-back seasons for the first time since 2009, including half of them coming against the Pac-12. That's not on Sitake's mind — game-to-game, one game at a time, and all those other coaching cliches.
But it's an important marker of a season where BYU rose as high as No. 10 in the AP Top 25 and currently ranked No. 14 in the College Football Playoff.
Hayes wasn't recruited by the local school in Southern California before he signed with Oregon State and eventually made his way to Provo via the transfer portal.
The chance to win a 10th game against the old Trojans might be even better.
"It would feel amazing," he admitted. "I've never been 10-2, so that's very important to me in my career. I know it's very important for these boys to get this win."
On the air
No. 14 BYU (9-2) at Southern California (4-6)
LA Memorial Coliseum, Los Angeles
Kickoff: 8:30 p.m. MT
TV: ESPN (Dave Flemming, Rod Gillmore, Stormy Buonantony)
Radio: BYU Radio, KSL 1160 AM/102.7 FM (Greg Wrubell, Riley Nelson, Mitchell Juergens)
Radio pregame: 6:30 p.m. MT
Series: USC leads, 2-1
×
Related Stories