DRAPER — The next time Jackson Light meets up with Corner Canyon teammate Jaxson Dart, it will be as Pac-12 rivals.
Light, the top-rated center in Utah and No. 2 overall recruit, signed his National Letter of Intent on Wednesday to play for the University of Oregon, a school where he's been committed for several months. But when he sees Dart, his quarterback for the past year, "Fight On" may be living inside his head.
It's enough to make Light, who also played defensive tackle, consider trying to move to defense for at least one game. Dart — a four-star quarterback who held offers from Arizona State, UCLA and BYU — signed with USC on Wednesday.
"That kid's going to go to the NFL. I love him, and I've been grateful to block for him," Light said. "We knew he was always going to play in the Pac-12, and my response was always, 'I'm going to get at least one defensive play and hit you.' We're excited to play against each other, but mostly just to keep seeing each other and to keep the bond that we have."
But first ...
"We'll see about that," Dart added with a laugh. "He's not committed yet to play defense, but he'll have to catch me first. Hopefully he doesn't get too tired doing that."
Surrounded by friends and family at Corner Canyon and with a nationally televised audience on the ESPN2 broadcast, Dart had a decision to make. It's been a whirlwind year for Dart, who transferred from Roy prior to his senior season to win a state championship, find a scholarship at the next level, and gain the tutelage of Chargers coach and "quarterback whisperer" Eric Kjar, who was recently named one of four finalists for the All-American Bowl national coach of the year.
And that's not even mentioning the global pandemic, which shut down official visits since March and limited most of Dart's interactions with USC coach Clay Helton and his coaching and recruiting staff to Zoom calls, FaceTime and text messages — but the Trojans used those tools nearly every day, Dart said.
"I loved my time at Roy. I feel that coach (Fred) Fernandes is the reason I'm the player I am today," Dart said. "But coming here really elevated my game, being able to throw the ball a lot, make different reads and understand defenses. It got me the most prepared I could for college, and coach Kjar did a great job. We've been so tight, that I don't regret this decision at all."
In the end, the decision was quick.
The 6-foot-3, 210-pound signal caller who led Corner Canyon to its third-straight state title put a fitting exclamation point on his high school career after moving from Weber County to the south end of the Salt Lake Valley in hopes of garnering a scholarship to his dream school. First and foremost was winning a championship.
But a close second was the offer to USC, which Dart formalized by calling Helton on Monday before announcing it to the world.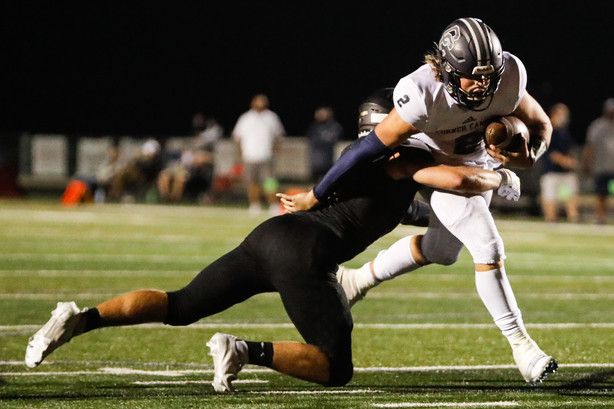 After winning a long-awaited state title — his first, but the Chargers' third in a row — and playing for a nationally respected head coach, Dart selected USC because the Trojans checked all the right boxes. One of the rare campuses he visited in person, Dart toured the campus personally and was amazed by the close-knit geography and architecture of the private school in Los Angeles.
"I've been able to gain such a strong relationship with the coaching staff. They're the guys I want to play for every day," Dart said. "I love the culture and the tradition of USC. Of course, it has a great education. But most importantly, the scheme fits my abilities the best. It's super similar to the scheme at Corner Canyon. They were the school in my heart, and it's what I went with."
Dart threw for 4,691 yards with 67 touchdowns and just four interceptions, while running for 1,195 yards and 12 more scores.
Those 79 total touchdowns are the second most in a single season in state history, and the most since Riley Nelson posted 84 scores for Logan in 2005.
His 5,867 yards of total offense is the most in a single season in Utah state history, and his career mark of 12,018 yards in four years combined with the Royals and Chargers ranks sixth all-time.
The Deseret News Mr. Football, three-time all-region honoree and two-time All-State baseball player chose the Trojans over a final four that included from Arizona State, BYU and UCLA, as well as offers from Cal, Iowa State, TCU and Washington State, among others.
The two Jacksons — Dart, and his trusted blocker lead blocker — weren't the only ones to sign to play collegiately from the Chargers' program. Ace wide receiver Noah Kjar committed to Weber State, and running back Austin Bell accepted a preferred walk-on offer from BYU.
In all, five seniors from Corner Canyon's Class of 2021 football program signed to play Division I football on Wednesday. But USC got "the best quarterback in the country," Light said.
"I've been blessed to block for him and keep him clean," the Oregon signee added. "He brought this team to a new level and excitement to play football again. He's a great dude, and he's going to be great at USC. They got a gem, for sure.
"He shouldn't be a four-star; he should be a five-star quarterback."
×
Related Links
Related Stories