PROVO — "Jake the Make" and "Zach Attack" combined to give BYU its biggest home win of the Kalani Sitake era Saturday afternoon.
With a little help from Dayan Ghanwoloku.
Zach Wilson threw for 280 yards and a touchdown, and ran for a critical 17-yard score to help BYU out-last 24th-ranked Southern California 30-27 in overtime in front of an announced crowd of 62,456 fans at LaVell Edwards Stadium.
Jake Oldroyd made a 43-yard field goal in overtime, his third of the day for the Cougars. And when Dayan Ghanwoloku picked off USC quarterback Kedon Slovis — the true freshman's third interception of the day — BYU students stormed the field to celebrate the Cougars' first win over a ranked Pac 12 opponent since 2009.
"I've never been apart of anything like that," said BYU running back Ty'Son Williams, who had 99 yards on 19 carries. "It was great because they were excited, just like we were. To celebrate with those fans like that was great."
Gunner Romney caught three passes for 54 yards to lead the Cougars (2-1), who overcame their second-straight overtime victory, a first in program history. Micah Simon — the hero of the Tennessee game — added 48 yards on three catches, and Oldroyd made three field goals, all from progressing distances.
BYU coach Kalani Sitake isn't known for his luscious locks, preferring to keep a high-and-tight, honor code-approved hairline instead. But if his team keeps this up, he might have even less hair.
Gladly, too.
"If we keep winning, I can deal with this," Sitake said. "But it was a lot of fun. Obviously, we don't want to have this be a habit. But I'll take it if we win. We worked a lot on these situations and we feel really comfortable … and I have a lot of leadership in this team that believes in each other."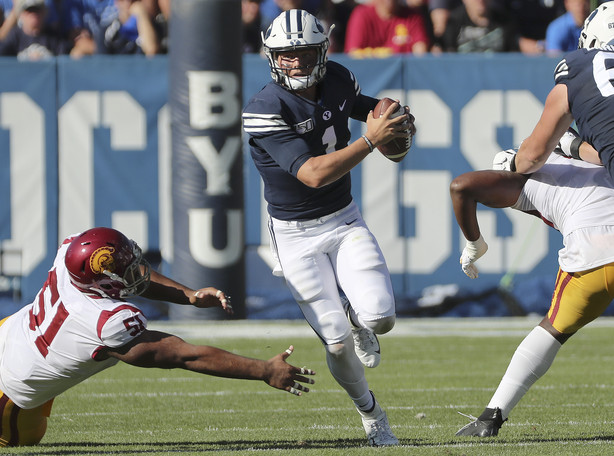 The last one, of course, was the biggest — a 43-yard attempt in overtime to hand the Trojans (2-1) their first loss of the year.
"It's just the fight that this team has," Williams said. "No matter the score, no matter the time left on the clock, this team keeps fighting. It's great to be a part of a team like this."
"This is such a huge win for us. It's easy to go into Monday learning off a win," said Wilson, who hasn't thrown an interception after tossing two in the season opener against Utah. "We still have so many things we need to clean up, but the fact that we got this win is huge. "I'm so proud of this team for battling."
Slovis finished with 281 yards passing and two touchdowns to go along with three picks and two sacks taken. The Trojans got 96 yards and a touchdown from Vavae Malepeai, and 95 yards with two touchdowns from receiver Michael Pittman Jr.
ZACH WILSON FOR THE LEAD!

BYU 27 - 24 USC | 4Q 5:41#GoCougs#BYUFOOTBALLpic.twitter.com/McaNn7ajdW

— BYU FOOTBALL (@BYUfootball) September 14, 2019
"Hats off to USC; they're a great team. Tons of talent," Sitake said. "I think they are going to do great in their conference.
"But I feel fortunate to get this win. We made some plays, did some things that were a little unconventional — and I'm glad to get the win.
But when the chips had fallen and a mass of humanity was creating a mosh pit in the south end zone, BYU was walking away with arguably the biggest home win in the Kalani Sitake era. And Ghanwoloku — who finished with nine tackles, a pass breakup, a 1-yard touchdown run and the game-sealing interception — was in the middle of it.
"It was crazy. We knew they were trying to get some quick throws, deep comebacks," Ghanwoloku said. "But I was just running to the ball.
"The linebackers and Kavika Fonua made the play, tipped the ball and, like coach always said, tips and overthrows we have to get them."
Fonua made the game-sealing tip — but then didn't know how to react, with his back to Ghanwoloku on the game-winner.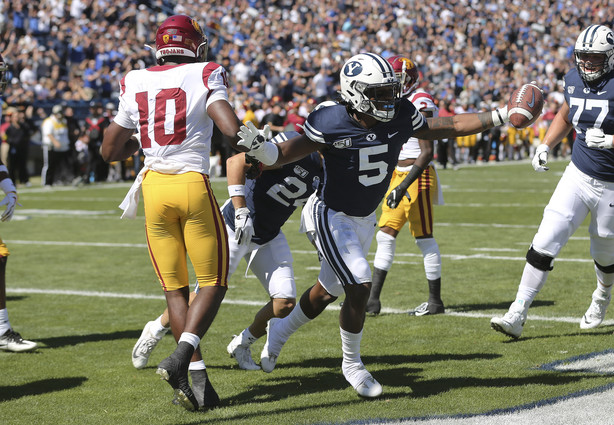 "To be honest, when the crowd rushed the field, I was jumping up and down and tried to grab one person. What happened?" Fonua recalled. "I don't know what we're cheering for, but something happened that made me happy."
BYU's defense started strong, picking off Slovis twice through Payton Wilgar and Isaiah Kaufusi to cash in 10 points in the first quarter. That included Ghanwoloku's 5-yard touchdown on a special package, and BYU took a 17-10 advantage on Wilson's 30-yard strike to Dax Milne.
USC tied it up through Malepeai's 5-yard scamper just before halftime. After a scoreless third quarter, the Trojans regained the lead when Slovis found Pittman for a 30-yard score with 10:54 remaining.
The defender on that play? Ghanwoloku, who thought the wideout got away with offensive pass interference — not to mention stepping out of bounds — on the play.
"It was a PI, but you know. On to the next one," Ghanwoloku said. "I'm going to keep challenging, even if the refs are going to keep giving that touchdown. I'm going to keep challenging."
×
Photos
Related Links
Related Stories