SALT LAKE CITY — Many people visit with a dietitian and expect to leave with a detailed day-by-day, meal-by-meal plan for them to follow. While some people with specific health conditions might need a detailed meal plan for a short time, the majority of people may not benefit from meal plans.
I get it, though. It might seem much easier to just be told what to eat than to have to figure it out yourself. But the easy way isn't always the most rewarding. The same can be applied to finding your path to health and wellness, as well.
Here are four reasons why meal plans aren't what you need from a dietitian.
Meal plans can be restrictive
On the surface, you might think this is what you need: something telling you exactly what to eat or a plan to keep you from eating anything "bad." However, meal plans often restrict certain foods or food groups that can often be included as part of a healthy, balanced diet.
When certain foods are restricted, they might become desirable; and those restrictions can lead to cravings for those "off-limit" foods. As a result, if or when those restricted foods are eaten, people tend to binge on them.
Strict meal plans might make healthy eating feel like a punishment. You can't have your favorite foods, you have to force yourself to eat foods you don't like, and don't even think about going to a party or out to eat with friends. Many meal plans don't have substitutions or offer flexibility for favorite foods or different occasions.
People are set up to feel that there's one way — the meal plan — or no way. If you stray from the meal plan you're bad for cheating, and if you can't stick to it you have failed and might feel guilty. Here's a newsflash: You didn't fail the meal plan; it failed you.
Know that you are not a failure for not keeping to a meal plan, you might just need a different approach.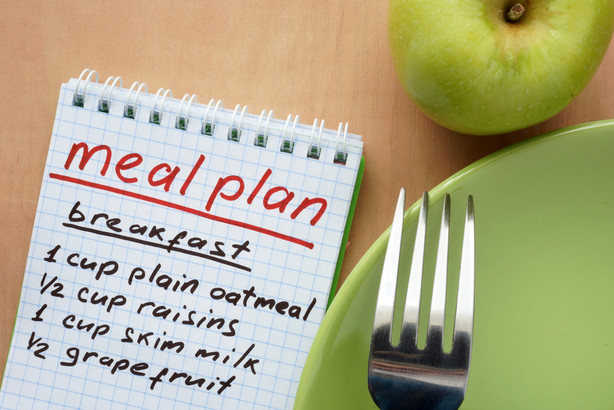 Meal plans are short-term
Any meal plan you receive usually has an end date. After the seven-, 14-, or 21-day meal plan is over, people get stuck.
Because meal plans aren't a long-term lifestyle change, people tend to go back to their old habits after the plan ends. So, while a person may have lost weight with a meal plan, when old habits sneak back in the weight can easily be gained back — and sometimes more. This yo-yo dieting and subsequent weight loss/weight gain cycle can do more harm than good.
If a diet or meal plan isn't one you can see yourself sticking to for the rest of your life, then it isn't for you. The best diet or eating plan is one you can follow for the long-term and actually enjoy.
Meal plans can be impractical
Strict meal plans are not realistic for most people. They often take a cookie-cutter, one-size-fits-all approach and don't take into account different lifestyles, cultures, schedules, likes, dislikes, etc.
While meal plans may seem well-intentioned, it's usually too much change all at once. You can't start out by juggling five balls if you've never learned to juggle before. You need to start with the basics first, then work your way up.
The same thing applies to eating habits. Choose one or two things at a time to change that are realistic for you. Then once you feel you have made those changes a habit, choose one or two more to work on. Focusing on changing a couple of things at a time will help yield more long-term and sustainable results.
Meal plans don't teach meal planning
This might seem contradictory, but let me explain.
With strict, detailed meal plans you are a robot following what you have been told. Then at the end of the meal plan, people might be lost and don't know what to do. You really haven't learned how to meal plan on your own as you may have relied on the meal plan telling you exactly what to eat. And by meal planning I don't mean planning out every single meal for the week, every week. I mean being able to decide for yourself what to eat that will help you on your health journey.
Meal plans are a crutch telling you what to eat without any teaching. So, when it's time to move on and plan your own meals, you may realize that you don't actually know how to meal plan for yourself. Eventually, many people give up trying to do it all on their own and those old habits sneak back in.
What does work?
If strict meal plans aren't the answer, then what is? That depends on the person.
As a dietitian, I aim to help people strategize how to eat right versus just telling them what to eat. I may provide meal and snack ideas, but my ultimate goal is to help people be able to open their refrigerator or pantry and come up with easy, healthy meals they can make on their own. I want people to be at a family gathering or go to a restaurant and be able to choose to eat what's best for them.
Everyone is different when it comes to their path to wellness. What works for someone might not work for another. Even if we all ate and exercised exactly the same, our bodies would still look different.
Bringing awareness to your current eating habits is a big first step in finding out what might work for you. After that, learning how to make small changes specific to your lifestyle is a good place to start. All the tools you need are within you, you just might require a bit of guidance and education to bring them out.
---
---
Editor's Note: Anything in this article is for informational purposes only. The content is not intended, nor should it be interpreted, to be a substitute for professional medical advice, diagnosis, or treatment. Always seek the advice of your physician or other qualified health provider with any questions you may have regarding a medical condition; Any opinions, statements, services, offers, or other information or content expressed or made available are those of the respective author(s) or distributor(s) and not of KSL. KSL does not endorse nor is it responsible for the accuracy or reliability of any opinion, information, or statement made in this article. KSL expressly disclaims all liability in respect to actions taken or not taken based on the content of this article.
×
Related Stories