Estimated read time: 7-8 minutes
This archived news story is available only for your personal, non-commercial use. Information in the story may be outdated or superseded by additional information. Reading or replaying the story in its archived form does not constitute a republication of the story.
PROVO — Alex Barcello is here to run it back.
The senior point guard from Chandler, Arizona, and the engine to the BYU basketball program over the past two seasons is returning for a second shot at his senior season with BYU.
The 6-foot-2, 180-pound senior made the announcement on the Friday evening before Memorial Day weekend, appearing with BYU coaches at a fathers and sons basketball camp in the Smith Fieldhouse, surrounded by hundreds of campers chanting "one more year" in unison with head coach Mark Pope. But before Barcello could call Pope and make it official, there was one thing he had to do.
He had to make his most important decision this week.
And fortunately for him, she said yes.
"These are two of the greatest things to happen in my life," said Barcello, who announced his engagement to longtime girlfriend Zoe Simpson on Thursday. "To come back and play for BYU, which is such a great university, I couldn't ask for much more. As badly as I wanted to go play professionally or overseas, there was so much left on the table. I felt like I owed it to the coaching staff, all the people here, my teammates, the fans; it just speaks to how amazing this team is.
"I really believe if I didn't have the coaching staff and players we did, I don't know if I would come back."
Barcello is one of four All-Americans in college basketball returning for another shot at the season, and the nation's leading 3-point shooter by percentage since arriving at BYU two years ago. And he'll be back for a rare fifth season of college hoops, when his scholarship won't count against the Cougars' 13-man limit because of the NCAA's blanket waiver related to the pandemic.
More importantly, though, is what Barcello brings to the team — both statistically and in the locker room, one Pope had continuously referred to as "the best locker room in America."
"Only three other teams have an All-American coming back to their program. And then what he does in the locker room and his leadership are so incredible. What he's saying to his team is how much he cares about them. What he's saying to himself as how much he believes in him, that he can keep getting better and really make a push at his dream to be an NBA basketball player," Pope said. "I think he has a sense of how hard that is, but I think it's a huge thing for our program.
"I've never won a game at BYU without Alex Barcello, and I would like to not have to try for another year. I'm super excited about that."
A lot of people were pushing for Barcello to come back, thanks to a well-orchestrated plan by Pope to re-recruit Barcello and BYU's other seniors of Matt Haarms and Brandon Averette to return to BYU for another year.
But none were a bigger influence than Simpson.
"I wanted to come back; I was kind of pushing him in that direction, too," said Simpson, who hasn't set a date for the couple's nuptials but said it will probably be after basketball season. "When he finally got the clarity that he needed and made that decision, it was awesome."
Barcello made the decision to return to BYU when he left for Arizona to attend his girlfriend-turned-fiancée's graduation ceremony. While there, he also planned to ask Simpson's father for his blessing to propose. The decision was made shortly before he left, but he admits to still entertaining a few other thoughts while he was on the trip.
When Simpson said yes after he got down on one knee, he finally exhaled after a lengthy preparation — both in life and in basketball.
"Four years and seven months, to the day, and I had the ring the whole last season," Barcello said. "I wanted everything to be perfect, exactly how I had dreamed of and how she had dreamed of.
"The whole evening was a movie. ... From the start of the morning, because she is the hardest person to surprise. Everything I tried to do nonchalantly, she wanted to know why we were doing it that way. But the feeling I got looking up at her, knowing I wanted to spend the rest of my life with her, was surreal. It's two great things happening in my life, but I could not be more happy to spend the rest of my life with her."
Without Simpson, Barcello never gets to BYU, Pope was quick to mention. Without her, he probably never stays, either, the point guard confirmed.
"This Alex Barcello is incredible; we all know that," Pope said. "But Zoe is way better."
Barcello averaged 16.1 points, 4.3 assists and 4.7 rebounds per game as a senior for the Cougars in 2020-21, helping lead BYU and second-year coach Pope to the NCAA Tournament for the first time in five years. The one-time Arizona transfer will take advantage of an extra year of eligibility provided by the NCAA due to the COVID-19 pandemic as he makes his way back to Provo for one final go at college hoops.
Barcello joins a group of returning players led by forwards Gavin Baxter, Caleb Lohner and Gideon George, among others, to join newcomers like Wasatch Academy big man Fouss Traore, West Africa native Atiki Ally Atiki and graduate transfer Te'Jon Lucas, the former four-star recruit to Illinois who earned all-Horizon League honors as a senior transfer with his hometown school of UW-Milwaukee.
But it was also his former teammates who helped convince Barcello to return for another year. He ran into Jake Toolson and TJ Haws in the training room recently, and both professionals — one with the SLC Stars in the G League and the other after a rookie season in Poland — told him they wished they had another year of college basketball.
Like all basketball players, Barcello has pro ambitions. He wants to play in the NBA, or any other league where he can get regular playing time in the sport he loves. But those goals will still be there in a year — and college is just once in every young person's life.
So why not live it out for another year?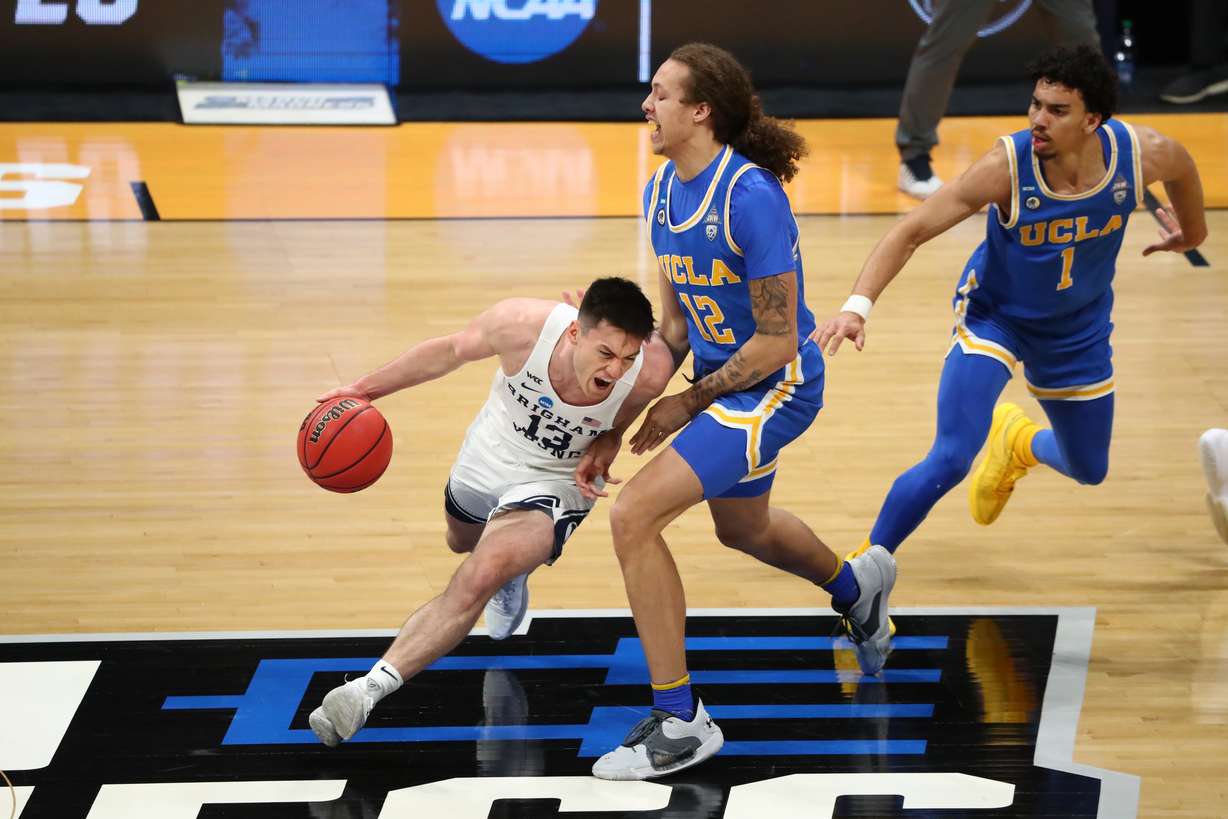 "I don't want to live with any regrets," Barcello said. "I wanted to leave it out on the table, and give my whole heart to his team, this coaching staff, and my new beautiful fiancée.
"I couldn't be happier right now. I'm so emotional, because it's the happiest time of my life."
One of those regrets was the ending to the 2020-21 season. While the Cougars accomplished plenty of goals — a 20-7 record, an NCAA Tournament berth for the first time in five seasons, and Barcello's .482 3-point percentage over two seasons at BYU that leads all players nationally — they also fell short via a 73-62 loss to Final Four-bound UCLA in the first round in Indianapolis.
He also knows there's plenty of work to do within the Cougars' own conference. BYU has yet to win a conference title — the Cougars famously haven't won a league tournament title in nearly 20 years — and want to give Gonzaga a run for its money in the West Coast Conference.
Over the past two seasons, only three teams have beaten the Zags — and the Cougars are the only ones to do so in the regular season, joining a group that includes reigning national champion Baylor from March.
"I got a bitter taste in my mouth, still, from it," Barcello said. "We had a phenomenal season, battled a lot of adversity. But for what we wanted to accomplish, we didn't make it.
"Only one team makes it to the national championship every year, and we weren't one of them. So hopefully we're feeling the same thing that the other 63 teams are feeling. It's definitely a bitter feeling in my mouth, and I want to cleanse that bitter feeling, to renew it with an even better feeling."
×
Photos
Related stories
Most recent BYU Cougars stories