Estimated read time: 5-6 minutes
This archived news story is available only for your personal, non-commercial use. Information in the story may be outdated or superseded by additional information. Reading or replaying the story in its archived form does not constitute a republication of the story.
PROVO — Yoeli Childs always knew he wanted to play professional basketball.
But after declaring for the draft and resuming his BYU education for a third time a year ago, Childs knew it wasn't the right time.
"I'm going to be able to be a pro for a really long time, but I only have one more year to do something special here," Childs said during a press conference prior to his senior season last summer. "I owe it to the school and to my teammates to do something amazing. I just want to go all out and do something special for BYU."
Now it is.
Yoeli Childs wasn't one of 60 names called during Wednesday night's unique NBA draft of 2020. But he'll get a shot at the next level.
The Bingham High product and former BYU star is expected to sign a free-agent contract with the Washington Wizards, a source confirmed to KSL.com. The news was first reported by Jake Hatch of the Locked on Cougars podcast, citing multiple sources.
While that doesn't guarantee Childs a spot on an NBA roster next season, it does guarantee him a chance. It could also open the door to further professional contracts, including a two-way deal with the Wizards' G-League affiliate, the Capital City Go-Go, or similar exemptions such as an Exhibit-10 deal — essentially, a training camp contract with $50,000 guaranteed if the player is optioned to the G-League.
The Wizards are reportedly reworking the roster, with star guard John Wall allegedly having "made it clear" he wants out of Washington, according to Stadium's Shams Charania. The team is reportedly in negotiations with Houston to swap Wall with Russell Westbrook, according to the NBA insider.
As Rockets/Wizards talks on Russell Westbrook-for-John Wall stall, Wall has made it clear he wants trade out of Washington to happen, sources tell @TheAthleticNBA@Stadium.

— Shams Charania (@ShamsCharania) November 21, 2020
In Washington, Childs would be reunited with fellow West Coast Conference alum Rui Hachimura, the former Gonzaga forward who was drafted by the Wizards with the No. 9 overall pick in the 2019 draft. The first-ever Japanese-born NBA draft pick, Hachimura, 22, averaged 13.5 points, 6.1 rebounds and 1.8 assists per game in 48 appearances — all starts — for the Wizards in 2019-20. Besides Hachimura, Washington's 2019-20 roster also included Latvian-born forward Davis Bertans, Tennessee product Admiral Schofield, Iowa's Jarrod Uthoff and the Zags' Johnathan Williams at power forward — a position the once-BYU center Childs is expected to play at the next level.
The move has at least one fan from Washington in Wizards blogger Kevin Broom, who writes for SB Nation's Bullets Forever and said "there's a lot to like" about Childs joining the Wizards.
"He may be undersized to play center, but I think he could hold down a backup role because of his production," Broom wrote before the draft. "A few cautions (and why he's ranked 25th) — 53.8% from the free-throw line, and low assist, steals and blocks. He may go undrafted, in which case the Wizards would be smart to bring (him) to training camp and see if he can adjust to the NBA."
After a rim-rattling career with the Cougars, Childs keeps active a dubious streak of BYU basketball — no player has been drafted since Jimmer Fredette was selected No. 10 overall by the Milwaukee Bucks (who selected the former all-time scoring leader for the Sacramento Kings) in 2011. Sam Merrill was the only in-state product drafted Wednesday night, becoming the first draft pick from Utah State in 34 years.
After four years of college basketball, the Bingham High product who joined The Church of Jesus Christ of Latter-day Saints during his BYU career had to fight patience as he contemplated leaving early for a pro career, possibly to fulfill big contracts overseas.
But Childs' final season was worth the wait.
Childs returned for his senior year at BYU to lead the Cougars on a storybook run in coach Mark Pope's first season as head coach.
The 6-foot-7, 225-pound forward averaged a team-high 22.2 points and 9.0 rebounds in helping the Cougars to a 24-8 season, including a 14-1 home schedule and 13-3 record in conference play that included a senior-night win over then-No. 1 Gonzaga in Childs' Marriott Center finale.
In each of his four seasons at BYU, Childs improved every season. He started 26 of 33 games as a freshman in 2016-17, when he averaged 9.3 points and 8.2 rebounds on 55% shooting as a full-time post player. He improved to 18.4 points, 8.7 rebounds and 2.3 assists per game as a sophomore, when he stepped out and hit 32.6% of his 3-point shots.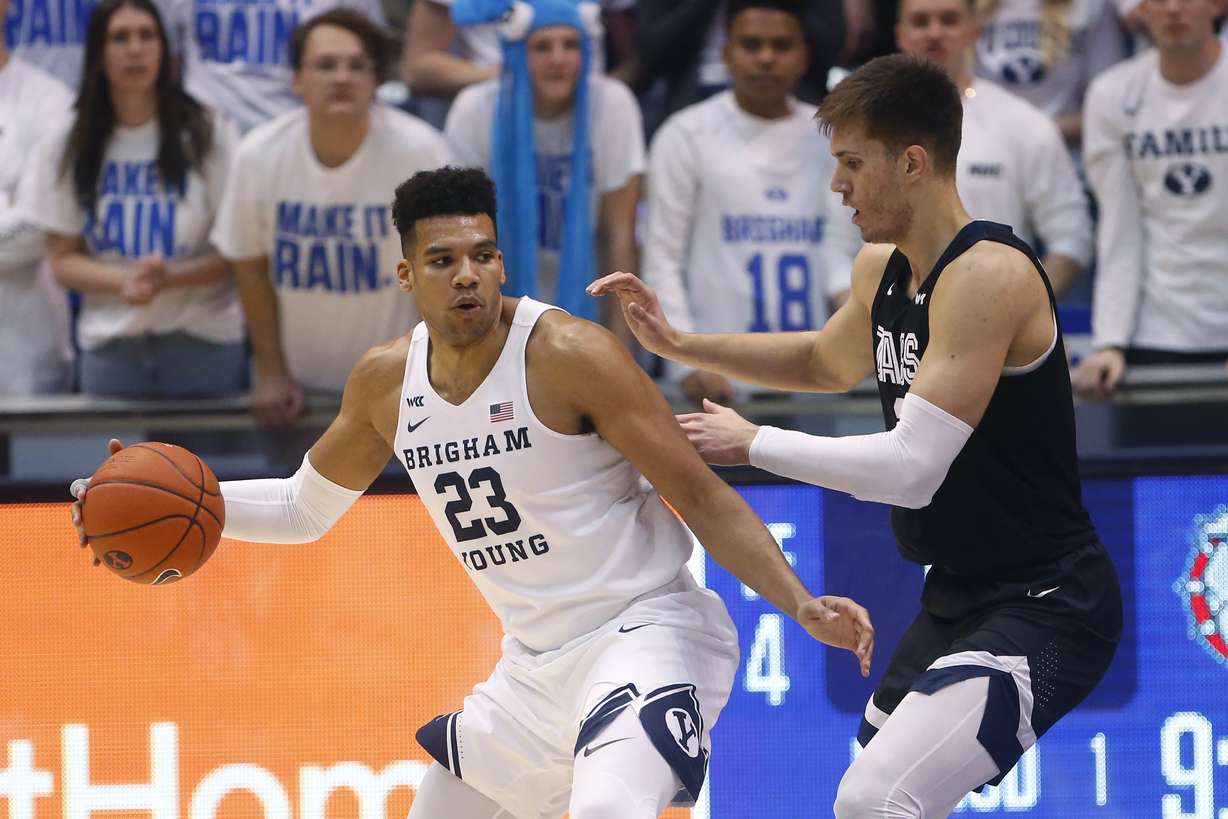 After entering the draft following his junior season — a 21.2 points, 9.7 rebounds, 2.1 assist season in 2018-19 — Childs returned to Pope's first season in charge to lead the team in scoring and rebounding, when he shot 48.9% from three and played in just 19 games after sitting out nine games for accepting improper benefits over the summer.
He also joined a seven-player senior class, one that includes TJ Haws (Poland) and Zac Seljaas (Slovakia), who have both signed to play overseas. The group was joined by Jake Toolson, a graduate transfer from UVU who is reportedly weighing G-League interest, and Dalton Nixon, an all-glue player from Orem who continues coaching at the youth level in Utah County.
But the star of the group was Childs, and when the offseason began, Childs took to the NBA pre-draft circuit. One of two local players invited to the NBA Draft combine conducted virtually due to COVID-19 restrictions, Childs measured 6-foot-7 without shoes but posted a 6-foot, 11-5-inch wingspan and a standing reach of 8 feet, 10 inches.
Childs' 2.42-second shuttle run ranked first among power forwards and fourth overall among combine participants. He also ranked in the top-three among power forwards with a 34-inch vertical leap and a max leap of 38.5 inches — a mark that would've ranked first among 2019 combine participants.
×
Related links
Most recent BYU Cougars stories