Estimated read time: 7-8 minutes
This archived news story is available only for your personal, non-commercial use. Information in the story may be outdated or superseded by additional information. Reading or replaying the story in its archived form does not constitute a republication of the story.
MOUNT PLEASANT, Sanpete County — Fousseyni Traore didn't grow up playing basketball from the time he was a toddler.
With a hefty dose of over-honesty, he admits he didn't like the sport when he was young, even.
The son of a coach who grew up in Bamako, the capital of Mali in West Africa, Traore played soccer all growing up. A center forward by trade, he loved scoring goals.
That's no surprise for Mali, whose national sport is soccer that rose to prominence when the West African country hosted the African Cup of Nations in 2002. Everyone in Bamako played soccer growing up, and Traore was no exception.
"I played soccer for 10 years," Traore — whose friends simply call him "Fouss" — told KSL.com in an exclusive interview. "In Mali, everyone loves playing soccer. I was an offensive player, scoring goals."
When his father forced him to take up basketball when he was around 12 years old, the son of Lamine and Kadiatou Traore never looked back. If he didn't want to play basketball before his father strongly pushed him to the sport, he's made it all his own now.
The West African who currently stands at 6-foot-7 and 235 pounds is one of the top post players in the west, a three-star prospect rated the No. 45 center in the Class of 2021 by 247Sports and No. 5 recruit in the state of Utah.
Of course, Traore is glad he switched sports. Basketball brought him to the United States, where he matriculated at Wasatch Academy, the 110-year-old boarding school in rural Sanpete County. It's brought him friendships he will never forget, including fellow West African Maddie Sissoko, the former Tigers star who plays at Michigan State, and ex-teammates around the country.
It also brought him to BYU, where Traore signed a national letter of intent to play for coach Mark Pope and the Cougars next fall.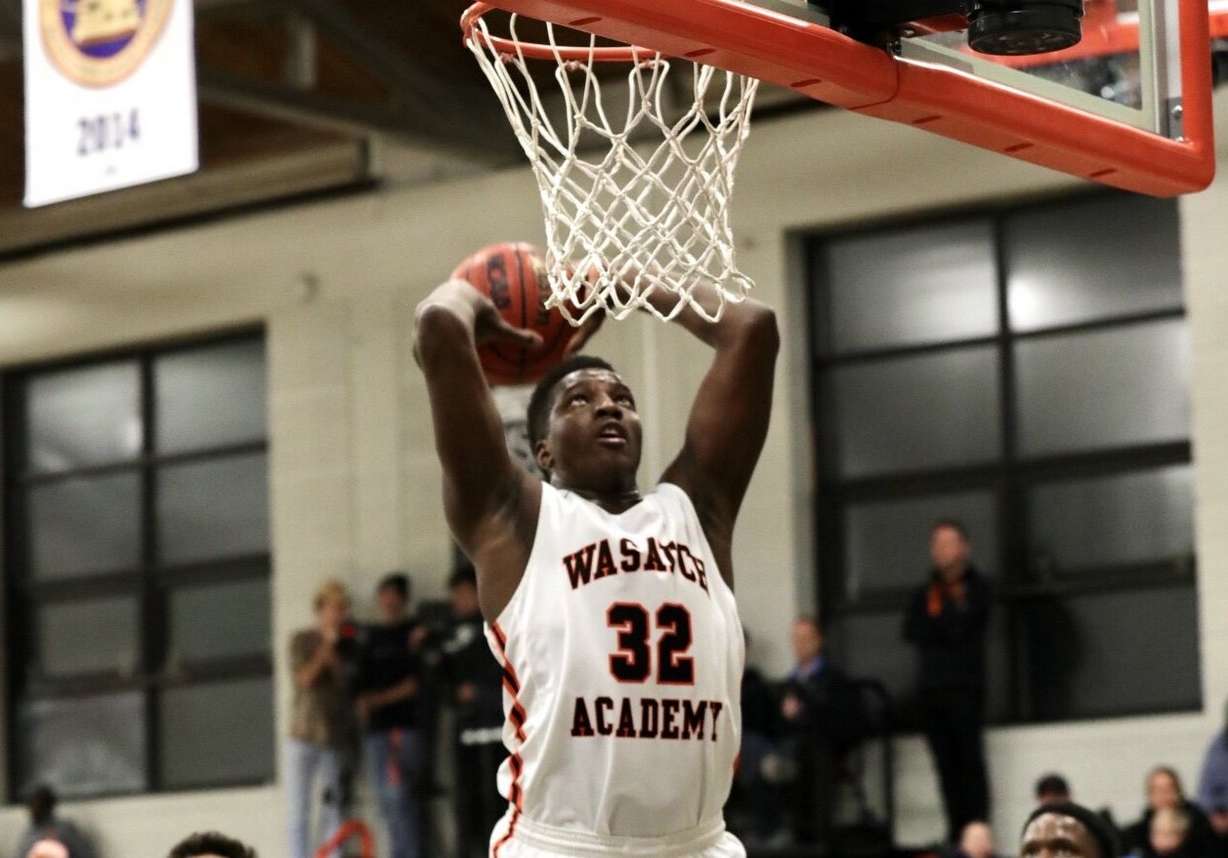 "I really like BYU. I like the coaches," the senior who averages 13.9 points and 5.7 rebounds per game told KSL.com. "Every time they called me, they were always excited. The other coaches were different; I love that program, and I love the players there."
He'll be joined by former American Fork guard Trey Stewart, Timpview's Nate Hansen, Atiki Ally Atiki, a 6-foot-11 post from Mwanza, Tanzania who has spent the last two seasons at the London Basketball Academy in Ontario, Canada.
Traore didn't know anything about the Cougars before coming to the United States. In truth, he didn't know much about a lot of American colleges.
But BYU remained an enigma to the Muslim kid from West Africa until they started recruiting his teammates. It started with Sissoko, and the 6-foot-9 forward from Bafoulabe, Mali invited Traore on his early visits to Provo.
It was one of Traore's first trips to a college campus during the fall of 2019, and the teammates went to a football game — not the international football he grew up playing, but the American variety, complete with a packed house at LaVell Edwards Stadium.
Traore doesn't remember what game it was, or who was playing. Really, he doesn't remember much about that night.
"It was my first time watching football," he said, "and I couldn't speak any English.
"That was crazy; then I had a ticket to go to a basketball game, too, and I watched that game against Gonzaga (that BYU won 91-78 on senior night in the Marriott Center).
"That's when I said, 'wow; I want to play there.'"
There was one other big component in making the decision, Wasatch Academy coach Paul Peterson remembered of Traore's recruitment: prayer.
The former BYU-Hawaii standout who played professionally in England, Germany and Serbia didn't say much to Traore about his recruitment. Traore was receiving interest from Big East programs, as well as the local school, but Peterson didn't want to make up his young pupil's mind for him.
But he told him he needed to pray about it.
"I told him it's important that he pray a lot and really find that feeling," Peterson said. "That's what he got with BYU."
On one occasion, Traore was meeting with coaches at Seton Hall over a Zoom call. The staff showed him the facilities, took him on a virtual tour of campus, and left a strong impression on Traore's mind that evening.
But he did like his coach told him: he prayed about it.
"Then he woke up the next morning, and the only thing he could think about was BYU," Peterson remembered. "And that was his feeling. That's when he knew it was the right decision."
Playing alongside a group of former teammates helps, too. Traore will join current BYU freshman Caleb Lohner — a Wasatch Academy product and former Utah signee who averaged 7.0 points, 7.1 rebounds and 1.2 assists in 27 games as a first-year player, including 13 starts — in the Cougars' front court. The duo will be joined in a year by former teammate Richie Saunders, who signed with BYU over offers from Utah State and Creighton, among others.
The trio may also be joined by former Wasatch Academy guard Mike Saunders, a Cincinnati transfer who reportedly had a virtual meeting with Pope as he contemplates his future.
"I really feel like it's a good place for me, and a good fit for me," Traore said. "That's why I decided to go there. And I'm going to love playing with my good friends Caleb and Richie."
Saunders is currently serving a two-year mission for The Church of Jesus Christ of Latter-day Saints in Madagascar, but his influence was felt as Traore inked his letter of intent last fall.
"Richie's his big brother," Peterson said. "He's excited to play with him. He has a good support group up there; the Saunders have been so good to him, and it's good for him to be close and have a good support system."
The Tigers (18-6) open the GEICO Nationals high school invitational at 4 p.m. MDT against Arizona's Compass Prep (ESPNU), and Traore will play a pivotal role down low in the 10-team invitational of some of the top high school programs in the country.
Fremont's girls basketball team will also participate in the four-team girls invitational. Led by BYU signee Emma Calvert, the undefeated 6A champion Silverwolves will open Friday against Georgia's Westlake (10:30 a.m. MDT, ESPNU).
Traore joins fellow Division I signees Robbie Armbrester (Houston) and Nolan Hickman (Kentucky) in the Tigers' powerhouse starting lineup, as well as five-star junior point guard Richard "Pop" Isaacs, Jr., in the tournament a year after Wasatch Academy clinched its highest seed-ever at No. 2 overall before the tournament was canceled due to the coronavirus pandemic.
Hickman, the four-star wing who became Wasatch's first-ever McDonald's All-American last month, is the engine that makes the Tigers go — and that includes Traore.
"The great thing about Nolan is he's the kind of superstar that allows other guys to get their groove," Peterson said. "He doesn't just try to get himself going; if he sees someone else going, he's going to keep them going.
"I think that's one of the great things from our leader. He allows other people to go off, as well. He's not afraid to pass the ball or give it to somebody that's hot."
Playing that competition — not to mention the national schedule across several controlled-environment tournaments against top-tier programs like Oak Hill (Va.) Montverde (Fla.) and Sunrise Christian (Kansas) — has Traore as prepared as he could be for Division I basketball.
But the bigger prep comes from within, his coach says.
"He's just a disciplined kid," said Peterson, noting his star post lost 25 pounds this season to become lighter and bouncier. "Fouss is so disciplined, and he's starting to see it with his body. He's starting to see it."
How to watch, stream: GEICO High School Nationals
Thursday, April 1
No. 4 AZ Compass Prep (Ariz.) vs. No. 5 Wasatch Academy
Tipoff: 4 p.m. MDT
TV: ESPNU
Streaming: WatchESPN
Friday, April 2
No. 4 Fremont vs. No. 1 Westlake (Ga.)
Tipoff: 10:30 a.m. MDT
TV: ESPNU
Streaming: WatchESPN
×
Photos
Related stories
Most recent BYU Cougars stories