PROVO — Te'Jon Lucas had a lot of offers and assets he could help bring to the table as he entered his name in the NCAA transfer portal for the second time in his career, this time exiting his hometown university of UW-Milwaukee and searching for the right fit for his skillset.
He found them in about two minutes — with former Milwaukee Bucks forward Mark Pope.
"That was a plus, for sure," Lucas told BYUtv, laughing. "It didn't hurt."
But two minutes is how long it took BYU assistant coach Cody Fueger to send an email to the 6-foot-2, 180-pound guard from Milwaukee who averaged 14.9 points and 5.1 assists per game for the Panthers en route to All-Horizon League second-team honors.
Fueger had previously recruited the former Illinois transfer two years prior, when Lucas had first entered the portal and the BYU assistant was with Pope at Utah Valley. That time, the guard turned down Fueger and the Wolverines, electing to return close to home, where he starred at nearby Milwaukee Washington.
When you ravage through the transfer portal at the rate of Pope and his assistants Fueger, Chris Burgess and Nick Robinson, plenty of players are going to say "no." The trick is finding the few who say "yes," who feel the fit, culture and timing can lead to a happy marriage between player and a unique culture at BYU — both basketball and otherwise.
This time, Lucas was one of those guys. But it wasn't an easy decision — even if the first contact was ultimately less time than most BYU students spend waiting in line at the nearest mixed soda shop.
"It was a hard decision. I'm not going to sit here and say it was easy, clear cut," said Lucas, who picked the Cougars over Utah, Nevada, DePaul and New Mexico State. "But at the end of the day, it came down to a couple of things: going to a place where a culture was very good and established. BYU has done a great job of winning and getting to the tournament.
"I'll only be there for 6-8 months, and I want to be able to win and get to the tournament. And the playing style was a big deal for me. I think my assets and skill sets give coach Pope a very clear plan on how he can use me. … I trust he'll do whatever it takes for me to expand my game and get to the next level."
Winning and going to the tournament, which means Lucas put a significant emphasis on the Cougars' 2020-21 season, which saw the squad go 20-7 with a loss to UCLA in the first round of the tournament and a second-place conference finish to only national runner-up Gonzaga.
Fueger sees Lucas as a playmaking guard in the mold of Brandon Averette — the Utah Valley transfer who departed BYU for a semiprofessional opportunity in his native Texas after spending a year in Provo — able to help propel the Cougars back to the NCAA Tournament. For a pro comparison, Lucas sees himself as a Chris Paul type of guard, the NBA veteran who has led Phoenix to the No. 2 seed in the West with a unique array of both shooting and playmaking ability.
He believes he can be that type of player in Provo, too.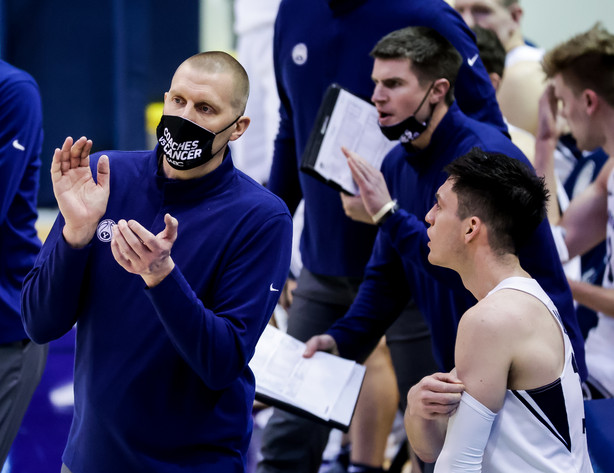 "He's a great leader on the court, and does a little bit of everything," said Lucas, whose mother has already bought around $300 in BYU gear to support him. "If you need him to take the last shot, he'll take the last shot. But he always makes everyone around him better."
Lucas also comes in following the recent decision of Matt Haarms to not return to BYU for the NCAA's free year of eligibility granted to seniors who played through the COVID-19 pandemic. Haarms has elected to begin his pro career — whether that's domestically, or somewhere closer to home in his native The Netherlands.
Fellow senior Alex Barcello hasn't fully committed to his future, whether it includes one last year in Provo or taking a chance on his pro opportunities. Either way, Lucas seems ready to slot into the spot vacated by Averette — and Barcello could play next to him, or not, depending on what he decides.
Pope will hold a place for the Arizona native — an easy task, because the NCAA won't count any scholarships of returning "Super Seniors" against any school's 13-scholarship limit for the 2020-21 season. But it may change the overall makeup of Pope's roster, with Barcello potentially being the only returning senior to join a roster that includes three seniors in Gavin Baxter, Gideon George and Richard Harward.
"It could look like so many different things," Pope told Andy Katz recent of his roster. "I have a couple of seniors who are really twisted up about using this gifted year. If those guys return, we'll be a top-25 team from last year returning everybody of confidence — with the option to add a couple of pieces.
"If not, we're going to be a really young team and we'll have to grow really fast during the season. Either way, it's really exciting. What these guys have built here at BYU has some staying power, and we'll figure it out."
As for Lucas, he's the kind of guard capable of playing both on and off the ball — a savvy playmaker or a veteran scorer, depending on the needs of the game. 5.7 points, 3.2 rebounds and 2.2 assists in 29 games as a sophomore at Illinois, where he started 19-of-29 games for the Illini prior to transferring.
That gives him both Big Ten experience and standout Horizon League honors ahead of his final year in the West Coast Conference — and BYU expects to use both.
After all, he's been well-scouted — twice over — and well know by this coaching staff.
"You never would think a guy would transfer twice," Fueger said. "You just try to build a great relationship while you're recruiting him, and if they choose another place, you wish him luck and tell him you're rooting for him. Down the line, maybe you can recruit him again. But it's rare when that happens."
×
Related Stories