INDIANAPOLIS — There will be time for BYU basketball to reflect on the magic of the 2020-21 season, of the team's first NCAA Tournament bid since 2015 and a return to the Big Dance known colloquially as "March Madness," the greatest spectacle in North American sports.
That time will come.
But it was not Saturday night at historic Hinkle Fielddhouse.
Playing on a hobbled ankle, Johnny Juzang poured in 27 points, and Jaime Jaquez Jr. added 13 points, seven rebounds and three assists as UCLA won its second game in three nights with a resounding 73-62 victory over BYU, ending the Cougars' first tournament appearance since 2015 after just one game.
A year after a win over a nearly identical UCLA team in the Maui Invitational in Hawaii, the Cougars couldn't ride the same wave to a win.
Alex Barcello led BYU with 20 points and five rebounds, and fellow senior Brandon Averette scored 10 of his 15 points in the second half for the Cougars, who trailed by 11 at the break and never permanently cut into the lead.
Matt Haarms supplied 11 points, 10 rebounds and two blocked shots for BYU (20-7).
"There are a lot of feelings right now," an emotional Haarms said over a Zoom microphone in the tunnels underneath the Indianapolis-based court. "That was my college career … it just really sucks, going out like that in the first round."
After falling behind early, BYU played catch up and never caught the sprinting Bruins from the Pac-12 — which advanced five teams to the Round of 32, including Oregon's no-contest win over virus-ridden VCU.
For UCLA, the joy of a March run continues. For BYU, the agony of defeat.
"This is what we live for. This is the height of college basketball, and playing for the Bruins — I'm from Los Angeles — we're all brothers," said Juzang, a product of Harvard-Westlake High School from Tarzana, California. "Playing for the home team and making everybody on the team proud, and everybody in the stands, it's a great feeling to bring home wins for the UCLA Bruins."
The highs on one side of the court, and lowest feeling in BYU history over the past five years. Welcome to March.
Offensively, there were too many shots that BYU usually makes that didn't go in Saturday night: Haarms' hook shot, Barcello's step-back jumper. The Cougars shot 10 more free throws than UCLA but made just 7-of-13 from the charity stripe while the Bruins sat on 3-of-3 before the final four minutes.
BYU shot 49% from the field, but just 3-of-17 from 3-point range — including an uncharacteristic 1-of-7 in the second half — and made just 9-of-16 free throws.
"Clearly, we didn't shoot the ball well from the 3-point line or the free-throw line," BYU coach Mark Pope said, matching the emotion of his senior point guard Averette as he exited the court with his face buried in his white jersey with the words "Brigham" on the front. "Credit UCLA for that. They had us on our heels for some substantial part of the first half.
"It happens sometimes. We've been able to overcome nights like that before this season. We just didn't overcome it tonight. There are going to be nights on occasion where you don't shoot the ball well. We have answers; we can still win games. We just didn't get it done tonight."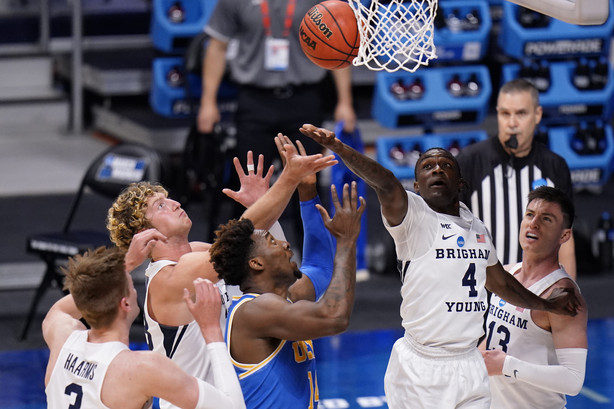 It happens, but not by accident.
"What we wanted to do tonight was not give up a bunch of threes," said UCLA coach Mick Cronin, whose team won back-to-back games for the first time since capping a run of four-straight Feb. 25 against Utah. "A team like BYU, the 3-point shot is their fuel."
BYU looked like a team that hadn't played under the bright lights of the NCAA Tournament in nearly six years — which, to be fair, they were, having last reached the highest field of 68 in college basketball in 2015.
BYU missed their first six shots, at which point Barcello removed the lid from the basket with a 3-pointer with 16:10 left in the half. The Cougars controlled the glass early and didn't let UCLA get an offensive rebound for nearly six minutes, but BYU never led in the first half.
In 40 minutes of playing time, BYU never led. The Bruins stayed ahead on the scoreboard for all but 55 seconds.
UCLA shot 15-of-31 from the field in the first half, including 6-of-10 from 3-point range, and scored 11 points off seven turnovers.
Just two nights after leaving the Bruins' First Four game against Michigan State with a right ankle injury, Juzang poured in 19 points on 8-of-11 shooting in the first half, including three 3-pointers, for a UCLA side that held BYU to just two assists on 11 field goals.
"The first half was a struggle for us, because of Juzang and the way he was playing," Haarms said. "We weren't able to execute our game plan.
"In the second half, we clawed it back to five and then they pushed it back to 11. We just weren't able to claw back against them when it mattered."
The Cougars used a 9-0 spurt to cut the deficit as low as four, 43-39 in the second half, holding the Bruins scoreless on five consecutive possessions over a 3:18 span. But UCLA responded with a 7-2 spurt of its own and pushed the lead back to 11 midway through the second half.
BYU found is scoring shoes in the second half to hang with UCLA.
Stopping the Bruins proved to be another problem. Stopping Juzang was especially troublesome, but UCLA then added Jaquez and Jules Bernard (16 points, five rebounds) while outsourcing the BYU bench 13-7.
Apart from the three seniors, Caleb Lohner had the most meaningful night with 6 points and 10 rebounds. But the freshman from Wasatch Academy was hampered with four fouls, as well.
"It's a game. It's March. It happens," Pope said. "But credit UCLA; they played great, and we just couldn't quite get over the hump."
×
Photos
Related Links
Related Stories