SALT LAKE CITY — Here are 10 stories you may have missed over the weekend. As always, click on the headline to read the full story.
1. General Conference: Sunday Afternoon Session: Talk summaries and announcements from the 2021 Easter conference
The Church of Jesus Christ of Latter-day Saints is holding its 191st Annual General Conference from April 3-4. This blog summarizes the key points from each session.
2. President Nelson announces 20 more temples, including second in Cache Valley
Speaking at the Sunday afternoon session at the 191st Annual General Conference of the church, President Russell M. Nelson announced plans for 20 more temples around the world — including one in Smithfield, Utah.
3. Hymns through masks: Christians mark another pandemic Easter
Christianity's most joyous feast day was celebrated worldwide with the faithful spaced apart in pews and singing choruses of "Hallelujah" through face coverings on a second Easter Sunday marked by pandemic precautions.
4. Do you qualify? $45M in federal food assistance en route to Utah families
According to the executive director of Salt Lake City-based Utahns Against Hunger, food insecurity over the last year has doubled.
5. Forecasters warn warmer weekend could bring avalanche danger to backcountry
Warmer weather could bring increased danger to Utah's backcountry this weekend, and avalanche forecasters warned the snow already on the ground could come down in large slabs.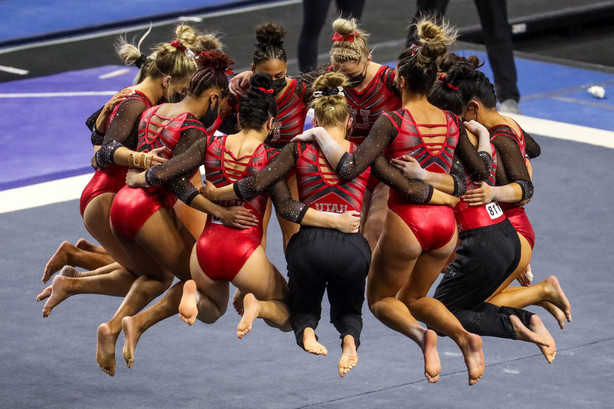 Sports
1. Red Rocks top LSU to win SLC Regional with season-high score 197.925, advance to 45th straight nationals
The No. 6-seeded Red Rocks were unstoppable and never trailed as they recorded a season-high 197.925 to edge out the top-seeded No. 3 LSU Tigers (197.750) Saturday night in the Salt Lake City Regional at the Maverik Center.
2. Here's where BYU, Utah, Utah Valley and Weber State are headed for the NCAA women's volleyball tournament
BYU, Utah, Utah Valley and Weber State all heard their names called into the 48-team bracket for the 2020 tournament, which was announced Sunday on ESPNU.
3. A true laugher: The Jazz set an NBA record in 46-point win over Magic
Utah led by as many as 42 in the first half, sank an NBA record 18 3s in the opening half, and Donovan Mitchell was out of the game by the first timeout of the third quarter.
There are blowouts, then there are blowouts.
4. Stanford holds off Arizona 54-53 to win women's NCAA title
Haley Jones scored 17 points and Stanford beat Arizona 54-53, giving the Cardinal and their Hall of Fame coach their first national championship since 1992 on Sunday night.
5. Why it 'felt right' for US forward Bobby Wood to come to Real Salt Lake after 14 years in Europe
The club formalized the signing of former U.S. men's national team striker Bobby Wood on Friday, and the 28-year-old forward most recently of Hamburg in Germany's 2. Bundesliga immediately set out to project the sale to media both local and national.
×