SANDY — What was a poorly kept secret was finally out of the bag Friday, and Real Salt Lake has found its center forward.
The club formalized the signing of former U.S. men's national team striker Bobby Wood on Friday, and the 28-year-old forward most recently of Hamburg in Germany's 2. Bundesliga immediately set out to project the sale to media both local and national.
Wood met with local media in a half-hour Zoom call Friday morning after the signing became official, and then did a handful of interviews with national soccer media as the elder forward explained why he is choosing to come back stateside this summer for the first time in his career.
Real Salt Lake's contract with Wood begins July 1 and runs through 2023, but the 28-year-old veteran of six clubs said he may join his new club earlier than that.
A lot of it depends on nonsoccer reasons, even; Wood's wife is pregnant with the couple's second child, and RSL has given him some leeway to manage the birth before returning to the United States.
What isn't in question is Wood's commitment, both to Salt Lake and to bringing his family home for the first time in a career that took him from youth club Irvine Strikers of California to 1860 Munich II when he was just 14 years old.
"It just felt right. I had a couple of options in Europe, but the gut feeling told me to come back home and start a new challenge with RSL," Wood told Sirius XM on Friday. "It just felt right, and with my wife about to give birth, my first daughter is about to turn 2, and it felt right to be able to raise my kids in the state."
That was a small price to pay for Salt Lake, which will pair Wood with returning striker Douglas Martinez Jr. and Ecuadorian speedster Anderson Julio from Mexico's San Luis for the 2021 season.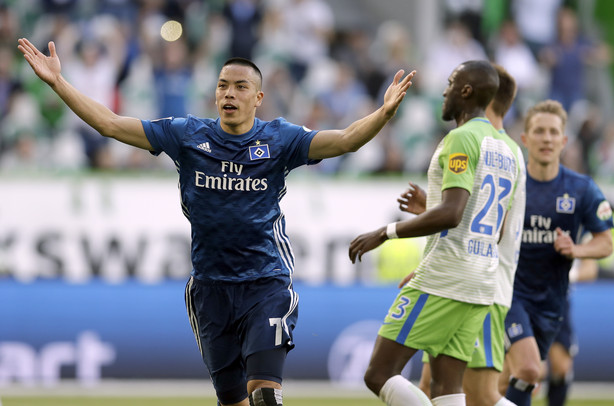 "We are extremely excited to welcome Bobby and his family to Salt Lake City and our club. His proven track record as a goal scorer, combined with his work rate and tenacity will be invaluable additions to our roster," RSL general manager Elliot Fall said. "He is a player who we have tracked for several years and are quite familiar with from his extensive experience with the U.S. National Team. Over the last several months, we have had the pleasure to get to know him more personally and have the utmost confidence he will have a positive impact on our roster and locker room for years to come."
What also felt right was RSL, where Wood will reunite with midfielder Damir Kreilach. The duo competed together with Union Berlin during the 2015-16 season, and the Honolulu native had his best season as a professional.
Wood notched 17 goals in 31 appearances with Berlin, adding three assists in a season that earned him a bigger contract with Hamburg. Kreilach, as well, had 12 goals and five assists in what has been his most productive season to date.
RSL signed Kreilach to an extension through at least the 2022 season, with a club option for 2023. The 31-year-old midfielder hasn't committed to retirement, but he and club personnel are willing to admit that Salt Lake would be a good place to close out his career — if the timing is right.
Ditto for Wood, though that retirement possibility is a long way off. At the very least, Wood could rekindle an international career that has been dormant since 2018 and is highlighted by the game-winning goal of the U.S.'s 2-1 win over Germany in 2015.
But that will come, Wood was quick to mention, if he succeeds with Salt Lake. Every striker wants to score "double-digit goals," he said, but most important is helping his club team win and rebound from the fewest points earned in a season since RSL's inaugural season in 2005.
"Right now, for me, I think it's important to just start playing," Wood said. "I want to show what I can do again, and as time goes on, we'll see what happens. But right now, it's important for me to be successful with RSL. One step at a time."
Wood looks to join a club seeking new leadership with the recent retirements of goalkeeping legend Nick Rimando and midfielder enforcer Kyle Beckerman. Gone, as well, is the formerly prodigious goal-scorer Corey Baird, the RSL Academy product and 2018 MLS rookie of the year who was traded to Los Angeles FC in January for $500,000 in general allocation money.
"Kyle and Nick were such great guys, great vets, and great leaders," Wood said. "I think RSL felt like they were missing some characters in the team after they left."
For more than a decade, RSL inherited the personality of its veterans — namely Rimando and Beckerman — and so much turnover for a club that is currently under MLS control while it finds a new owner has led to a search for a new identity.
Wood hopes to bring part of his identity to Real Salt Lake. And what will that identity be?
"I'm going to come in and work hard, and build a mentality that's just about being a team that works hard," he said. "If we do, I think we can succeed together."
Real Salt Lake will open the 2021 regular season Saturday, April 24, at Minnesota United FC. The club will host rival Sporting Kansas City a week later on Saturday, May 1 (12 p.m. MDT, KMYU).
Player profile
Name: Bobby Wood
Position: Forward
Age: 28
Height: 5-foot-11
Weight: 183 lbs
Hometown: Honolulu
Last Club: Hamburg (Hanover 96, on loan)
Goals: 45
×
Related Stories