PROVO — The state of Utah is used to seeing multiple teams earn invitations to the NCAA women's volleyball tournament each year.
But four in one year? In a tournament played in the spring?
Unbelievable as it may be, you'd better believe it.
BYU, Utah, Utah Valley and Weber State all heard their names called into the 48-team bracket for the 2020 tournament, which was announced Sunday on ESPNU.
The Wildcats will face Bowling Green (22-1) in the first round on April 14 at 5 p.m. MDT (ESPN3), with the winner advancing to face No. 1 overall seed Wisconsin.
The Wolverines are scheduled to serve against Texas State (30-8) in the first round on April 14 at 1:30 p.m. MDT (ESPN3). The winner will face No. 5-seeded Nebraska a day later (1:30 p.m. MDT, ESPN3).
"I'm just so happy for my players," Weber State coach Jeremiah Larsen said. "We lost a real tough match last year, and they resolved to just get better. Even through quarantine and COVID, they still got better with their minds, and their mental game.
"They've done everything I've asked them to do, and I'm so happy for them to get this opportunity."
No. 14 Utah and No. 16 BYU each received one of 16 national seeds, earning byes in the first round of the 48-team tournament. BYU will face the winner of Rider (7-4) and UCLA (14-6) on April 15, and the Utes will face the winner of LIU (9-5) and Pitt (16-4) at 8:30 p.m. MDT in the second round.
Yes, the Bruins could face the Cougars after winning a game in the NCAA Tournament for the second time in a month.
"We're excited to be the No. 16 seed and grateful to be in the tournament," BYU coach Heather Olmstead said. "We're excited to watch a good match between Rider and UCLA, and we'll be preparing for both teams. We've been preparing all season for this moment, so we're going to be ready regardless."
The top overall seeds include No. 1-ranked Wisconsin (13-0), Kentucky (19-1), Minnesota (15-2) and Texas (23-1). No. 4 Nebraska (14-2), Washington (17-3), Purdue (12-2) and Florida (19-3) rounded out the top eight seeds.
The Utes are the lone at-large team from the state of Utah, but easily made the field with a 10-3 record in all Pac-12 play and No. 12 national ranking. Arguably the best team in Utah volleyball history, the Utes are led by Dani Drews (5.14 kills per set), the Brighton High grad who has hit double-digit kills in 46 consecutive matches, and Kenzie Koerber, who averages 2.78 kills and 3.68 points per set.
Washington clinched the tournament's automatic bid from the Pac-12.
A veritable West Coast Conference power, No. 14 BYU (16-1) wrapped up an automatic berth in the tournament with a 15-1 record in WCC play and seventh league title since joining the league in 2011.
Riding a nine-match winning streak, the Cougars haven't lost a match since Feb. 23 at Pepperdine — and have only lost four sets since then. BYU hasn't lost a set since a win March 17 at San Diego, which was ranked No. 21 nationally at the time.
Taylen Ballard-Nixon leads BYU offensively, averaging 3.89 kills per set on a .265 hitting percentage with 2.09 digs per set. Kate Grimmer adds 3.0 kills, and Kennedy Eschenberg 1.44 blocks per set for the well-rounded Cougars, who are paced by Whitney Bower's 10.83 assists per set.
Utah Valley (14-5) is in the NCAA Tournament for the first time in program history, clinching qualification following a sweep of New Mexico State to win the Western Athletic Conference Tournament title Saturday in Orem.
The Wolverines are led by WAC Player of the Year Kazna Tanuvasa, who averages 3.61 kills for 3.92 points per set, and a balanced supporting cast in Tori Dorius, Kristen Bell, Kendra Nock and Sadie Hamson who all average more than 2 points per set.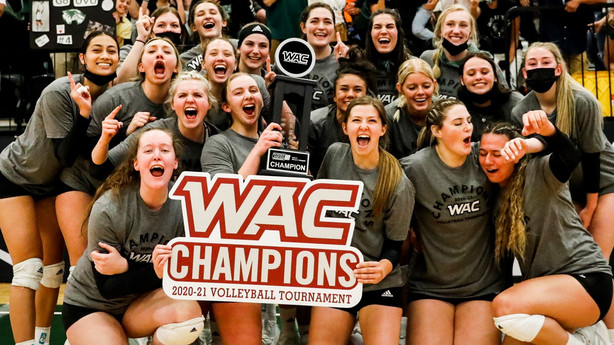 Weber State (18-1) won the Big Sky regular-season and conference tournament title for the first time in school history, wrapping up an NCAA Tournament bid with a 3-1 win over Northern Colorado on Friday.
The Wildcats are led by Rylin Adams' eye-popping 4.45 kills for 4.95 points per set, but followed closely by Dani Nay's 3.70 kills for 4.37 points per set. Three players averaged 3.0 points, with Sam Schiess scoring 3.0 points on 2.34 kills per set.
The Wildcats are back in the tournament for the first time since 1988.
The entire 48-team NCAA tournament will be played at the Chi Health Center Arena in Omaha, Nebraska, this year, with the first round scheduled to begin on Wednesday, April 14.
The first two rounds will be streamed live on ESPN3, followed by the regional semifinals April 18-19 on ESPNU, the national semifinals Thursday, April 22 on ESPN2, and the national championship Saturday, April 24 at 6 p.m. MDT on ESPN2.
×
Related Stories