PROVO — By any account, either blue-goggled or shades of envy, BYU's 2020 football season was unlike any other.
From playing in a global pandemic while other programs were planning to push to the spring, to finishing ranked in the Associated Press Top 25 for the first time since 2009, there has been no other season quite like 2020.
The Cougars traveled from coast to coast, built up several rivalries and established new ones, as they were at one point the only team competing in college football located west of El Paso, looking for games and trying to garner national respect. Along the way, they found a way, thanks in large part to its mantra: any team, any time, any place — or at least, anyone that was willing to play amid several layers of COVID-19 restrictions.
Plenty will be remembered, fondly recalled and shamelessly hoped when the 2020 season is fully in the rear-view mirror. But there are a few things that fans of both BYU and other schools should agree on about this Cougars team: They deserve some respect.
Of course, any discussion of the Cougars' 2020 season has to begin with two points: the quarterback and the schedule.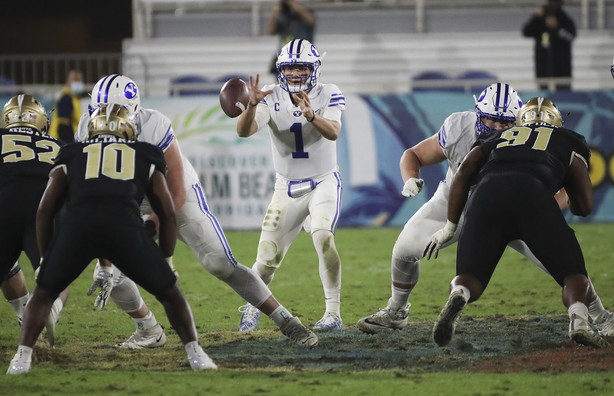 Under center
Behind quarterback Zach Wilson, the junior who threw for 3,692 yards and 33 touchdowns with just three interceptions while finishing eighth in the 2020 Heisman Trophy ballot box, the Cougars went on a barnstorming tour of college football — taking on all comers en route to the first 11-win season in over a decade and first such campaign with just one loss since the acclaimed Cotton Bowl team of 1996.
Under offensive coordinator Jeff Grimes and passing game coordinator Aaron Roderick, The Cougars compiled an explosive offense, ranking fourth in scoring offense (43.5 points per game), fourth in passing efficiency (189.35), seventh in total offense (522.2 yards per game), and eighth in passing offense (332.1 yards per game), through bowl games played Dec. 26.
"He's a great player. I think everybody's talked about him a lot, and I hope he knows how much I appreciate him. You know, we believe in him," said BYU coach Kalani Sitake, a candidate for two national coach of the year honors. "Coach Roderick has done a great job with him. I'm just so thankful that I got the coach that guy. His work ethic and his passion for the game is awesome, and it's an honor for me to be his coach. I'm really proud of him and the things that he can do on the field.
"He's got a lot of years of football left."
It was an offense that reminded many fans of the gun-slinging combinations of years past — and one that BYU coaches and players vow will continue.
"I think it's just going to keep going from here," Wilson said after leading the Cougars to a 49-23 win over UCF in the Boca Raton Bowl. "It's been an exciting year of 2020, but also tons of ups and downs. Great way to finish this way, but this offense is just going to keep improving into next year and the year after that.
"We got some great coaches and great players around that are used to the scheme and know what we're asking for. So it's been an exciting year, but we're going to keep growing on for next year."
That's the measure that Sitake will no doubt take into the offseason, as well: for as good as the Cougars' 2020 season was, it also had its challenges — and its holdups. By all accounts — and even if it wasn't the fault of BYU, the schedule was significantly less than originally planned, with big-name Power Five opponents replaced by lower-level Group of Five squads scheduled on a moment's notice in the late summer and early fall.
No matter how successful the 11-1 season is viewed — and make no mistake, it should be viewed as a success — there's always a need for improvement for the fifth-year head coach who will look to build on his winningest season in Provo.
"I mean, it doesn't really matter the wins and losses. What matters is the progress that we're making as a program," Sitake said. "I know that's what fans look at, but for me, I'm seeing a lot of progress made over the last few years. We were really excited about this season because we knew we had a deep team, and we had it tested often. So I was really proud of our players, and I think this is going to be a huge step for a lot of young guys that made a lot of plays and that have bright futures here at BYU.
"We're gonna have to lean on them heavily as we go into the next season."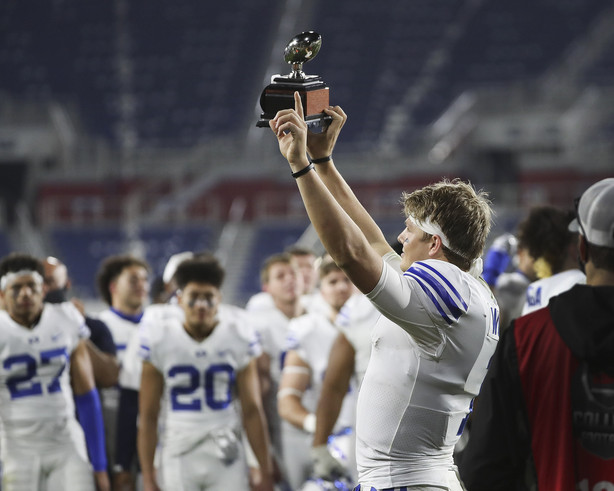 Only mostly dead
The heights of the 2020 season were prefaced by a low unlike any the program has ever seen in its history.
Due to the coronavirus pandemic and a shift of major conferences toward a conference-only (or less) fall schedule, BYU's schedule that included Utah, Arizona State, Stanford, Michigan State, Missouri and Boise State (among others) was whittled down to as few as two opponents.
As if to add insult to injury — or perhaps vice-versa, to use an even more cruel turn of phrase — star tight end Matt Bushman suffered a season-ending Achilles' tendon injury just days before the start of the season.
But athletic director Tom Holmoe quickly leapt into action. Sure, the schedule didn't wind up being anything near as difficult as originally intended — but the Cougars were just looking to play at all.
The Utes were replaced with a prime-time game on Labor Day night against Navy. Teams from the Sun Belt and Conference USA replaced the Pac-12 and Big Ten. Boise State and San Diego State initially dropped off the schedule, then were re-added in October when the Mountain West — like the Pac-12 and Big Ten — reversed course about its plans to cancel the season amid the pandemic.
When all was said and done, the Cougars' schedule included Troy, Louisiana Tech, UTSA, Houston and Western Kentucky — but they felt lucky to be playing. With such a schedule, BYU kept winning. After a rout of Navy, they trounced their Sun Belt and C-USA contenders — most by double digits — before a Friday night showdown at Houston.
That win opened up the country's eyes to the strength of the BYU offense and the dynamic athleticism of quarterback Zach Wilson. The Cougars steadily rose up in the ranks, climbing as high as No. 8 in the Associated Press Top 25 and USA Today/Amway Coaches Poll.
The highlight of the schedule, though, was a 51-17 win over Boise State, the Cougars' first-ever win over the Broncos on the Blue Turf in the 11-game history of the rivalry series. It was a win that propelled BYU's national prominence and gave them instant national credibility as New Year's Six darlings (and even dark horse playoff contenders) by media, pundits and writers.
But when the College Football Playoff selection committee met for the first time, BYU wasn't given any respect. The Cougars ventured through the mid-teens in the committees' eyes, which pointed regularly to the schedule.
BYU's schedule was rated the 100th-most difficult in college football, according to Jeff Sagarin's computer rankings — a 63.31 rating comparable to its Group of Five peers Central Florida (69.28) and Cincinnati (65.67), as well as Power Five challenger North Carolina (69.05).
Knowing they needed a schedule infusion, the Cougars signed up one of its top challengers; when COVID-19 concerns forced the cancellation of fellow FBS independent Liberty's matchup at Coastal Carolina in front of ESPN's College GameDay, BYU jumped at the chance. Traveling across the country on three day's notice, the Cougars faced the Chanticleers in what many still call the "Game of the Year."
But a 22-15 loss near the shores of Myrtle Beach dropped BYU from the ranks of the undefeated, its only blemish on an otherwise perfect year.
Still, there was no remorse for the road trip — even with the loss. The Cougars wanted a challenge, and Coastal Carolina — which didn't lose until an overtime defeat to that same Liberty squad in the Cure Bowl — gave them every bit of one.
"If there's a chance we could play a doubleheader and back-to-back games, we'd take that," Sitake told KSL.com after returning from Conway, South Carolina. "I love coaching these guys, and they love to play football. They're a bunch of football guys.
"We just want to play football; I let everyone else do the talking on rankings and that stuff. But you know what you're made of when you compete and put yourself in uncomfortable positions and just compete."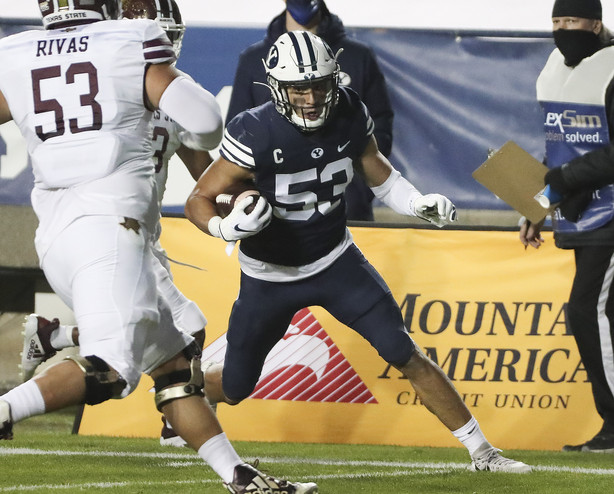 'Proud of our guys'
With Wilson expected to jump to the NFL any day — the projected first-round pick who is a junior said he'd make a decision by New Year's Day after the Boca Raton Bowl — BYU will move into 2021 looking to replace several key positions.
Beyond Wilson, offensive lineman Brady Christensen could also depart for a professional career. He's the top-rated lineman in the country, according to Pro Football Focus. Seniors like Khyiris Tonga, Zayne Anderson and Isaiah Kaufusi are also expected to take their shot at the NFL, as is Bushman.
Likely the same will happen with Zac Dawe, Bracken El-Bakri, Kavika Fonua and defensive backs Chris Wilcox and Troy Warner; all of them could be eligible to return for a free season of eligibility under NCAA legislation approved because of the nature of the pandemic, but it's highly likely they will move on to professional careers, in some fashion.
Sitake said any seniors who desire to come back will be allowed to return. Though their scholarship won't count against the 80-man roster limit, they will count toward the 125-man roster limit of NCAA Division I.
If any of them do return, they'll join twin tailbacks Tyler Allgeier (1,130 yards, 13 touchdowns) and Lopini Katoa (44 yards, five touchdowns), not to mention receivers like Dax Milne, Gunner Romney (767 yards, two touchdowns) and Isaac Rex (429 yards, 12 touchdowns). Whomever takes over at quarterback — be it Baylor Romney, Jaren Hall, Jacob Conover, Sol-Jay Maiava-Peters or some other unforeseen candidate at this time — will have plenty of weapons at their disposal.
But for one final season, these seniors gave BYU fans a year to remember — even if most were forced to watch it from home.
"It was just special. We've got a special team here," Kaufusi said after the bowl game. "To go out in that way, and in that fashion, to dominate that game, it was just special. Really proud of the guys. Proud of the team. We worked so hard for this, and to be able to execute and play at a high level like we did tonight, it's incredible.
"We knew we had a special team from the beginning, from all the adversity that we had faced, and I'm just really, really proud of our guys."
×
Related Stories