BOISE, Idaho — BYU head coach Kalani Sitake walked into the locker room at Albertsons Stadium at halftime of the Cougars' rivalry game with No. 21 Boise State, and didn't say a word.
He listened to the players talking amongst themselves. He heard the conversations about the 16-3 halftime advantage, about how the ninth-ranked team in the country could've done better, about all the mistakes the Cougars made.
So he walked into a room, made a few adjustments to the game plan with Ed Lamb and his coordinators, and walked back out. He said a few words to the group, presented the plan, and they ran out into the cold air of the Treasure Valley — to a 51-17 victory, their first road victory over Boise State in six tries.
But the adjustments? The halftime speech? The rah-rah to motivate and light a fire under his team?
That was all taken care of, because Sitake knew he had a good team. His players knew they had a good team.
"This team, man. The leadership on the team is unbelievable," said nose tackle Khyiris Tonga, who had four tackles, a forced fumble and one of three sacks on the night. "Great guys on the team; we didn't get the points before halftime, and we knew we were getting the ball in the second half. We rallied around the offense … and we were excited to go back out.
"Kalani came in, and didn't really need to say anything. We knew what we had to do, and we were ready for the second half."
And now, after a top-25 win on national television with a late Friday night all to themselves, the college football world knows they have a good team.
BYU passed its toughest test Friday night, a blowout win over Boise State in a place where they had only won once before — behind a pitch-perfect performance from quarterback Zach Wilson over a different Broncos, the ones from Western Michigan in the 2018 Potato Bowl.
On Friday night, Wilson completed 21-of-27 passes for 359 yards and two touchdowns, and ran for another score. If his name wasn't on Heisman Trophy lists before this weekend, it will be now. The Cougars passed their toughest test of the season — and then some — with flying colors, and deserve everything that is still coming their way.
Maybe he's not on the same level as Clemson's Trevor Lawrence and Travis Etienne, or Alabama's Mac Jones, or Ohio State's Justin Fields. But if nothing else, Wilson proved Friday night that he belongs in the conversation.
So, too, does his team.
Because it wasn't just Wilson who sparkled on the blue turf in Boise. Tyler Allgeier ran for 123 yards and two touchdowns, including an 86-yard scoring run that was the longest at BYU since 2006.
Of the Cougars' 573 yards of offense, 214 of them came on the ground in a balanced offensive attack. The rest came because Allgeier and Lopini Katoa, who added 66 yards and a rushing score, opened up the passing game.
"The run game always helps," Wilson said. "The big boys up front did a great job; we made them have to respect it. There were times we had wide-open throws because of it."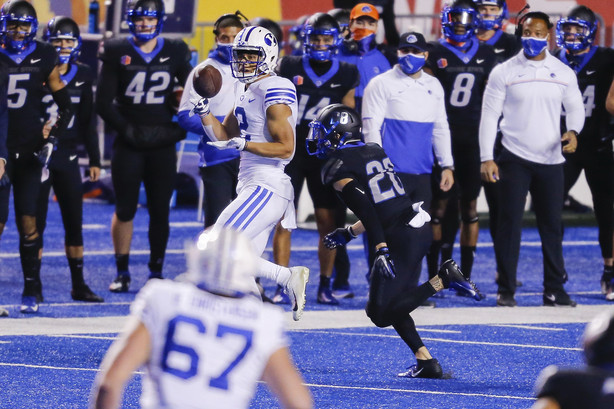 Wilson and Allgeier opened up the receivers, including Gunner Romney, who finished with a team-high 133 yards; Neil Pau'u, who had 75 receiving yards and added a 1-yard touchdown from a lateral in the fourth quarter; and Isaac Rex, who caught five passes for 45 yards and two touchdowns — the third-straight game of his freshman year with a score.
"I can't say enough about those guys," Wilson said. "Their confidence is shooting up each week.
"I knew there were some throws tonight that would be hard, and those guys are coming back and making some plays … They were balling out and making my job look easy."
Whether or not Wilson is in the Heisman discussion or contention for the Davey O'Brien Award based on his eye-popping numbers, it doesn't matter. What matters is that he's elevating his teammates, and his teammates are elevating the team to heights unseen since at least the turn of the century.
"It wasn't just him. Zach is a great player, and he showed that tonight," said Boise State coach Bryan Harsin, who nearly recruited Wilson to Boise prior to his senior year at Corner Canyon. "But I think the guys around him are great players; the O-line was great tonight. That tailback, the wide receivers.
"You've got to be able to stop the run, and we didn't do that. That was an explosive player. If we're able to do that a little better, we stand a chance. That's not just against BYU; that's against any great team."
BYU has started 8-0 just three other times in program history. Each time, the Cougars ended the season ranked in the AP Top 25, including the fabled national championship season of 1984.
Maybe BYU can contend with the upper echelons of college football. Maybe not. The Cougars could be a darkhorse candidate for the College Football Playoff, if they get enough help (and plenty of it).
But BYU is on track for a special season. A New Year's Six bowl berth isn't just on the table — if the Cougars finish at least 10-0, it will be nearly impossible to keep them out of an at-large spot over the holidays. BYU isn't guaranteed a spot in the NY6 given to the highest-rated champion of the Group of Five conferences, but it is guaranteed to be in the conversation of top honors with its play on the field.
The statement has been made. The goals have been set. And heading into November, all of BYU's goals are still in front of it.
"I think we wanted to make a statement, to show the team we truly are," Pau'u said. "We're still not given the credit we deserve, but we're going to focus on us and what we can do.
"In the back of our mind, we know we have to put up the style points to fulfill the goals that we want."
×
Related Links