Estimated read time: 3-4 minutes
This archived news story is available only for your personal, non-commercial use. Information in the story may be outdated or superseded by additional information. Reading or replaying the story in its archived form does not constitute a republication of the story.
PROVO — The Cougars' first Heisman Trophy finalist in nearly 30 years will have to wait.
BYU quarterback Zach Wilson finished eighth in the Heisman Trophy voting results, as revealed Thursday evening on ESPN. The final award will be presented Jan. 5 in an all-virtual ceremony originating from the Worldwide Leader's studios in Bristol, Connecticut at 5 p.m. MT.
Wilson is the first BYU player to finish in the top-10 in the Heisman voting since Ty Detmer in 1991.
"When someone tries to bring it up to me, I try to tell them the Heisman is always a team award," Wilson said when ESPN first began touting him as a Heisman hopeful. "You have to have great statistics, which also shows a team willing to execute and make plays. My stats aren't just me; they're also my receivers making my plays and my O-line blocking for me.
"It really just reflects the season that we've had as a team, and I'm happy for that."
A trio of quarterbacks in Alabama's Mac Jones, Florida's Kyle Trask and Clemson's Trevor Lawrence joined Crimson Tide wide receiver DeVonta Smith as the four finalists.
With four finalists, Wilson's top-10 finish in voting won't be considered a final ballot appearance. The Cougars have had just three players rank among Heisman finalists in program history: Steve Young in 1983, Robbie Bosco in 1984 and 1985, and Ty Detmer in 1990 and 1991.
Detmer's 1990 win remains the Cougars' one Heisman Trophy in program history, and one of just two winners from outside the current Power Five structure since 1964.
Ohio State quarterback Justin Fields was seventh in the voting, with Iowa State running back Breece Hall coming in at No. 6. Alabama running back Najee Harris was No. 5, with the SEC championship game MVP coming in just ahead of the four finalists.
Florida's Kyle Pitts was revealed to be No. 10 in the voting, the first tight end to finish top-10 overall since 1977. Notre Dame quarterback Ian Book was ninth among semifinalists.
Wilson, the 6-foot-2 junior quarterback from Draper, led BYU to its first season with 11 victories and just one loss since 1996 and capped the year with a stellar performance in the Boca Raton Bowl. Wilson totaled 437 yards and five touchdowns in the Cougars' 49-23 win over UCF (6-4), which entered the game with a top-10 offense and Dillon Gabriel, a top-five quarterback statistically in most metrics.
Wilson, whose only loss came on three days' notice in a 22-17 setback at Coastal Carolina, Wilson threw for 3,692 yards — currently the third-best mark in the nation — and 33 touchdowns with just three interceptions.
If Wilson's career at BYU is over, the former Corner Canyon standout would finish his career with 7,652 yards and 56 touchdowns along with 15 interceptions in his three seasons under center at BYU. He also had 642 yards and 15 rushing scores.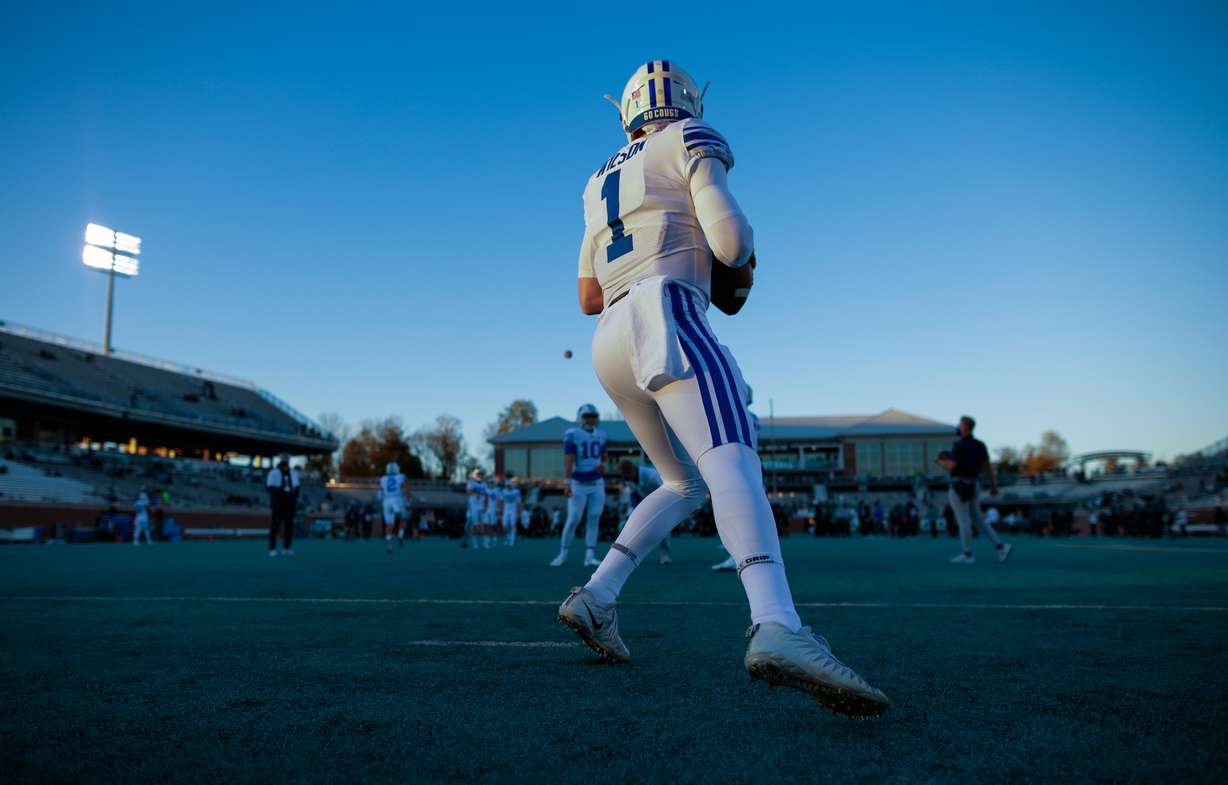 Alabama wide receiver DeVonta Smith is considered the oddsmaker's favorite to win the award, which would make him the first receiver to claim college football's top honor since Desmond Howard in 1991. Smith has caught 98 passes for 1,511 yards and 19 touchdowns, averaging an absurd 15.4 yards per catch, including 184 yards and two touchdowns in the Crimson Tide's SEC championship win over Florida.
He also has 199 yards on punt returns with a touchdown.
Among the quarterbacks nominated as Heisman finalists are Lawrence, the Clemson star who has long been presumed to be the top pick in next April's NFL Draft. The 6-foot-6, 220-pound Georgia native has the South Carolina-based Tigers ranked No. 2 in the country after their sixth-straight ACC championship, and throwing for 2,753 yards and 22 touchdowns with four interceptions — in just nine games.
Lawrence was forced to the sideline during the season after contracting COVID-19, which opened the door for other Heisman hopefuls.
Jones, the Alabama quarterback who has the Crimson Tide undefeated ahead of the College Football Playoff semifinals on Jan. 1, a junior with a variety of offensive weapons who has thrown for 3,739 yards (the second-most in the nation) and 32 touchdowns with four interceptions.
×
Related stories
Most recent BYU Cougars stories