PROVO — Pepe Tanuvasa's drive to historic Navy Marine Corps Memorial Stadium was emotional at times, a bit melancholic on occasions, and definitely filled with plenty of excitement.
The Navy transfer was making his first return to Annapolis since he was enrolled at the U.S. Naval Academy in 2018.
A native of Tigard, Oregon, Tanuvasa knew well the highway leading to the stadium, and even knew the nooks and crannies of the stadium with or without thousands of cadets lining the student section.
"It's hard to put into words," Tanuvasa recalled after the game, a touch of emotion in his voice.
Each of the 13 games in which he amassed a total of 32 tackles was filled with good memories, and he hoped to make a few more Monday night.
Boy, did he.
Tanuvasa had a team-high eight tackles, including four solo stops, as well as a quarterback hurry to lead the BYU defense's nearly impeccable rout of Navy, 55-3 in Annapolis, Maryland.
But he also recognized he was just one cog in a defensive machine that led to the Cougars' largest margin of victory since 2015.
"There were no hard feelings between my old teammates, but I knew they were going to play hard," Tanuvasa said. "I knew I had to match that same energy, and I had a great defensive line and great defensive backs behind me.
"With that support, it felt really amazing."
Starting in the middle of BYU's linebacker corps alongside Keenan Pili and Isaiah Kaufusi, Tanuvasa's total tackle tally was the third-best on the night, trailing former teammates Diego Fagot (13) and Kevin Brennan (9).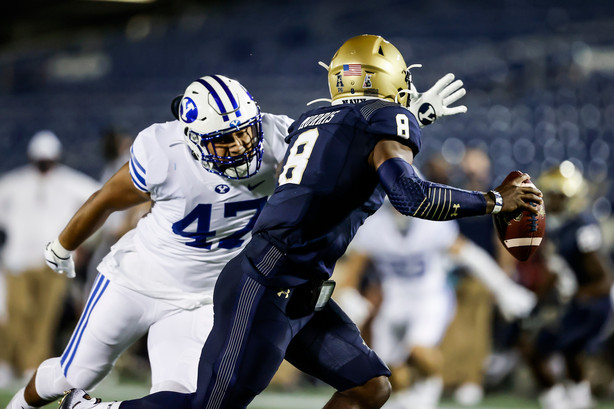 He also did it in just 2½ quarters of play, as BYU coach Kalani Sitake began to sub the starters from the game shortly after Tyler Allgeier ran for his second touchdown with a 17-yard sprint with 7:10 left in the third quarter.
In many ways, Tanuvasa's physical play set the standard for BYU's defense, and that physicality was initially earned when he played on the defensive front in Annapolis.
"We challenged our team to be physical," Sitake said. "I'm glad that it showed up. I think Navy played well tonight, but our guys played out of their minds."
Even after Lopini Katoa scored his third touchdown in the final seconds of the first half, the Cougars tried to keep the same level of physical play — despite the 31-0 halftime advantage.
"We knew Navy was a great team, and we couldn't let up at any point," said nose tackle Khyiris Tonga, who had four tackles with three solo stops. "When we came in at halftime, we knew we had been there before, and the score was 0-0.
"We were flying around and just having fun."
And that made Tanuvasa's job easier on an emotional night.
"I wouldn't say I was super instrumental," he said sheepishly. "The coaches had a really good game plan going into the game. Playing behind guys like Khyiris makes it easy.
"I feel like anyone could've done what I did."
Captains and leaders
BYU senior Troy Warner was the Cougars' representative at the pregame coin toss. Each team will only send one player and one coach to meet with one official at midfield, due to protocols surrounding COVID-19 restrictions. BYU won the toss and deferred to the second half.
Khyiris Tonga carried out the team's giant American flag. Fellow captain Isaiah Kaufusi carried the Navy flag, Tristen Hoge carried a flag for the U.S. Marine Corps, and fullback Kyle Griffits had the Cougars' team flag.
Historic precedent
BYU's 52-point margin of victory was the largest since a 70-6 win over Wagner in 2015, and the largest against an FBS opponent since a 52-0 shutout of former Mountain West rival Wyoming in 2009.
The Cougars held Navy to just 149 yards of offense, the Mids' fewest since putting up just 144 yards against San Jose State in 2012. Monday night was the worst loss of the Ken Niumatalolo era in Annapolis.
×
Photos
Related Links