BOISE — Three years after coming agonizingly close to leading BYU to its first-ever win at Boise State, former Broncos commit Zach Wilson finally got it done.
And what a way to mark a historic first.
Wilson threw for 359 yards and two touchdowns, and Tyler Allgeier added 123 yards and two scores on the ground as No. 9 BYU rolled to a 51-17 win over No. 21 Boise State, handing the Broncos their first-ever home loss in the 11-game rivalry series history Friday night at Albertsons Stadium.
Gunner Romney caught six passes for 133 yards for the Cougars, who improved to 8-0 for just the fourth time in program history. Freshman Isaac Rex added five catches for 45 yards and two touchdowns, and Neil Pau'u added 75 yards and a rushing touchdown in the rout.
After Gabe Summers drove Sears into the ground with a sack that forced Boise State to punt on its first possession, Allgeier needed just 26 seconds to cap the Cougars' first scoring drive with a career-long 86-yard run for a touchdown. Wilson did the rest.
Call it a big win for BYU, which will surely creep up in the national rankings Sunday morning with the rout. But don't call it redemption for Wilson, who committed to Boise State prior to his senior season at Corner Canyon before flipping amid offers from the likes of Cal, Iowa and Oregon State, as well as BYU.
"I wouldn't say redemption. I think this is a new year, a new team, for them, for us," said Wilson, who missed last year's 28-25 win over then-No. 14 Boise State with an injury. "Everything is different. But there are little flashbacks.
"Two years ago was an upsetting loss, but a great learning experience — for me and the rest of the team. We go back to last year's film, and we feel like we are so much better now."
Redemption or not, BYU made a statement: 573 yards of offense, 310 yards allowed, and Boise State's biggest home defeat since 1996 all added up to one big win for Wilson and the Cougars.
From the get-go, it was all pedal for the Cougars.
The Cougars also got some help when Boise State quarterback Jack Sears left the game with an apparent head injury in the first half. The USC transfer was taken to the medical tent, then escorted from the field by the medical staff without his helmet.
Already missing last year's starter Hank Bachmeier for the second-straight game, the Broncos turned to true freshman Cade Fennegan, a recently returned missionary for The Church of Jesus Christ of Latter-day Saints in Argentina. Fennegan, who was previously recruited to North Texas by now-USC offensive coordinator Graham Harrell, is the son of former BYU quarterback Garth Fennegan and completed 15-of-26 for 184 yards, an interception and a pair of fourth-quarter touchdowns in his Boise State debut, when the Broncos (2-1) played three quarterbacks.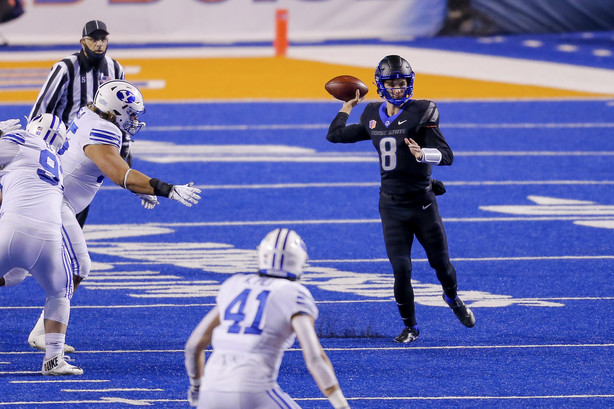 But the Cougars held Boise State to just 16 yards on the ground in the first quarter and took a 10-3 edge on Jake Oldroyd's 47-yard field goal on the first play of the second. Wilson then capped an eight-play, 96-yard drive with a 4-yard touchdown run after he went 3-for-3 passing for 32 yards, ran twice for 16 yards, and drew a pass interference penalty in the red zone en route to a 16-3 halftime lead before pouring it on in the second half.
BYU, whose No. 9 national ranking made it the highest-ranked team to visit Albertsons Stadium in the Division I era, out-gained the Broncos 245-141 in handing Boise State its largest halftime deficit since trailing Boston College 24-0 in 2005.
And yet, the Cougars felt like they could do better.
"I think the guys were really frustrated at their performance," said BYU coach Kalani Sitake, whose team has a bye week scheduled next Saturday. "The first half wasn't really our best. When I got to the locker room, they were already talking. It was a good moment; I didn't have to say much.
"I went and talked to the coaches, some things we could do and adjustments we could make, and then we challenged the players. But the truth is, the players had an answer for themselves. They knew what our standard is, and they knew they weren't playing to our standard."
And that's how it got worse after the break for Boise State.
Wilson opened the second half with back-to-back scoring strikes to Rex, and the Cougars blanked the Broncos 22-0 in the third quarter to turn a historically competitive series into a rout.
Pau'u added a 1-yard run off a lateral pass to go up 45-3 on the first drive of the fourth quarter, and the Cougars did not let up, holding the Broncos outside the end zone until Fennegan found Khalil Shakur for a 52-yard score with 9:27 left in the fourth quarter that cut the lead to 45-10.
Fennegan hit Shakur for a 46-yard touchdown on the next possession during a run of three-straight onside kicks. But Wilson trotted out to midfield, hit Romney with a 48-yard dime, and Allgeier trotted in for his second touchdown as BYU topped 50 points for the second time in three weeks.
Sitake said the Cougars were just playing hard. He didn't like the onsides kick, and wanted Wilson and the first-team offense to control the ball down the stretch of a full game.
Wilson added that there was no statement or desire to run up the score. A road win over an Associated Press Top 25 opponent will be the biggest statement they could make Friday night.
"Really, again that we're a good team," Wilson said when asked what statement he hoped BYU left at Albertsons Stadium. "I don't think there's much else to say than that. People still doubted us, and I don't blame them for that.
"Each week was an opportunity to keep roving ourselves. Tonight was a big one … but it means nothing if we don't keep winning."
Scoring summary
First quarter
11:41 — BYU: Tyler Allgeier, 86-yard run (Jake Oldroyd kick)
03:32 — BOI: Jonah Dalmas 39-yard field goal
Second quarter
14:34 — BYU: Oldroyd 47-yard field goal
1:00 — BYU: Zach Wilson, 4-yard run (kick blocked)
Halftime — BYU 16, Boise State 3
Third quarter
12:48 — BYU: Isaac Rex, 5-yard pass from Wilson (Oldroyd kick)
6:57 — BYU: Rex, 20-yard pass from Wilson (Pau'u pass from Wilson)
1:26 — BYU: Lopini Katoa, 20-yard run (Oldroyd kick)
Fourth quarter
11:27 — BYU: Neil Pau'u, 1-yard run (Oldroyd kick)
9:27 — BOI: Khalil Shakur, 52-yard pass from Caden Fennegan (Dalmas kick)
9:14 — BOI: Shakur, 46-yard pass from Fennegan (Dalmas kick)
7:59 — BYU: Allgeier 2-yard run (kick failed)
Final — No. 9 BYU 51, No. 21 Boise State 17
×
Photos
Related Links