Estimated read time: 6-7 minutes
This archived news story is available only for your personal, non-commercial use. Information in the story may be outdated or superseded by additional information. Reading or replaying the story in its archived form does not constitute a republication of the story.
PROVO — Jaren Hall will be the first African American starting quarterback in BYU football history when he gets the first start of his career Saturday against South Florida (1:30 p.m. MDT, CBS Sports).
But that was hardly on his mind Monday when he met with the media for the first time since incumbent starter Zach Wilson had surgery to repair an injured hand that will keep him out for several weeks (but not cost him the season, head coach Kalani Sitake repeatedly confirmed).
It's not that Hall isn't honored or proud of his ethnicity; he's just got bigger things to think about — like snapping a two-game losing skid and rebounding from a surprise 28-21 loss at Toledo before the Cougars' bye week.
"I'm very proud of my ancestors and my ethnicity, and all that comes with that. It's an honor and a privilege to be playing here at this wonderful university," said Hall, a Maple Mountain product and the son of former BYU star Kalin Hall. "BYU's a very special school, and there are individuals from different lifestyles who play into why it's so special — being a part of the history of Brigham Young University, and all the special things that go with."
Hall said all the right things, and he should be remembered as a player instead of a racial or ethnic note in the BYU record book.
But Saturday's start still means something, at least in a historical context.
Being the starting quarterback at BYU often means being the face of the flagship university of The Church of Jesus Christ of Latter-day Saints, a church that barred black men from holding the priesthood for most of its early history until 1978. And while sports play a separate role from religion, politics and society, at BYU the two have been interwoven historically on campus and can work in tandem to illustrate change and progress at the historically conservative college.
Even the school's sponsoring faith recently appointed the first African American member of the church's Quorum of the Seventy and tabbed the same, Elder Peter M. Johnson, to speak to the faith's 16 million-plus members this past weekend during a semiannual general conference session.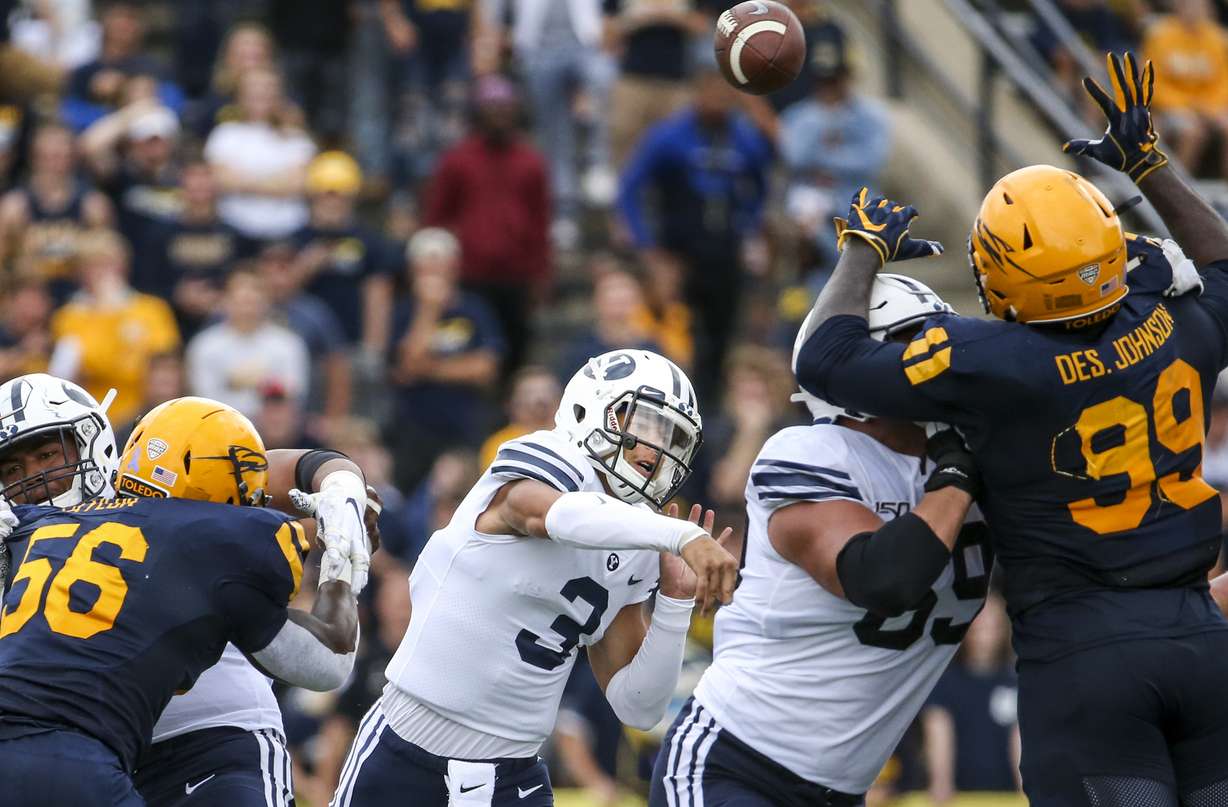 Times are changing at BYU — but Hall is more than his race, too.
"He'll be the first quarterback to start (at BYU) from Maple Mountain High School, too, if you're going to draw up all those comparisons," Sitake said. "I think it's awesome that you are seeing so many different types of quarterbacks, in backgrounds, race and the like. College football is 150 years old, and a lot of cool things are happening. Polynesians are playing quarterback, we've had 300-pounders play quarterback; if you ask our offensive lineman, they all think they can play quarterback.
"Jaren's a legacy kid. His dad spilled his blood on that field, too, and I think it's a cool connection they can both have. This is Jaren's time to shine, and I'm really happy for him."
On the football field, Hall has earned his time — even if he's only attempted seven passes, completing four of them for 58 yards in his career.
"He's extremely confident, and I think he's ready for this moment," Sitake said. "I'm really excited for him, he's really excited, and the players are responding to him well. Zach still has a role as a mentor, to coach, and to be a support to his teammate. But I thought we had really good practices last week with Jaren running the show."
He's already made an impression on his teammates. Among the best of them? He's fast.
"Really fast. But I got him; he knows that," running back Emmanuel Esukpa said with a laugh, before adding that Hall is still similar as when he was QB2. "Jaren's always been a confident guy in whatever he does. I see him as the same guy; he's always been ready to do whatever he needs to do to help the team win."
Fast. Mobile. Able to make plays with his feet. But in his core, Hall is still a quarterback — a pure passer and two-time All-Region 8 first-team selection who threw for 5,109 yards and 52 touchdowns in his four-year varsity career with the Golden Eagles.
"He could probably play a lot of different positions since he's so athletic, but his focus was being able to throw the ball and be a quarterback," Sitake said. "That's why we've kept him at that position. We've used him here and there in different schemes, but he came here to play quarterback.
"Unfortunately, there was an injury. But I'm excited for him to be able to have this moment and take advantage of this opportunity that he has in front of him."
The son of Kalin and Hollie Hall — a former BYU running back and Cougar gymnast who met and married at BYU — Hall grew up in Spanish Fork and always dreamed of playing at BYU. He received several Power Five scholarship offers in high school — current BYU quarterbacks coach Aaron Roderick famously recruited him to Utah, for example — but Hall remained true to the Cougars even while serving a two-year church mission in Roseville, California, prior to enrolling in school.
He has a legacy to uphold after all, and two parents with strong BYU ties.
"I think they're very proud of me, to be the starting quarterback at BYU," said Hall, whose older brother KJ also played running back at BYU before medically retiring from football. "I had a chance to talk to them, and they're excited to see me play — just like any parent would be of their son and daughter."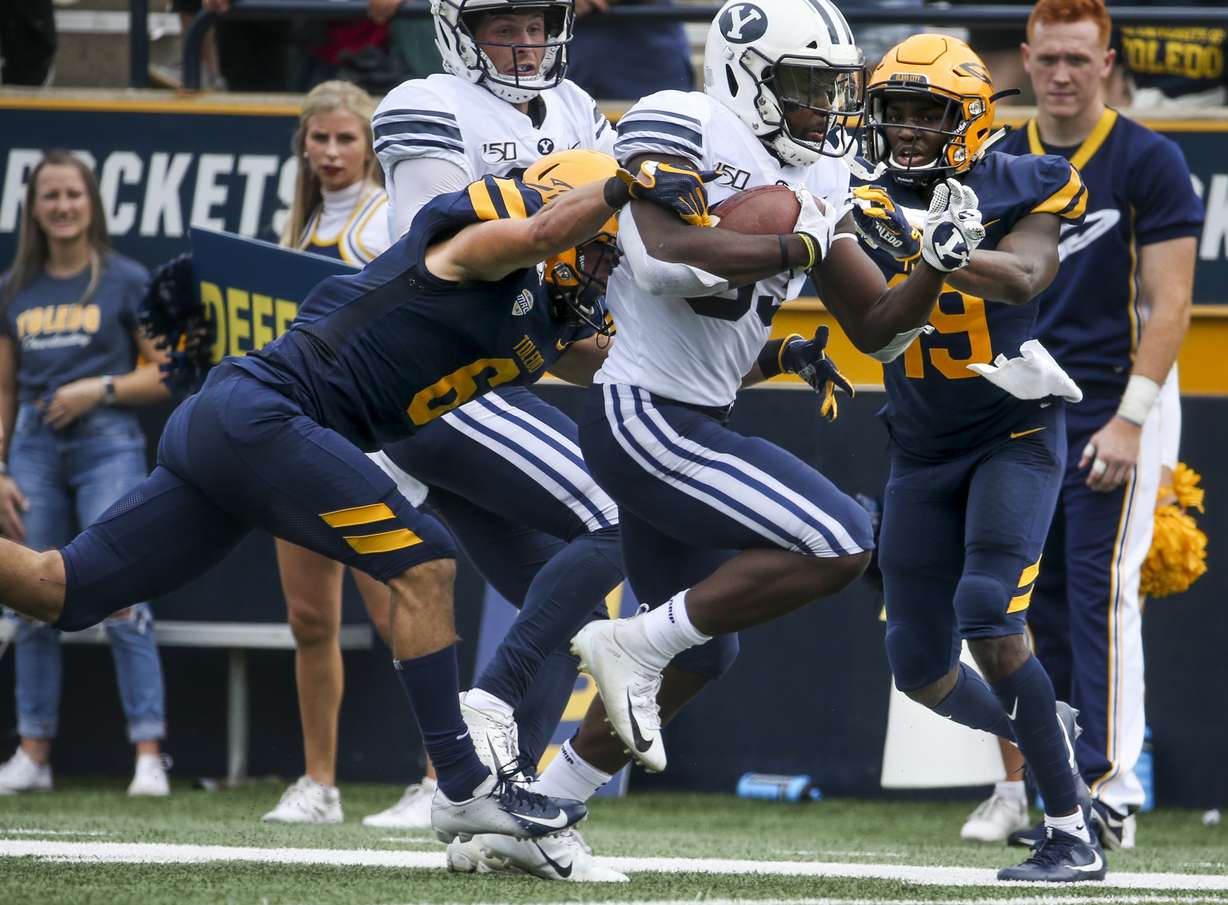 But Hall is also his own man. A three-sport athlete at Maple Mountain, the 6-foot-1, 205-pound redshirt freshman also played outfielder with the BYU baseball team last spring — the same time he was taking first-team reps during football's spring camp, owing to Wilson's offseason shoulder surgery.
He played in two games a year ago, while utilizing the NCAA's new redshirt policy, and has taken snaps in all five of the Cougars' games to date, including throwing a 19-yard pass in a 30-27 overtime win over then-No. 24 USC back on Sept. 14.
So while Saturday will be his first start, it won't be his first rodeo.
"Getting increased reps in spring versus fall last year was huge," Hall said. "Just catching up to the speed of the game; it's a lot faster, so I felt like I got more comfortable at the offense. This is football at the college level. I think it was huge for now."
×
Related stories
Most recent BYU Cougars stories