Estimated read time: 5-6 minutes
This archived news story is available only for your personal, non-commercial use. Information in the story may be outdated or superseded by additional information. Reading or replaying the story in its archived form does not constitute a republication of the story.
BOCA RATON, Fla. — In his three years wearing a BYU uniform, Zach Wilson has made plenty of memories.
From the first win in his first career start as a freshman to struggling through a pair of injuries as a sophomore to the rollicking rolling he's put on teams as a junior, the Corner Canyon product has done just about everything for the Cougars.
In what may be his final game, he saved his best performance. Wilson's early entry into the NFL draft isn't assured yet — but after Tuesday night, no one will blame him if (or when) he does.
Wilson threw for 425 yards and three touchdowns, and added two rushing scores as No. 16 BYU jumped out to a 21-0 lead and never looked back en route to a 49-23 win over UCF in the Boca Raton Bowl at FAU Stadium.
After eight previous tries of futility, the Cougars (11-1) finally won a game in Florida, in their first one-loss season with a double-digit win total since 1996. All it took was a bowl game after the Cougars' gut-punching first loss of the year, a trip to face a team that proclaimed itself national champions just three years ago, and a quarterback who grew up a Utah fan and found his way to Provo within weeks of decommitting from his initial destination in Boise State.
It also took a special team. But the 2020 BYU football team wasn't just special because of Wilson, he insists.
"(It's) the love that we have for each other. The excitement we had to play this game was special," Wilson said. "That was the coolest part. We'll never have the same team next year.
"We had a ton of BYU fans here, and it was awesome to have them there. It just shows how big the BYU community and experience is."
BYU piled up 655 yards of offense, including 441 through the air when adding a 16-yard trick play by Neil Pau'u, who caught five passes for 86 yards and a score.
Tyler Allgeier added 173 yards and a touchdown on the ground, and Isaac Rex caught five passes for 96 yards and two touchdowns to aid Wilson's effort. Ditto for BYU defense which allowed just 85 yards in the first quarter, led by Zac Dawe's bone-crushing sack on fourth down.
But make no mistake; those teammates were auxiliary to Wilson's overall performance.
"It's an amazing offense, and I think it's just going to keep growing from here," said Wilson, noting that passing game coordinator Aaron Roderick and wide receivers coach Fesi Sitake called the plays after offensive coordinator Jeff Grimes and offensive line coach Eric Mateos did not make the trip for undisclosed reasons. "It's been full of ups and downs, but I think this awesome is just going to keep improving.
"It's been an exciting year, but I think we're going to keep growing next year."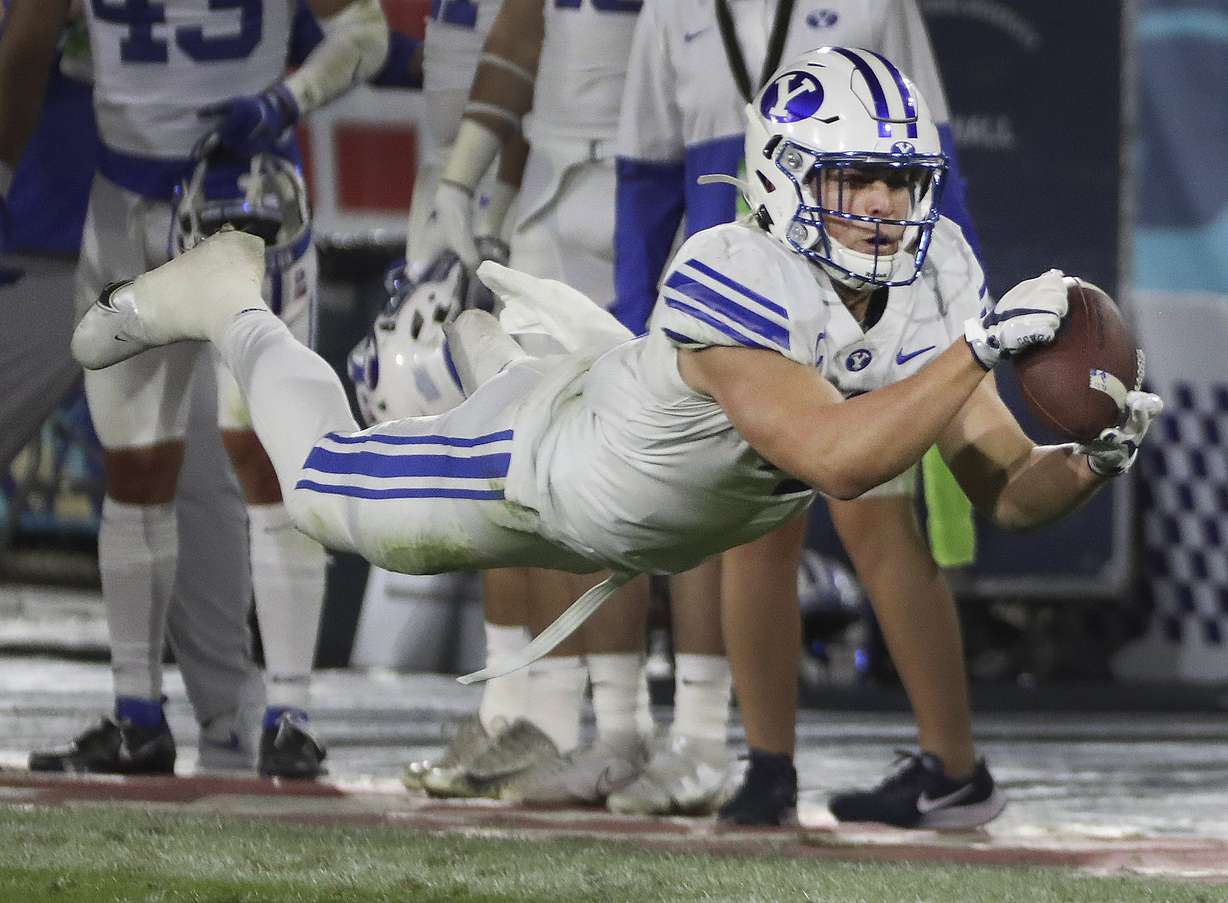 The Corner Canyon product sliced up the Knights' secondary like a well-known surgeon, completing 23 of 30 passes opposite UCF sophomore Dillon Gabriel, who didn't throw a touchdown until five seconds remained in the third quarter.
Gabriel, the son of former Hawaii quarterback Garrett Gabriel, completed 21 of 45 passes for 217 yards and two touchdowns.
By the time Gabriel found the end zone with his arm, the Knights (6-4) trailed 49-17 and BYU was beginning to pull its starters.
Greg McCrae added 77 yards and a touchdown on the ground for UCF.
Wilson led the BYU offense to a program-record 270 yards in the first quarter en route to a school-record of 330 yards in the first half of a bowl game. The Cougars led 21-0 before the Knights could blink, and never let up all the way to a 35-10 halftime advantage with a defense that allowed just 85 yards in the first quarter.
Allgeier became BYU's first 1,000-yard rusher in a single season since Jamaal Williams in 2016, and Rex tied the third-best mark in the nation with his 12th touchdown grab of the year, midway through the second quarter.
The freshman from San Clemente, California, tied Florida's Kyle Pitts, who just became the first-ever tight end named as a finalist for the Biletnikoff Award, given annually to college football's top receiver.
But with all due respect to the supporting cast, Tuesday's star was Wilson.
If Boca Raton was his swan song in a BYU uniform, Wilson was going out in style: with the Cougars' first-ever win in Florida, a futility streak that included four bowl games.
"He's a great player," BYU coach Kalani Sitake said of his star quarterback. "I think everybody's talked about him a lot. I hope he knows how much we appreciate him. Coach Roderick has done a great job with him, and it's an honor for me to be his coach. He can do a lot of great things on the field.
"He's got a bag full of different types of throws that he practices all year. And he's got a lot of years of football left."
Even the Cougars' opponent had to take note — and when a quarterback impresses UCF coach Josh Heupel, it's best to take notice. Wilson put on a dazzling display of no-look passes, sidearmed throws downfield and a Mahomesian offensive display — aided, of course, by a bevy of wide receivers and pass-catching running back Lopini Katoa's death-defying leap for a catch that the photo of will hang in BYU lore. He did it all in front of a cadre of NFL scouts, including two from the San Francisco 49ers who gaped as Wilson tossed an end-zone strike to Rex for 36 yards in the first quarter.
"He's a great player," said Heupel, a former Snow College quarterback who was runner-up for the Heisman Trophy at Oklahoma. "That's why he's viewed the way that he is by the NFL. He's got good arm talent, good decision-maker, takes care of the ball, athletic enough to make plays with his feet. He does a good job."
Scoring summary
First quarter
13:11 — BYU: Zach Wilson, 15-yard run (Oldroyd kick)
11:10 — BYU: Isaac Rex, 36-yard pass from Wilson (Oldroyd kick)
0:25 — BYU: Wilson, 4-yard run (Oldroyd kick)
Second quarter
10:11 — UCF: Greg McRae, 5-yard run (Obarski kick)
07:11 — BYU: Rex, 27-yard pass from Wilson (Oldroyd kick)
3:35 — BYU: Neil Pau'u, 35-yard pass from Wilson (Oldroyd kick)
00:19 — UCF: Daniel Obarski, 35-yard field goal
Halftime — BYU 35, UCF 10__
Third quarter
13:56 — BYU: Tyler Allgeier, 39-yard run (Oldroyd kick)
09:39 — BYU: Gunner Romney, 6-yard run (Oldroyd kick)
00:05 — UCF: Jacob Harris, 21-yard pass from Dillon Gabriel (Oldroyd kick)
Fourth quarter
07:53 — UCF: Jaylon Robinson, 9-yard pass from Gabriel (pass failed)
Final — BYU 49, UCF 23
×
Photos
Related links
Related stories
Most recent BYU Cougars stories