Estimated read time: 5-6 minutes
This archived news story is available only for your personal, non-commercial use. Information in the story may be outdated or superseded by additional information. Reading or replaying the story in its archived form does not constitute a republication of the story.
PROVO — In another life, maybe Baylor Romney could play wide receiver or defensive back at BYU.
The Cougars' backup quarterback has the athletic instincts to play anywhere he wants on the field, and that means he'll be with the signal callers for the foreseeable future — including presumed starter Zach Wilson, former Maple Mountain star Jaren Hall, former starter Joe Critchlow and recent walk-on addition Rhett Reilly (the cousin of former Utah linebacker Trevor Reilly).
Or maybe, at the very least, Romney could've been a pretty good shooting guard or even a professional golfer.
A lot is on the table for a guy BYU coaches and players routinely describe as "athletic."
"To be honest, I don't even really consider myself to be that athletic of a guy," said the 6-foot-2, 193-pound Romney, who is competing with Critchlow for the No. 3 spot, according to most observers. "It's just something that is useful in football — if you can run and pass, you'll be more of a threat to defenses."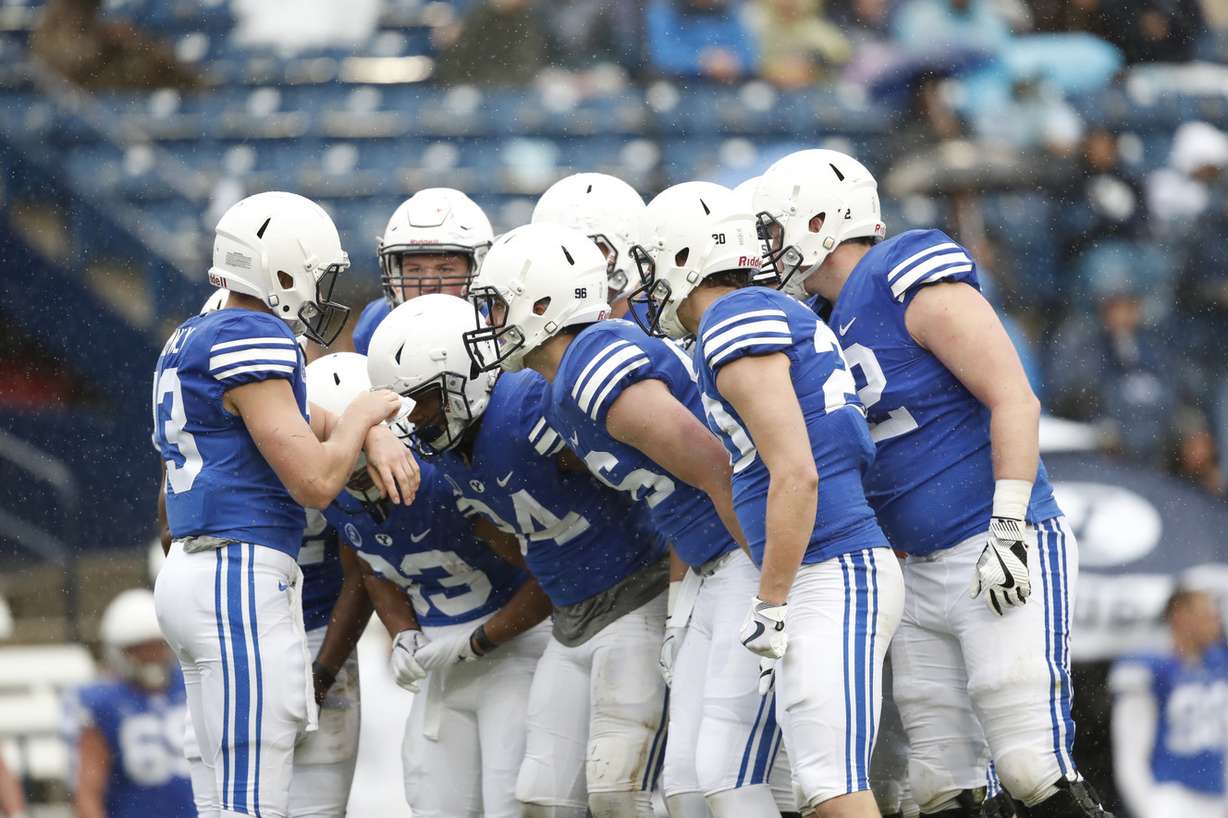 Coaches have taken notice of Romney's athleticism, though, and they are even considering ways to use it as BYU prepares for arguably the toughest schedule since going independent in 2011, beginning Thursday, Aug. 29, against in-state rival Utah.
"He's a really, really good athlete," said quarterbacks coach Aaron Roderick, who recruited Romney in high school when Roderick was co-offensive coordinator at Utah. "I don't want to overstate it, but he's one of the better all-around athletes in our program.
"He's a guy that could start for us at other positions. But he's a good passer, a smart guy, and I really liked him as a quarterback in high school. … He's a good thrower, a super athlete, smart, tough kid. Hard work. Humble. I love him. He has a chance to play here someday."
He's not the only one impressing coaches, of course; Romney's younger brother Gunner was a standout wide receiver as a freshman in 2018. The younger Romney developed instant chemistry with Wilson, playing in nine games with four starts and amassing 162 yards and two touchdowns on 13 receptions.
But maybe the Romney brothers aren't even the most athletic specimens in a family that originally hails from the Latter-day Saint colonies in Mexico (they moved to El Paso, Texas, shortly before Baylor began high school, then to Chandler, Arizona, where Gunner won back-to-back state titles with future BYU quarterback Jacob Conover).
They've got pretty good genetics, too.
"On my mom's side, I have cousins who played in the NFL, who played here (at BYU), and my dad was a great basketball player who played professionally in Mexico," Gunner Romney said. "We have great athletes on that side, too. We're just blessed, I've got to say."
OK, so maybe Baylor Romney takes more after his father in his jump shot (Gunner admits he's more of a post-up player on the hardwood, too).
But Gunner Romney is "blessed" to have his older brother in Provo, too, he admits. The two don't live together since Baylor Romney married earlier this year, but they still hang out regularly.
Need someone to catch passes? Gunner's your guy.
Need a partner for a late-night run in Provo? Baylor's all over it.
The two aren't just brothers; they're best friends.
"And he's also a great person, a great example for me," Gunner Romney added. "When I'm here and I see him doing the right things, it makes me want to be a better person, too."
A year ago, Baylor Romney's collegiate career was in flux.
After signing with Nevada as a senior at Franklin High School in El Paso, Texas, Romney's recruitment was thrown through a loop with a coaching change by the Wolf Pack. After serving a two-year mission for The Church of Jesus Christ of Latter-day Saints in Carlsbad, California, Baylor Romney re-opened his recruitment and looked around at a few schools.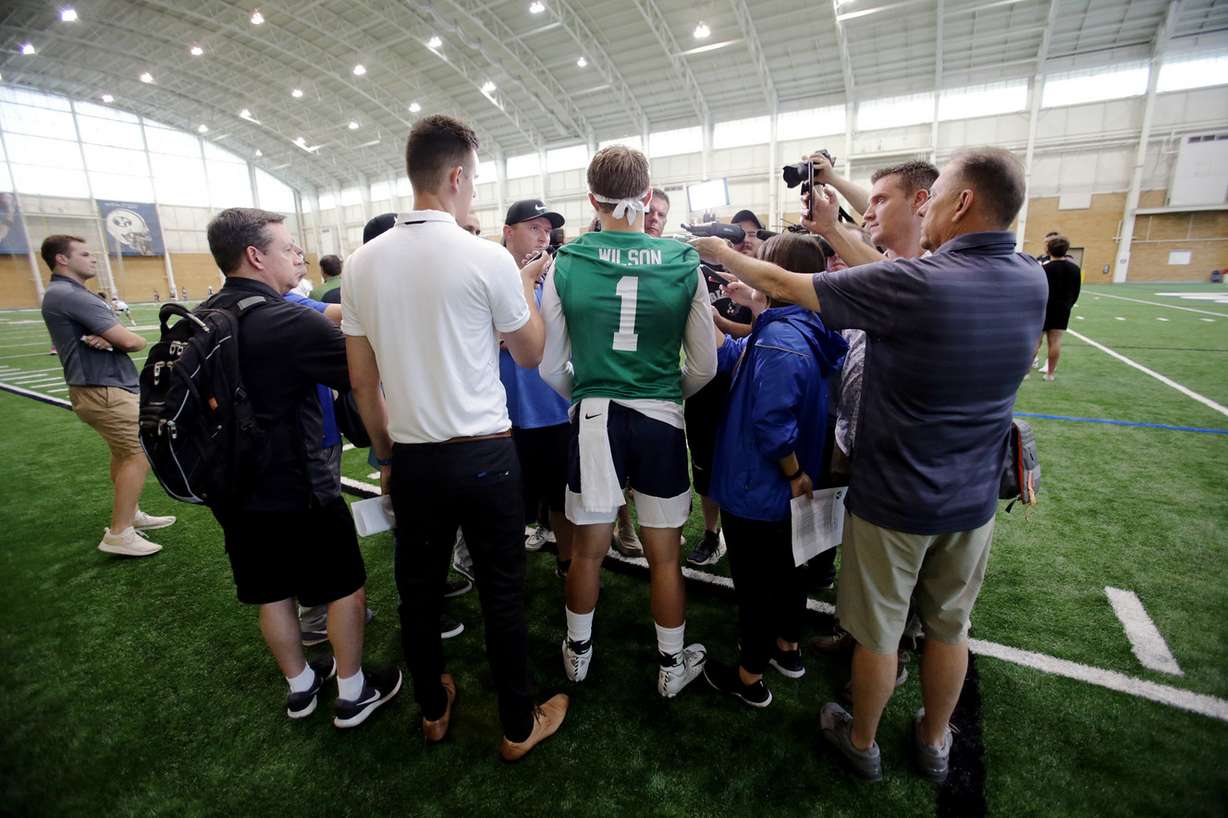 But something stood out about BYU. It wasn't just that his brother was already committed, or that another brother, Tate Romney, was considering the Cougars as well (though it didn't hurt). Baylor Romney just liked BYU. He liked Provo. He liked the environment for a recently returned missionary.
"When you come here, there's something special," the elder Romney said. "It's a different environment — the people, the players; it's all special. And that's what attracted me here."
Baylor Romney is glad he came to BYU — both of them, in fact. Even if he's not the starting quarterback. Even if he spent his freshman season running the scout team instead of preparing game film. Even if it means finding other ways to contribute — ones that might not be readily visible to fans on Saturday afternoons at LaVell Edwards Stadium. Because Baylor Romney has a place in the BYU football program, and it's a place that is getting him noticed.
"We're starting to develop a theme where these QBs are all similar: Zach, Jaren, Baylor," said Roderick, who even alluded quarterbacks the Cougars are currently recruiting. "They are similar guys with similar attributes.
"We're trying to build a pool of depth, where our offense is what it is and those QBs just plug in and go. That's the idea."
×
Photos
Related Stories