Estimated read time: 11-12 minutes
This archived news story is available only for your personal, non-commercial use. Information in the story may be outdated or superseded by additional information. Reading or replaying the story in its archived form does not constitute a republication of the story.
CHANDLER, Ariz. — When Jacob Conover was young, his family lived in Oregon — surrounded by Ducks, Beavers and all other kinds of mascots that packed the streets before laying it aside for the rivalry known as "The Civil War."
Conover wanted in on the rivalry game, so he came home from school one day talking about the Ducks. One of his friends was an Oregon State fan, it seemed, and he was leaning toward pledging his sports allegiance to "The O."
"I was like, 'hold on' — and we fixed that quick," said his father, Jeff Conover, a BYU alum who briefly played semipro football in Germany. "He's been a BYU fan for a long time."
The younger Conover has been hooked ever since.
He practically sleeps in a custom-made No. 17 BYU jersey, one emblazoned with "Conover" on the nameplate. His pregame playlist at Chandler High School, where he is a senior starting quarterback, includes a hype video from BYU's 2015 season.
So when Conover committed to play football for BYU last spring after the Cougars finished a dreadful 4-9, it didn't surprise many people close to him. But how could the four-star quarterback rated the No. 2 pro-style passer in Arizona and top-10 nationally by 247 Sports opt for such a program over some of the nation's elite programs?
"I'd ask him if he had a full-ride to Utah and Ohio State, but a walk-on offer to BYU, who would you choose?" Jeff Conover said. "He'd always say, 'I'm going to walk on to BYU and prove everyone wrong.' That was just a kid's answer."
The scenario built up in the Conovers' head wasn't so far-fetched, though. Conover selected the Cougars over offers from Alabama, Arizona, Arizona State, Ole Miss, Washington State and others, and the four-star quarterback from Arizona powerhouse Chandler High has stuck to his commitment in the intervening months.
"Growing up, my dad went to BYU and I've been surrounded by that campus my whole life," said Conover, who plans to serve a two-year mission for The Church of Jesus Christ of Latter-day Saints and enroll with the Class of 2021. "Coach Kalani is one of the most amazing head coaches I've ever met, and the whole atmosphere of the school with its standards and everything about it — I love it."
Rather than missing out on another high-profile Latter-day Saint quarterback, BYU reeled one in before his senior year of high school.
Conover is on track to graduate early from high school, hopefully after leading the Wolves to a third-straight Class 6A state championship, he adds — the team's fourth in five seasons.
He isn't just known for his school record-setting passing or his playbook-memorization with the Wolves. He's often known for the way he takes teammates and even opposing players under his wing.
"BYU is getting a gem," said Chandler coach Shaun Aguano, who has led the Wolves to three Class 6A state titles in the past four seasons. "They won him over from a lot of big schools, but he was very faithful to his faith and he wanted to go on a mission.
"The story is that he's always held a BYU football in BYU pajamas."
During Friday night's 62-0 blowout victory over nearby Mesa High, the senior quarterback was pulled from the game well before halftime. Instead of sitting on the bench or hanging in the crowd of teammates on the sideline, Conover was routinely next to his coach, shouting commands and sending in play-calling signals to his backup, sophomore Mikey Keene.
On one occasion, Conover left the masses and gravitated to the track behind Chandler's sideline. It wasn't to take a break; wide receiver/running back Timothy Boyd, had questions about a particular route — so Conover set out diagramming the play for him.
Star high school quarterbacks don't always pan out in college. But Aguano is certain of what BYU is getting in Conover.
"He's another coach on the field. His leadership is not by doing things vocally; he's probably one of the hardest workers in the classroom," Aguano said of Conover. "He's a very mature individual who loves football … and I think his passion attracts a lot of people.
"He's another coach on the field. His leadership is not by doing things vocally; he's probably one of the hardest workers in the classroom."
His teammates agree; even those who have left high school don't see Conover as a sturging taskmaster or win-at-all-cost star quarterback on one of the top-25 teams in the nation.
Not even when they are soon-to-be rivals.
"Me and Conover had a lot of good memories winning a state championship back in high school," said Utah running back T.J. Green, who accumulated a school-record 3,737 yards and 57 touchdowns in his time at Chandler. "I wish him the best at BYU. He's still doing his thing at Chandler, so I just wish him the best."
***
Conover isn't the first (or only) standout player to pass through the doors at Chandler High School at 350 N. Arizona Avenue. The school has a dozen current Division I commits on its roster — and still growing — including Conover and Texas-bound tight end Brayden Liebrock, the No. 3-rated prospect in the state (Conover is sixth overall and No. 2 among quarterbacks behind five-star Oklahoma commit Spencer Rattler from Pinnacle High).
Six of Arizona's top-50 recruits play for Chandler, according to 247 Sports.
But there's something special about the guy who leads the huddle — in particular, this one.
Conover opened his senior campaign as the all-time leading passer in Chandler High history, having accumulated 6,521 yards in two seasons.
With three touchdowns in Friday night's shutout win over Mesa, he tied the school record for career passing touchdowns with 70 TDs — as many as current Virginia quarterback Bryce Perkins scored between 2012 and 2014.
Conover isn't just another great quarterback produced by head coach Shaun Aguano at Chandler High. He might be the best one so far, at least statistically.
"I think he's one of the best quarterbacks in the country in high school," said BYU freshman Gunner Romney, who played with Conover last year and set Chandler High records for touchdown receptions (27) and receiving yards (2,863). "He's a really, really accurate quarterback who can put the ball on the money whenever he wants to. But I think his mental edge of the game is where he is the strongest at; he makes really good reads. I don't think he'll have a problem jumping to the college level, wherever he goes."
Plenty of special quarterbacks have come through the Wolves' program over the past few seasons. Chandler didn't win an Arizona high school football championship since 1949 prior to its current run. Now, the Wolves have won three of the last four championships in Arizona's top classification.
Conover was a driving force in guiding the Wolves to back-to-back titles in 2016 and 2017, but he also got help from Romney and kicker Cash Peterman, another BYU commit who sprung the Chandler into the No. 24 ranking in this season's MaxPreps Xcellent 25 rankings.
"The culture here at Chandler is family; I know a lot of schools say that, but it really means something here," Jeff Conover said. "That's a big part of who Jake is. He's quieter, but he's developed a confidence and he's poised on the field and in tough situations."
In building up the program, Chandler has been led by players like Perkins and former Utah State signal caller Darell Garretson, who threw for 5,421 yards and 46 touchdowns from 2010-12.
Conover is the next in line.
"He's been a leader for us for the last three years — no matter if he is a sophomore, junior or season," said Aguano, whose family is from the Sandy area and who counts BYU coach Kalani Sitake, Utah's Kyle Whittingham, Weber State's Jay Hill and Utah State's Matt Wells among his friends. "He's always brought that coachability, that energy, and that demeanor that has made us successful. I think he will bring that to BYU."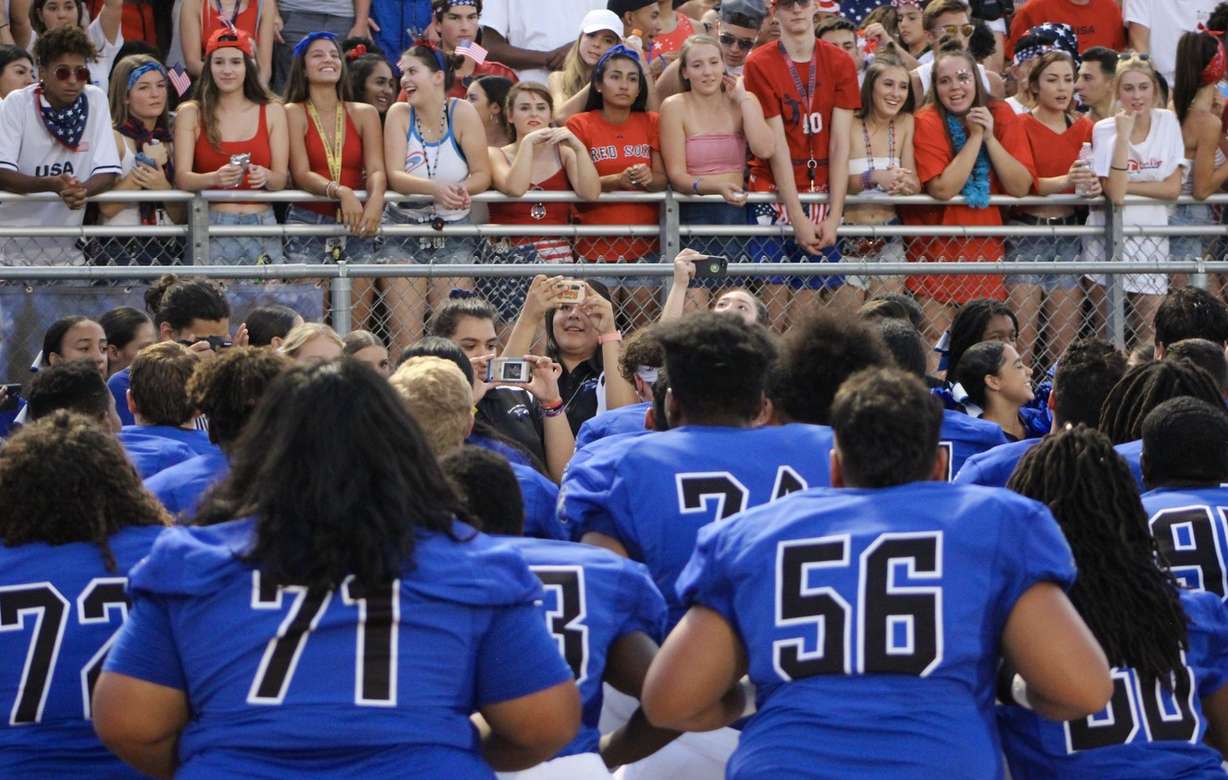 ***
For much of its history, Chandler High was far from a football powerhouse.
One of the oldest high schools in the state of Arizona, the Wolves first sponsored varsity football in 1918 and won their only state title before the turn of the century in 1949. Chandler was just as often an average football team as they achieved greatness, and fell as low as 0-10 as recently as 2000.
That all changed in 2011, when the school promoted its 10-year offensive coordinator Aguano to head coach following the retirement of Jim Ewan.
Over the next six years, Aguano transformed the Wolves from Arizona afterthought into a national force that has taken the Valley of the Sun by storm.
"At Chandler High School, we play national competition — some of the best teams in the country," Romney said, "and playing that competition and seeing the better players in practice really prepares you to come out against D-I athletes."
If you ask the players, they'll point to one man who has led the Wolves out of in-state mediocrity and into its powerhouse resume: coach Aguano.
"He's another father figure for me," Conover said. "He teaches all of us to do things right all the time. If you are doing the right things all the time, then good things will happen for you. You'll be in the right places."
Chandler won its first state title since the Truman administration in 2014, then added another when the Utes' Green ran for 233 yards and three touchdowns in the 2016 title game.
By the 2017 season, the show belonged to Conover — a rising junior with more than a dozen scholarship offers. Conover hit three receivers for more than 100 yards en route to a 49-42 victory over Perry in the Arizona championship game last year that set a 6A record for combined points.
But the difference in Chandler's rise to prominence didn't come on a championship game day in the fall. It came several weeks, months and years earlier. Aguano runs his program like a college team, practicing year-round and sending his players to some of the top 7-on-7 competitions in the country each spring. The Wolves have a full weight-training schedule, receive nutritional advice for pre-game meals and post-game recovery, and play a national schedule that features teams like Centennial (Calif.) and IMG Academy (Fla.) before contending for an Arizona state title.
Playing that type of competition and running the program like a college program has helped dozens of players adapt to college football — and beyond. Chandler is also one of the most represented high schools on NFL rosters, with big names like Seattle quarterback Brett Hundley, Seahawks defensive end Dion Jordan and Saints defensive end and three-time Pro Bowler Cameron Jordan. "We had some of the best coaches, too, who really prepared us for the complex offense here so I could learn it really quickly," Romney added.
🔹Committing to the school of my dreams...🔹Go Cougs❕ #ALLINpic.twitter.com/uSgLTPo2uf

— Jacob Conover (@jacob_conover17) May 13, 2018
***
Perhaps winning a state title wasn't the most impressive thing that Jacob Conover did in 2017.
Perhaps that moment came several months later.
On May 13, 2018 — a Sunday, of all dates — Conover used his iPhone to send a one-line message from his Twitter account. After finishing with a dismal 4-9 record, the Cougars had received a commitment from the a top-tier quarterback by most recruiting services.
And they're getting a good one, his teammates all agree.
"They'll get a leader, a leader who's willing to put down his head and work," Green said. "He's coachable. They're going to get a special player."
In his tweet, Conover called BYU "the school of my dreams" — and even if that dream just suffered through a nightmare season, it still is. He's confident the coaches have the means to turn around a program that went 4-9 in 2018, and that turnaround began Saturday night with the Cougars' 28-23 win at Arizona — where Conover and his father were in attendance.
"Coach Kalani had a vision, and he continued that vision by hiring the offensive staff that he did," said Conover, who was also recruited by the previous offensive coaching staff. "What they are going to do is going to set up the program for the future."
Conover hopes to be a part of that vision.
Football, you see, isn't just a hobby. It's a big part of his life — as has been BYU since the day he came home from school rambling on about Ducks and Beavers.
"This will be my 10th year playing football, and that's pretty much my life," Conover said. "It's like a full-time job. Family is a huge thing for me, as well — but I've gathered huge relationships through football, and it's kind of been my whole life."
×
Photos