Estimated read time: 7-8 minutes
This archived news story is available only for your personal, non-commercial use. Information in the story may be outdated or superseded by additional information. Reading or replaying the story in its archived form does not constitute a republication of the story.
SALT LAKE CITY — The heavy winds from Tuesday's large windstorm have subsided and a massive cleanup continues all over northern Utah Wednesday.
At least one person died as a result of the windstorm, Intermountain Healthcare officials said. Rocky Mountain Power reported there were over 95,000 customers still without power as of 1 p.m. Wednesday. Crews started removing the hundreds — and likely thousands — of trees that were destroyed or heavily damaged by wind gusts, some comparable to hurricane or tornado strength.
Several communities declared emergencies as a result of the storm.
The science behind the windstorm and damage
Tuesday's winds hit with such force that many people may be wondering how it happened. The storm was a result of downslope winds and simple weather science.
In this case, an arctic system moved into Utah from the northeast. A cold front swept through from the east Monday night into Tuesday morning. It was followed by the low-pressure system that pushed out the vacating high-pressure system that had previously set up across the state.
"That creates strong canyon winds," KSL meteorologist Kevin Eubank explained on Monday.
How the system traveled past the Wasatch Mountains also factored into the high winds. National Weather Service meteorologists explained through a diagram that cool, dense air from this arctic system flowed over the mountains, and easterly ridge-level winds pushed the air over the mountaintops toward the valleys.
The highest wind gusts were at the bottom of the slope because the cold air accelerated as it moved down the western face of the mountain. Weber, Davis and northern Salt Lake counties were forecasted to face these strong winds, with Centerville and Farmington — in an area particularly prone to downslope winds — experiencing the brunt of it.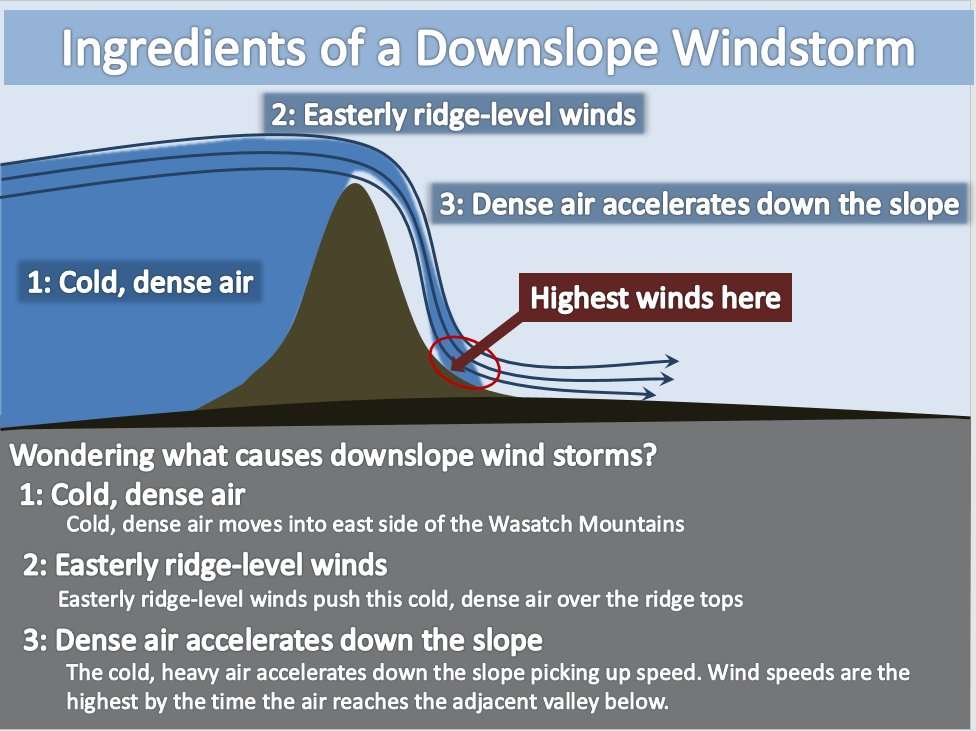 As for the damage itself, current ground conditions factored into that. In a forecast of the storm Monday, National Weather Service meteorologist Monica Traphagan said trees were likely to be more vulnerable because of Utah's dry conditions and because it was early in the season — the point where trees still have all their leaves.
The storm did, indeed, knock over or severely damaged a countless number of trees. About 1,000 trees were toppled in Utah's largest city alone, Salt Lake City Mayor Erin Mendenhall said Wednesday. Adding in damage from neighboring areas, the number of toppled trees is likely somewhere in the thousands.
Many peeked outside their homes or ventured out to parks to find large trees toppled over. At least a half-dozen large trees fell at the Utah Capitol building Tuesday. Visitors came by to snap a photo of the damage or of themselves beside the base of a toppled tree much larger than the human frame.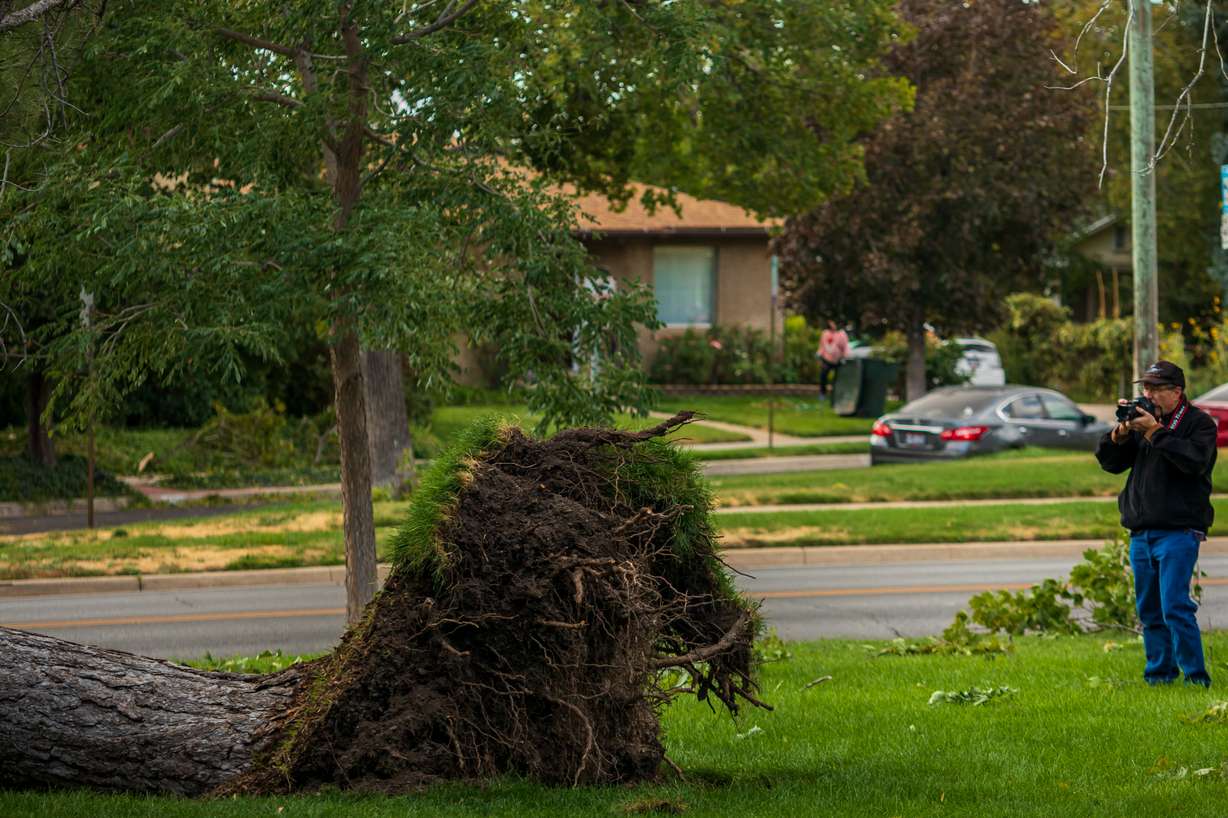 The state's beloved blossom trees fared much better than some of the bigger trees in the area.
So, why did some trees fall when others didn't? There's documented science behind that, too.
It's due to something called windthrow. Scientific American explained this topic in a 2012 piece. Fungi or cut roots are some of the reasons a tree weakens. Then some kind of force, such as a strong wind gust, is applied, that knocks it over. The size, tree species and even the location of the planted tree can factor into whether a tree is knocked over or breaks.
"The tree trunk acts as a lever, and so the force applied to the roots and trunk increases with height. Taller trees are more susceptible to windthrow," David Foster, director of the Harvard Forest at Harvard University, told Scientific American.
Dr. Mike Kuhns, a Utah State University extension forester, explained on KSL NewsRadio's "Live Mic with Lee Lonsberry" that aside from young, freshly planted trees, the vast majority of trees won't survive the disruption from toppling over.
So, the massive trees that fell over at public parks Tuesday are gone for good.
"It's a combination of the fact that a lot of roots would be broken if it happens at the soil level, like what we're talking about," Kuhns said. "Combine that with, if the tree is old and big and this happened to it, then something was wrong with the root system, most likely. And so trying to stand it back up, you're going to try and fix a bigger problem than just the tree blew down."
How Tuesday's storm fits into Utah weather history
Strong wind storms have always been a part of Utah's history. Take a quick dive into digital Utah newspaper archives and you'll find reports of strong winds as early as 1851 — a year after the Deseret News was established. The city of Hurricane in southern Utah was also famously named after wind gusts in that region of the state.
There have been several extreme weather events in the state's history, which range from countless blizzards to the 1983 Salt Lake City/Wasatch Front flood caused by record precipitation months in advance of it. Perhaps the most memorable extreme weather event remains the F-2 tornado that struck Salt Lake City on Aug. 11, 1999. In fact, Mendenhall drew some comparisons to that event during a teleconference briefing with media Tuesday afternoon.
"Our forester has remarked that these are tornado circumstances; but instead of it being in the path of a tornado, it is everywhere in the city," she said.
It's an apt comparison in terms of maximum wind speeds. One wind gust at the University of Utah reportedly measured at 112 mph, which barely falls into EF-2 on the Enhanced Fujita scale for tornadoes. The National Weather Service reported many confirmed wind gusts in Davis and Salt Lake counties that fall into a strong F-1 rating on the scale.
The reported 112 mph gust — if sustained for a couple of minutes — would be classified as Category 3 on the Saffir-Simpson scale for hurricanes, as well.
Mendenhall also likened the widespread damage to trees in Salt Lake City to a spring snowstorm in late March 2019. Many city trees were damaged or destroyed then not by wind, but by heavy snow.
That said, there are also records of events similar to what happened Tuesday.
For example, in early April 1983 — a month before the worst of the massive flooding began — a massive windstorm struck from Utah County north through Weber County, according to Western Regional Climate Center. The storm produced gusts around 60-80 mph with a maximum gust of 104 mph near Layton.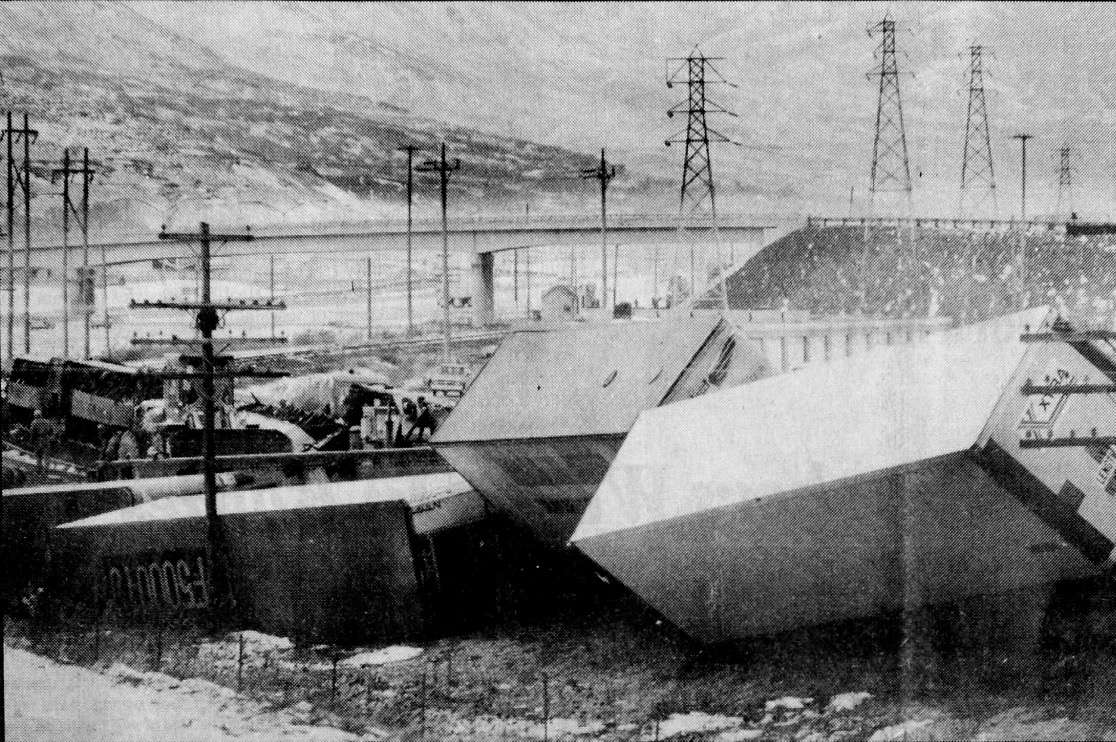 Tuesday's windstorm may have brought back even more recent memories for many Utahns because a similar set of circumstances wreaked havoc along some of the same affected areas in early December 2011. Another windstorm on an even smaller scale in 2016 also rocked Davis and Weber counties.
The 2011 storm produced winds up to 102 mph in Centerville. One way to calculate the impact of a storm is damage costs. It's still unclear how much Tuesday's storm will cost in repairs, but the 2011 storm wound up costing $6.1 million in repairs within Davis County.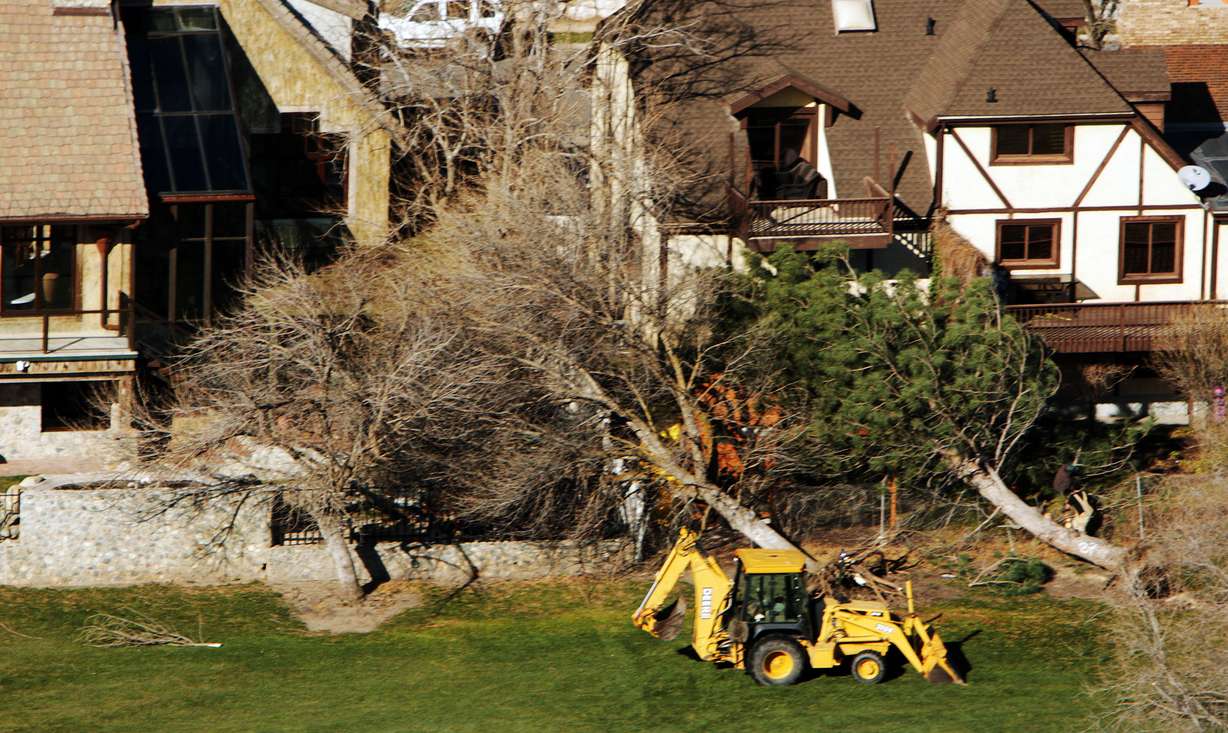 In terms of windstorms, the Standard-Examiner reported in 2016 that winds from a storm whipped as hard as 91 mph in Farmington. Those storms and Tuesday's all happened as storms shifted wind direction from the east instead of the west.
It's all to say what happened Tuesday is rare but not exactly unheard of, even in recent history. If anything, the widespread scale made Tuesday's storm more unique and memorable.
"By comparison, this event was a much bigger scale. (The 2011 storm) was confined to parts of Davis County, mainly, and parts of Weber County — areas we call the 'wind tunnel' because they get some strong winds in these eastern winds," said KSL meteorologist Grant Weyman. "This one was unusual because of a bigger scale, a big part of Salt Lake County was hit hard, parts of Tooele County, Box Elder County, too."
Contributing: Lee Lonsberry, KSL NewsRadio
×
Related stories
Most recent Historic stories