Estimated read time: 6-7 minutes
This archived news story is available only for your personal, non-commercial use. Information in the story may be outdated or superseded by additional information. Reading or replaying the story in its archived form does not constitute a republication of the story.
SALT LAKE CITY — The mayor of Salt Lake City said the face of Utah's capital, as well as several other cities on the Wasatch Front, was changed for a lifetime following a storm of hurricane-level winds scattered Wednesday.
While an official estimate is still forthcoming, Salt Lake City Mayor Erin Mendenhall guessed that Tuesday and Wednesday's combined storms featuring hurricane-force winds may have uprooted close to 1,000 trees and significantly altered the look of the Salt Lake Valley.
"We don't have an official number of down trees or total cost, but we know that this is a generational storm," Mendenhall said in speaking to the media at Liberty Park, where toppled trees still lay strewn about. "The face of Salt Lake City is going to look different, probably for the rest of our lifetimes."
City forester Tony Gliot said that at least 1,000 trees have tumbled to the earth in the past two days, with many as old as 60 to 100 years old. And those are just the aging arbors on public property.
The full extent of the damage, including removal of debris, may not be known for a few months. Salt Lake and Davis counties declared a state of emergency, as did Gov. Gary Herbert in issuing a statewide declaration that will help Utah to receive federal funds for assessment and repair of damage. Power was being restored "as fast as possible" by crews from Rocky Mountain Power, though more than 100,000 remained with electricity Wednesday afternoon, Herbert confirmed.
Salt Lake City, South Salt Lake, Centerville, Millcreek and Farmington had declared a state of emergency prior to Herbert's statewide declaration.
"It seems as though just about everybody feels this is the most widespread destruction of full tree failures in recent memory," Gliot said.
Utah commissioner of public safety Jess Anderson confirmed one "weather-related" fatality, and added that additional injuries appear to be mostly minor in nature.
"Fortunately for most of us, most of the damage is limited to property damage," Anderson said.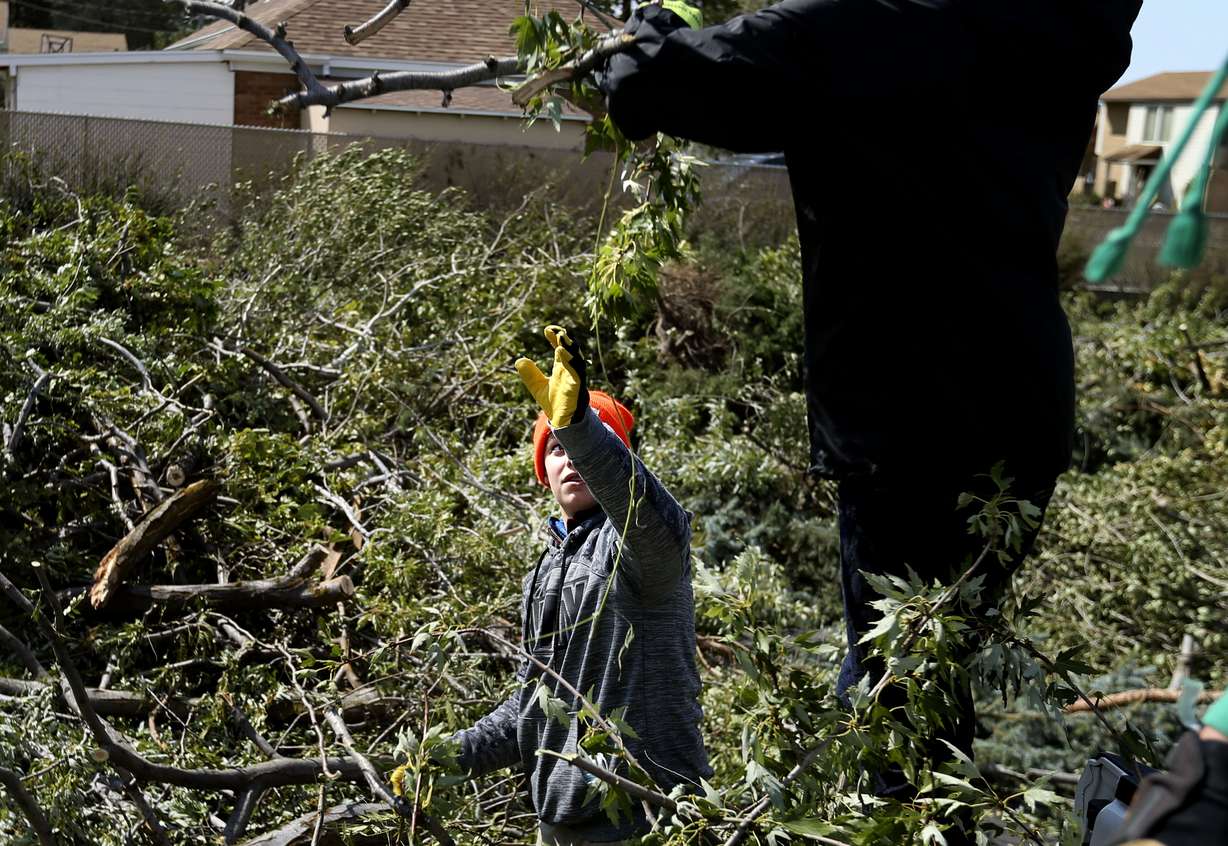 Early estimates reveal around 30 trees uprooted from the Salt Lake City Cemetery, Mendenhall added, and damage has been reported across the city, county and up through northern Utah.
Well before the storm, even as early as when the COVID-19 pandemic first hit Utah in March, Mendenhall's administration had set a goal to plant 1,000 trees to further enhance the city's green spaces. That goal remains in place, she said — and perhaps becomes more urgent after Wednesday.
"This storm sets us back a bit," Mendenhall said, "but I know that we are committed to growing our urban forests."
Herbert toured much of the damage in Centerville, where he invoked a state of emergency Wednesday before moving to assess damage in the area around Liberty Park. Crews continued to clean up in the aftermath in Bountiful, Woods Cross, Kaysville, Syracuse and dozens of other cities north of Salt Lake, with damages known from Logan to St. George, Anderson said.
But from the east bench to West Valley, the Avenues to Glendale, Salt Lake City was hit by what Mendenhall called a "generational" storm. And true to 2020, it happened in the middle of the global pandemic of COVID-19.
"The damage is everywhere," she said, also adding, "I know Rose Park was terribly hit. It's a wonderfully tree-filled area."
The mayor also defended Rocky Mountain Power amid early reports and complaints that power crews were prioritizing areas on the east side of the Salt Lake Valley over restoring power to the west side that historically includes those of a different socioeconomic status.
"Rocky Mountain Power has been an incredible partner," said Mendenhall, who added anecdotally that half of her staff was without power, as well. "We know their crews have been working around the clock."
Rocky Mountain Power spokesman Spencer Hall also strongly denied such reports.
"The crews are working as quickly as they can," Hall told KSL. "But there certainly is no priority given to socioeconomic background. We try to bring the most people on as we can.
"If there's a repair that can bring a whole neighborhood on, we'll do that one and then move on from there."
If more crews seemed to respond to the east side of the valley first, Hall said it may be because earlier reports identified the storm coming from the canyons of the Wasatch Front that empty into the east side of the valley.
Hall said restoration plans usually prioritize substation repairs first, because that is how power can be returned to the largest number of people as fast as possible.
As more residents in all affected parts of Utah have come online and discovered additional damages, they have begun winding through streets and neighborhoods to clean up and rebuild.
"We lead the nation in volunteerism, and we see this taking place," Herbert said. "We appreciate the fact that people are lending neighbors a helping hand.
"Government can do some things, but we can't do everything."
Additional opportunities for volunteerism and repair will be needed in the coming days and weeks, but Mendenhall said residents should try to stay close to home and leave roads to emergency management crews as they seek to restore facilities and roadways.
The city is working with The Church of Jesus Christ of Latter-day Saints in organizing volunteer efforts for a citywide cleanup, for which Mendenhall said a phone number would be available soon that residents can call and help meet needs. Other local, grassroots efforts have sprung up around the city, with neighbors helping to clear downed trees, rubble, debris and even smashed vehicles from roadways and yards.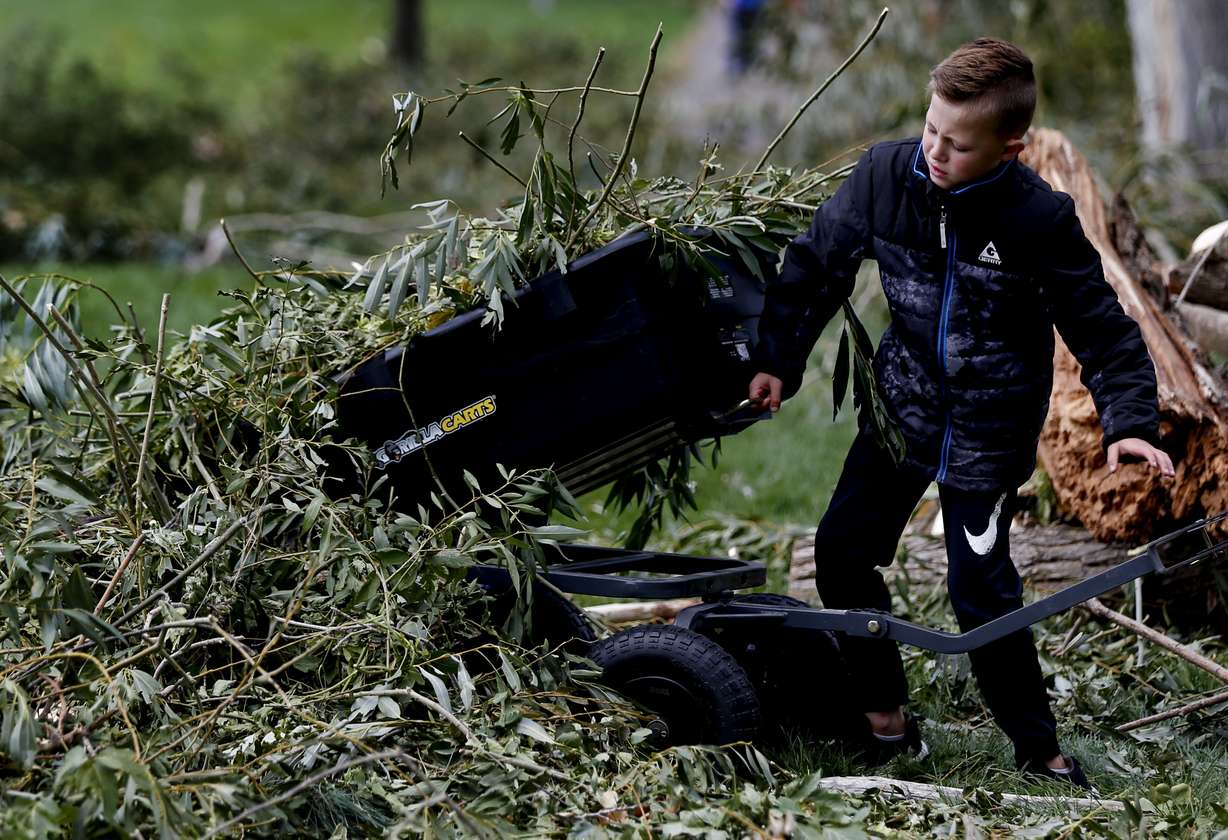 Herbert encouraged the spirit of volunteerism among communities, but also added a word of caution — to be careful of downed power lines, corroded tree climbing, and other dangers that could still envelope the city.
"We want volunteers. We want people to step up and help," the governor said. "But just be careful."
The city will be waiving fees at the landfill for residents to haul debris, a similar move made by Bountiful, Davis and others earlier Wednesday.
The mayor also hopes to have a "broader conversation" about the city's transient population after she said around 40 people were brought to homeless shelters as temperatures dropped Tuesday night while thousands were left without power.
All in good time, though.
"Right now we are asking for our residents to be patient," Mendenhall said.
As Herbert's staff quipped that "this is so 2020" early Wednesday morning, he said he agreed with the assessment — with a caveat.
"This is so 2020," the governor said. "It's proven the mettle of the people of Utah, and their ability to conquer and to overcome. It shows the true character of those in this state, of helping others."
Contributing: Emerson Oligschlaeger, KSL; Annie Knox, KSL
×
Photos
Related Links