Estimated read time: 4-5 minutes
This archived news story is available only for your personal, non-commercial use. Information in the story may be outdated or superseded by additional information. Reading or replaying the story in its archived form does not constitute a republication of the story.
SALT LAKE CITY — Insurance agents across northern Utah will have their hands full over the next few weeks, sorting out damage claims from the massive windstorm that blew in Monday night. No doubt the amount of damages will be significant, dollar-wise, but how much of it will insurance cover?
First, it is important to document any damage to your property as soon as possible. That means getting out your smartphones and taking as many pics and videos as possible. You cannot take too many.
Next, realize some insurers in Utah have what's called a wind and hail deductible that kicks in at a higher level, and a standard deductible under homeowner's insurance.
Insurance agent Bill Penton, owner of Penton Insurance, said that could leave you paying more out-of-pocket for a claim stemming from a windstorm. Especially if that policy is based on a percentage of your home's value.
"For example, if you have a $100,000 home and you have a 1.5% deductible, then that's a $1,500 deductible," explained Penton. "Where if you just had a flat $1,000 deductible, then it's a $1,000 deductible."
And a typical homeowner's policy covers costs directly caused by the wind.
"It will help with your roof. If it (the storm) breaks windows and if it breaks or cracks the rafters in the structure of the roof itself, then there are ways to go in and they'll (insurers) pay for that to be braced up or repaired," said Penton.
So, in a typical policy, homeowners will be covered if the storm damages their roof, siding or windows. And that also includes damages to their garage, shed and fencing.
We also asked Penton about trees. Here's the deal: The insurance is on the property, not the tree.
If a neighbor's tree falls on your house, they are not responsible. It seems counterintuitive, but your insurance will have to cover that. And if your tree falls on your neighbor's house, then their homeowner's insurance should cover the damage.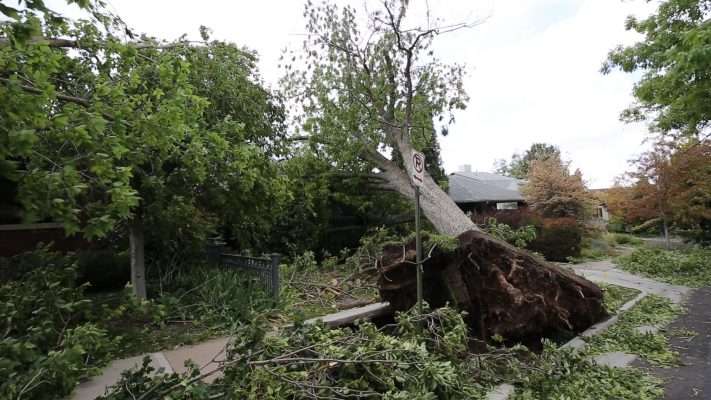 Penton said there could be an exception, like if your neighbor's tree is dead and should have been taken care of long ago. But proving that is going to be tough.
Also, if the wind knocks down a tree or its limbs onto your yard without causing any damage to structures like your home, garage or shed – cutting that fallen tree and hauling it away is on you and your insurance will not likely cover that cost.
But your city will likely handle limbs that have fallen in that park strip between the sidewalk and the curb – that is, generally, city property.
This storm has likely totaled many cars and trucks. If you had bought a comprehensive coverage auto policy before the storm rolled in Monday night, generally the damage is covered once you pay the deductible.
If your car is older and you only have liability on your car insurance, you're not going to be covered.
"You need to shop around for a good body shop that works with you and help reduce the cost," said Penton.
KSL photographers saw several cars crunched by trees today, including a Honda owned by Simone Chiola.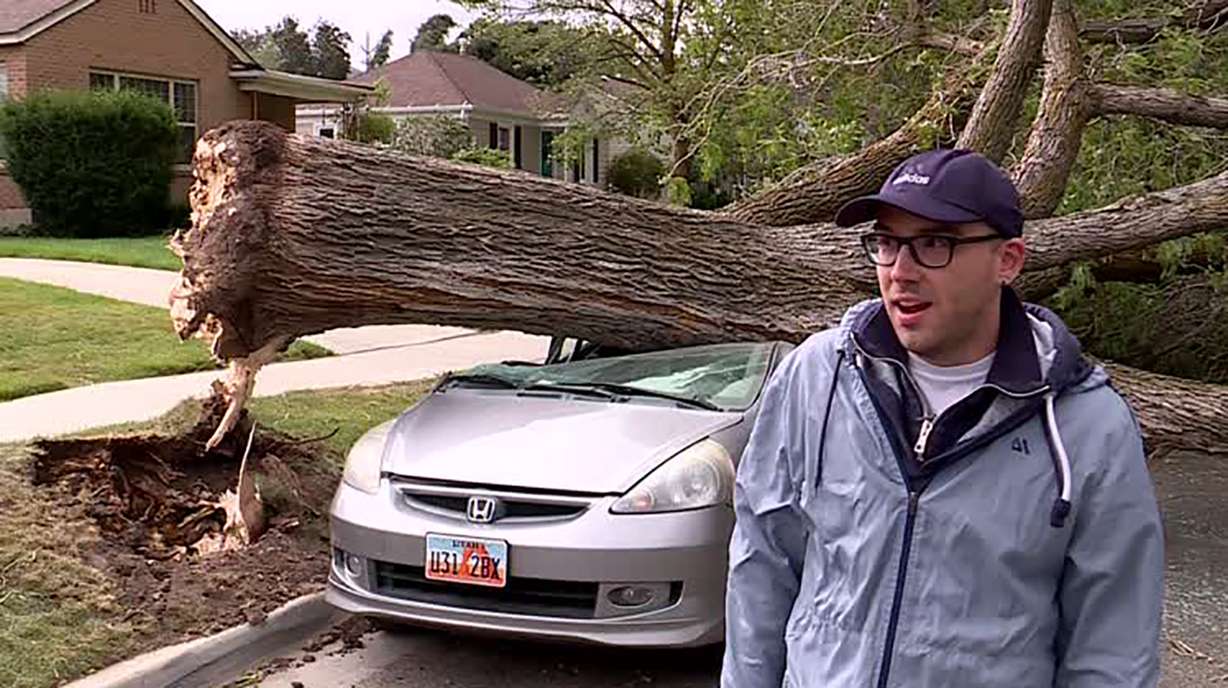 "I woke up this morning and I heard the alarm on the car and my roommate wakes me up and what we saw is insane," Chiola said as he pointed to his now crushed daily commuter. "It'll be kind of difficult, but hopefully insurance will cover it and I'll get a new car."
If Chiola holds a comprehensive policy with his auto insurance then, yes, storm damage is covered.
Even though the offending tree is in a city-owned park strip, it is on his insurance to cover the repair costs, because, like homeowners insurance, auto insurance is on the car and not on who owns the tree.
So, if your neighbor's tree falls and damages your ride, your auto policy is responsible for the repairs. And if your tree falls on your neighbor's car, then their auto policy should cover the costs.
Also, if you hit a fallen tree on the road, the insurance industry considers that a collision. That means you'll need to have had collision coverage before your insurer will pay for repair bills.
You should know if you have replacement value on your auto policy, your insurer will cover the cost for a new car that is the same make and model of your totaled car. Without it, you can expect compensation for only your car's market value.
×
Photos
Related stories
Most recent Utah stories