Editor's note: This article is a part of a series reviewing Utah and U.S. history for KSL.com's Historic section.
SALT LAKE CITY — As the number of COVID-19 cases in Utah and many other states began to rise again after Memorial Day, medical experts and even local, state and federal officials began pleading for people to wear masks in situations where it's impossible to stay 6 feet from someone else.
Masks may be uncomfortable, hard to find and difficult to remember to wear, but they "are our medicine right now" until a vaccine or effective treatment is discovered, Dr. Thomas Miller, chief medical officer for University of Utah Healthcare, said during a state press briefing Thursday.
"For 140 years, we've known that masks have prevented the spread of disease, and that's why surgeons wear them," he said. "You would not go to a surgeon for an operation without them wearing a mask, so we know that they work."
His remarks came a day after the Utah County Commission postponed a decision about masks in county schools as a group of individuals protested the state's mandate of masks when schools reopen in August.
Here's look into how wearing masks became standard medical practice, how have they've helped in previous outbreaks, and the arguments previously made about them.
The origin of medical masks
There were precursors to the masks we wear today. For example, the weird, almost post-apocalyptic-looking bird mask costumes that were developed in Europe during 17th century plague outbreaks. Their design, National Geographic notes, is often credited to French physician Charles de Lorme. The magazine wrote that de Lorme placed herbs in the mask and believed the beak shape would allow enough time for the herbs to attack plague-filled air before doctors breathed it in.
While the primitive design was inspired, it wasn't very successful or effective in the end — but de Lorme was onto something. It wouldn't be until two centuries later that A.J. Jessup would have his "Contagious Diseases and Their Prevention" article published in a Sept. 28, 1878, edition of Scientific American. In it, Jessup, a doctor from upstate New York, wrote that he intended his piece to be a "humble contribution" to the growing advances in understanding germs and biology.
He wrote about a study he conducted to look into how germs travel. Highlighting a disease that killed both cattle and humans in Russia between 1867 and 1870, he said the evidence pointed to germs traveling through the air and floating in the atmosphere.
He then wrote: "Thus we see that as quarantine and disinfection will certainly prevent the spread of contagion from patient to patient, may we not confidently hope, by preventing the entrance of germs into the lungs and blood by a properly constructed filtering mask, to yet witness the spectacle of a population walking about the streets of a cholera infested city without fear of its infection, however deadly?"
"Inasmuch as a properly made cotton filter worn over the mouth and nose must shut out all atmospheric germs of the ordinary and putrefactive kind, we may be confidently assured that those of disease will be equally excluded," he continued. "By making a brief reference to my own experiments, I found that those tubes which were stoppered with cotton wool while being boiled remained perfectly sweet and clear, while those remain open swarmed with living bacteria and amoebae."
Jessup's theory on masks would be put to the test a few decades later when a massive Manchurian plague outbreak started in China toward the end of 1910. The outbreak is believed to have killed 60,000 people, according to a report compiled by the Singapore Medical Journal.
As it broke out, Wu Lien-teh, just a 31-year-old doctor at the time, was instructed to investigate. He performed a postmortem that helped identify that people were dying from a strain of the plague. But this strain was different. The postmortem seemed to indicate it was being spread through human breath and not by rats or fleas like other plague outbreaks known at the time, according to another research article conducted for Protein Cell.
Not all scientists believed Wu's findings. In fact, a prominent French doctor dismissed the idea and continued to work without gauze and a mask — only to die from the outbreak days after arriving at the island to replace Wu.
As the outbreak continued, Wu turned to masks and other protective measures that sound familiar a century later.
"The decisive Wu advised that movement of the population be curtailed; he instructed that plague victims be hospitalized, their homes disinfected and contact prohibited," the Singapore Medical Journal report stated. "People were encouraged to wear gauze-and-cotton masks."
As the dead piled up, he also called for a mass cremation of bodies in case the disease could spread after someone died. With all the measures in place, the last case was reported in March 1911. After seven months of cases and two months after Wu implemented measures, the outbreak was over. He was elected as the International Plague Conference the following month and immediately became a global superstar in the medical world.
Masks have been a medical standard for many outbreaks since. In 1958, Sara Little Turnbull presented 3M with what has turned into the modern design for the medical-grade masks, according to NPR. The current N95 mask, created by Peter Tsai, was patented in 1995.
Debating masks in 1918
There have been enough comparisons between the COVID-19 pandemic and the 1918 influenza outbreak. Many experts compare the two because both dealt with the same problem: a virus was rapidly spreading from person to person without a cure to stop it.
The comparisons between the two periods are nearly endless. Even the way masks were introduced, handled and perceived by residents a century ago is eerily similar to today.
On Oct. 17, 1918, the Washington County News ran a bulletin about the flu written by the U.S. Public Health Service as the first wave ravaged America. It provided readers all sorts of information known at the time and advised people who get sick to stay home and get bed rest and to collect any nose or eye runnings with gauze, and then burning that gauze.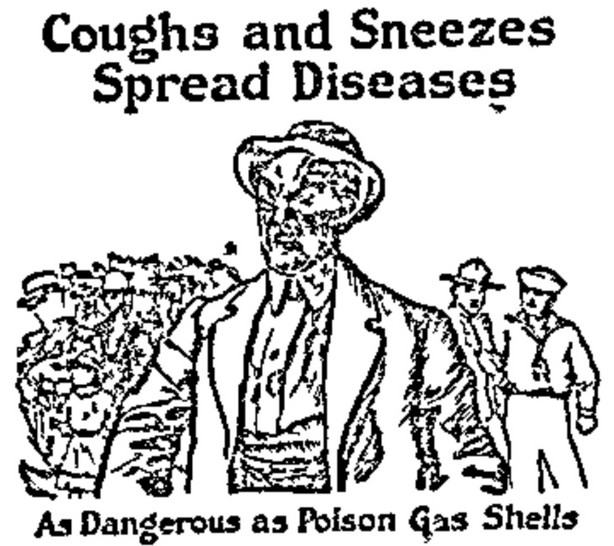 "Nurses and attendants will do well to guard against breathing in dangerous disease germs by wearing a simple fold of gauze or mask while near the patient," the agency stated at the time. The article was also published in many other Utah newspapers in October 1918.
The Utah Board of Health provided information that was printed by the Davis County Clipper the following day. It advised nurses to wear a mask covering the mouth and nose and to not touch it after it they put it on. Dr. T.B. Beatty, the state health commissioner, also began lobbying for universal mask mandates at this same time.
"It is desired by health authorities that (gauze) masks be worn on the streets and in all public places," a report in the Oct. 18, 1918, edition of the Salt Lake Telegram stated, also reporting that he barred large gatherings for weddings.
The Red Cross delivered about 1,000 face masks to workers at department stores, factories, offices and other individuals that day, the newspaper also reported. It stated masks were also for sale at drug stores and at the Red Cross shop for 10 cents apiece — $1.71 in today's money, if you take into account inflation.
The report continued to say a University of Utah sorority was churning out new masks by the hundreds, and that a call was put out for volunteers from The Church of Jesus Christ of Latter-day Saints to make more. The early efforts were in many ways similar to reports of volunteers making masks earlier this year prior to the "A Mask for Every Utahn" campaign launching.
Provo mandated a "flu" mask on Oct. 19,1918; an order in Salt Lake City was put off the following week over concerns there wouldn't be enough supplies.
"Recommendations will be made to the public, however, that masks be worn by all wherever practical," the Salt Lake Telegram reported in an Oct. 26, 1918, edition. "Large quantities of material for the making of masks have been ordered from the outside, says Dr. Beatty, and persons who are unable to secure masks from the Red Cross have been urged to buy the material and make their own masks."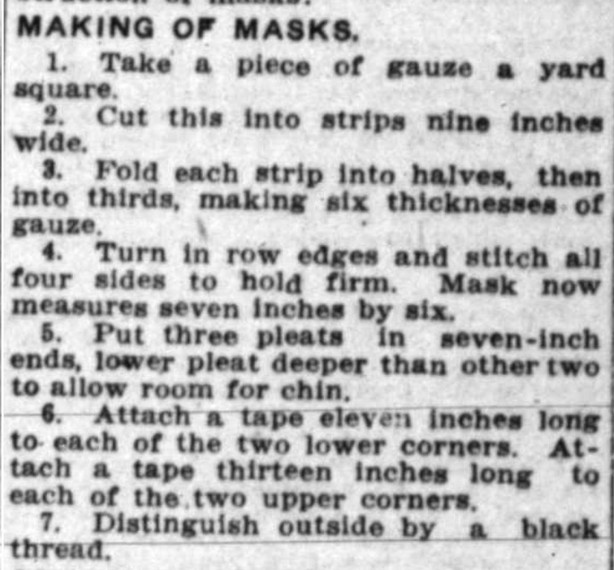 Those masks, Beatty told Utahns, could be made from "gauze, cheesecloth or even a handkerchief" with the material covering the nose and mouth. Again, not too different from pleas amid the COVID-19 pandemic.
Reports of cities mandating "flu masks" eventually poured in throughout the fall of 1918. One resident wrote a plea published in a December 1918 edition of the Ogden Daily Standard titled "wear a mask" in which they offer many scenarios in which they plead for others to wear a mask.
But there was also backlash. For example, the Salt Lake Herald-Republican reported that aside from a few exceptions, physicians attended a Salt Lake City board of health meeting held on Nov. 29, 1918, "strongly opposed to compulsory wearing of masks." In fact, one doctor in attendance representing five other physicians told the board he knew of 20 others who also opposed masking mandates.
"We who oppose masking feel equally as conscientious about it as those who favor it," said Dr. J.F. Critchlow at the time, according to the paper. "Having a mask on one's face is not only a nuisance but a direct menace because it prevents the breathing of fresh air. Rebreathing of foul air is conceded a menace by the profession generally."
The Salt Lake Tribune also had an account of this meeting and referred to Critchlow as the "the leader of the antis," as in those opposed to masks. There were also reports that people weren't wearing masks properly — such as having their nose sticking outside the mask.
Similar arguments for and against masks can be seen today, although the current leaders of Utah's top health care systems began a campaign late last month urging residents to wear masks.
What happened in Utah in 1918 and 1919 wasn't all too different from what was happening across the rest of the U.S. As History.com points out, mask ordinances — many centered in the West — were passed during the pandemic, and not everyone was a fan.
"Some people argue against them because they say that they create fear in the public, and that we want to keep people calm; which I think is really an excuse to critique them because someone doesn't want to wear them," Nancy Bristow, chair of the history department at the University of Puget Sound, told the outlet.
She added that history now shows that areas that had more restrictions also had lower death rates.
It seems that future historians will similarly look back at 2020 and know exactly what worked and didn't during the COVID-19 pandemic.
×
Related Stories