SALT LAKE CITY — Utah's number of COVID-19 cases has increased by 954 from Wednesday, but many of the new positive cases are being reported Thursday as the result of a data backlog and a new testing method, the Utah Department of Health reports.
One more death was also reported, according to the Utah Department of Health.
"Today we're adding cases that have been identified over the past six weeks, but we are just now including them in our case counts today," state epidemiologist Dr. Angela Dunn said in a news conference Thursday.
Testing changes, data backlog increase cases
A total of 251 of the new cases reported Thursday are results from antigen tests that have been conducted since early June, according to the health department.
Not to be confused with antibody tests, antigen testing is a different process for detecting COVID-19 infections. The typical PCR test identifies a COVID-19 infection by detecting viral RNA in patients, while an antigen test detects a protein that is part of the COVID-19 virus and diagnoses a positive case that way, the health department reported.
The health department has assessed the accuracy and effectiveness of antigen tests and will now be adding antigen test results to the state's daily count. Antigen tests typically return results faster than PCR tests, though both are conducted using nasal swabs.
Additionally, 50 COVID-19 cases that were diagnosed during the first week of July, as well as 246 cases that were diagnosed earlier this week, are being added to the total case counts Thursday, the health department said. An electronic data reporting delay prevented them from being included in the case counts until Thursday.
Not counting the antigen tests and the tests from the July data backlog, there were 407 new cases reported Thursday.
In the news conference, Utah Gov. Gary Herbert said state officials are working to make COVID-19 testing more available and to shorten the turnaround time for when test results are delivered to those who take them. Doing so will help health department investigators and contact tracers as they seek to control the spread of COVID-19, he said.
"Testing has been a challenge from the beginning," Herbert said. "Testing is really something we're going to emphasize in a greater detail over the next few days."
COVID-19 hospitalizations and deaths
The state now estimates there are 12,398 active cases of the disease in Utah. There are currently 199 people hospitalized with COVID-19 in the state, according to health department data. Of those, 89 are in intensive care unit, or ICU, beds at hospitals across the state.
About 69% of all ICU beds at Utah hospitals are occupied as of Thursday, according to the health department. About 55% of non-ICU hospital beds are filled.
The rolling seven-day average number of positive cases per day is now at 619, according to the health department. The positive test rate per day for that time period is now 10.4%.
---
Utah Gov. Gary Herbert provided a COVID-19 update during a news conference Thursday. Herbert was joined by Utah Department of Health state epidemiologist Dr. Angela Dunn, University of Utah Health Dr. Tom Miller, and Utah State Superintendents Association executive director Lexi Cunningham.
The event can be viewed below.
LIVE: Gov. Herbert, Dr. Dunn, other state authorities hold press briefing with update on Utah's efforts during COVID-19 pandemic

Posted by KSL 5 TV on Thursday, July 16, 2020
---
The new numbers indicate a 3.1% increase in positive cases since Wednesday. Of the 516,003 tests conducted in Utah so far, 6.2% returned positive results for COVID-19. The number of tests conducted increased by 7,448 as of Thursday, according to the health department.
Thursday's totals give Utah 31,845 total confirmed cases, with 1,956 total hospitalizations, and 234 total deaths from the disease. Previously, there were 30,891 cases in the state.
The person who died was a Salt Lake County woman between the ages of 65 and 84. She was a resident of a long-term care facility, the health department reported.
The total number of cases reported by the health department includes all cases of COVID-19 since Utah's outbreak began, including those who are infected now, those who have recovered from the disease, and those who have died.
An estimated 19,214 cases are considered COVID-19 recoveries because those people were diagnosed with the disease three or more weeks ago and have not died, the health department reported.
Deaths reported by the state typically occurred two to seven days prior to when they are reported, according to the health department. Some deaths may have occurred even further back, especially if the person is from Utah but has died in another state.
Schools formulating reopening plans
On Thursday, Herbert reiterated his commitment to seeing schools reopen for in-person instruction for the fall semester.
"It's imperative, I think, that we open up our schools. We cannot afford to have schools closed," he said.
All schools must have a plan in place for COVID-19 contingencies by Aug. 1. All students, teachers, faculty, staff and visitors at Utah's 41 school districts and associated charter schools will need to wear masks following Herbert's school mask mandate announced earlier this month.
As they formulate plans for reopening, schools are considering seven key aspects: movement, duration, proximity, group size, respiratory output, touch and congestion, according to Utah State Superintendents Association director Lexi Cunningham. Schools will also have a renewed focus on cleaning their buildings, she said. The COVID-19 reopening plans are a priority for all the districts in the state, Cunningham added.
For COVID-19 response, the state has deferred to local jurisdictions, allowing local health districts and government officials to make decisions based on the specific needs and priorities of their areas rather than the state government instituting a blanket plan for all areas.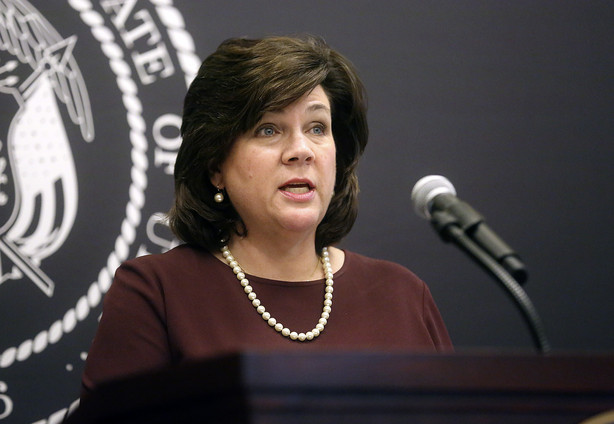 School plans will follow that same framework, Cunningham said. Reopening plans will be suited to serve the school community's specific needs, she said. Every plan will be different, and school officials know they need to be nimble and be prepared to change the plans as needed, she said.
She applauded the work of administrators and other school officials, who she said are doing all they can to make sure students and teachers are safe when they return to schools.
"There are so many wonderful things going on in our state," Cunningham said.
Herbert added that the state's goal for school plans is to allow parents and guardians to make their own choices about what will be best for their children.
He anticipated that most parents will choose to send their students back to schools for in-person learning. But for those who are not comfortable with that, distance learning or online schooling will also be made available, the governor said. Homeschooling will remain an option for parents, as well.
"The intent is to give our parents and our students choices as far as what they have available, but to make sure that everybody has access to a good education this coming school year," Herbert said.
Changes to state health orders
The state is making some adjustments to the school mask mandate and the color-coded health guidelines that will allow for some flexibility as schools prepare to reopen.
State officials are aware that it would not be possible for students to wear masks constantly throughout the school day, so some revisions will be made to the mask mandate order allowing for more flexibility. Students will be allowed to take off masks if they are socially distancing, while they are eating lunch and while they are engaged in activities that wearing a mask would prohibit, such as playing musical instruments, Herbert said.
Teachers will also be encouraged to wear clear face shields instead of masks so that students can see their facial expressions, and so that students who are deaf or hearing-impaired will be able to read their lips if necessary.
Some changes will also be made to the orange, moderate-risk category in the state's color-coded health guidelines in the Utah Leads Together plan. Salt Lake City is the only area of Utah that remains in the orange category. Most of the state is in the yellow, low-risk category, while 10 rural counties are in the green, "new normal" risk category.
The changes to the orange category will allow Salt Lake City School District schools to reopen and have the same opportunities as other schools across the state, Herbert said. The specific guideline changes will be made available by the end of the day Friday, he added.
×
Photos