Estimated read time: 4-5 minutes
This archived news story is available only for your personal, non-commercial use. Information in the story may be outdated or superseded by additional information. Reading or replaying the story in its archived form does not constitute a republication of the story.
PROVO — Utah County Commissioner Bill Lee pulled his mask off before addressing a crowd of nearly 100 anti-mask protesters, drawing cheers from the unmasked crowd.
The county commission was scheduled to vote on a letter asking Ralph Clegg, executive director of the Utah County Health Department, to give Utah County "compassionate exemptions" to Gov. Gary Herbert's mask mandate for K-12 schools as students return to classrooms amid the coronavirus pandemic.
After Lee's remarks, the protesters filtered into the Utah County Administration Building and crowded into the chambers and lobby, ignoring the X's taped on the floor for social distancing.
Utah County Commission Chairman Tanner Ainge immediately made a motion to continue the meeting at a later date, saying the meeting violated several public health directives issued by the state and county. The motion to reschedule passed 2-1, with Commissioner Nathan Ivie joining Ainge, bringing boos from protesters.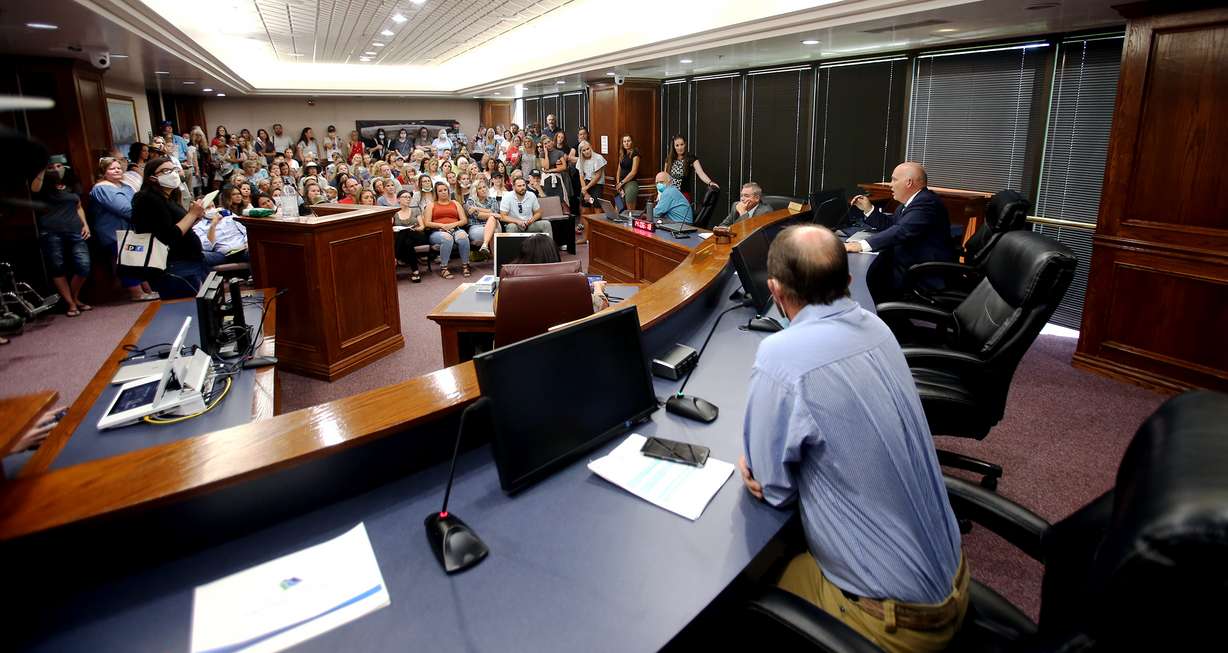 "All of our medical experts, our department of health, everyone is in agreement that this gathering violates current health recommendations," Ainge said.
"Lee organized that for political theater and put the entire room at risk while ignoring health department guidelines," he said.
Ainge left the meeting after the motion passed, but Lee and Ivie remained to listen to the gathered protesters in an unofficial public hearing.
Ainge said the commission will figure out a public notice next week for a rescheduled meeting and will be considering a different setting, as well as looking into holding a virtual meeting.
As he left, Ainge stopped outside the building to answer questions from reporters and some of the protesters, and pointed out that the commission doesn't have any power regarding the mask mandate for students because it is a directive issued by the state and the local school district.
One woman pushed back, yelling at Ainge and asking him why he would force her daughter to wear a mask. Ainge again affirmed the school mask mandate wasn't his decision.
Immediately after, the woman experienced what appeared to be a panic attack and was transported to a hospital by paramedics.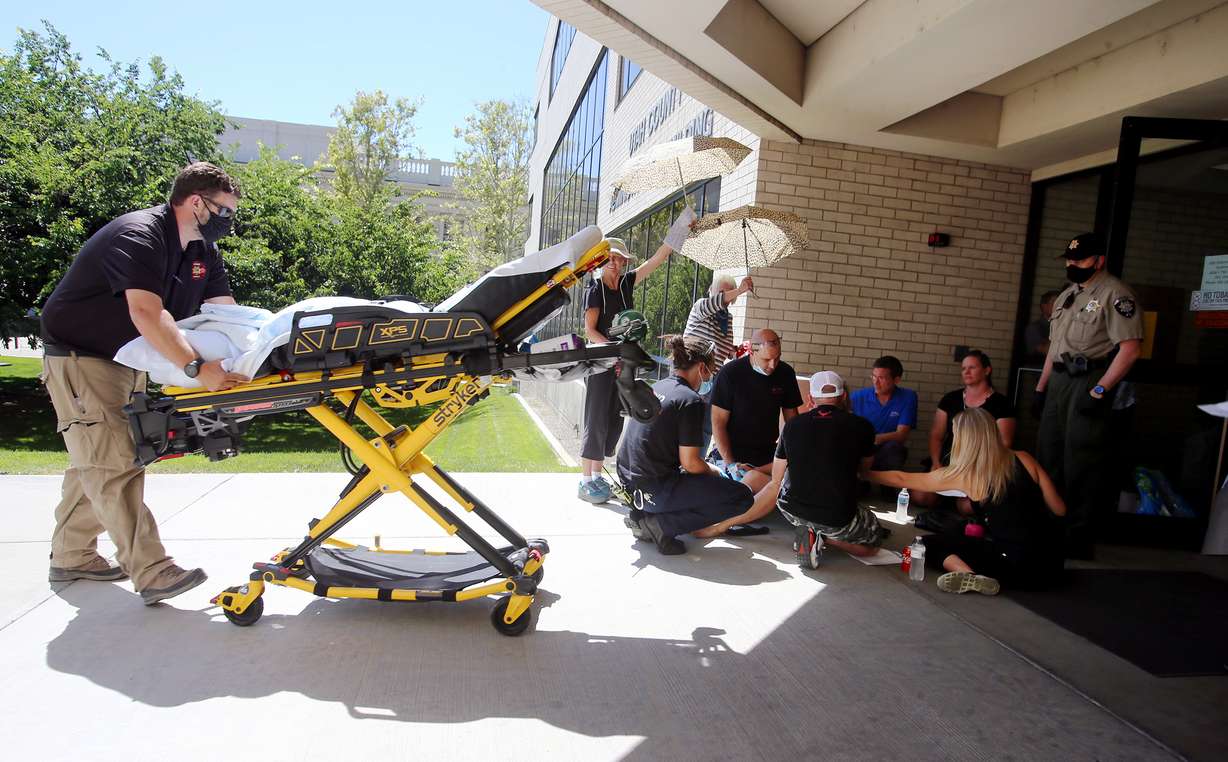 Denna Robertson, one of the rally organizers, said she's "absolutely" comfortable sending children back to school without masks. She said wearing masks is not a public health issue because she believes COVID-19 was manufactured in a lab.
"Coronavirus is man-made. It's a weaponized virus," Robertson said.
She accused Dr. Anthony Fauci, the nation's top infectious disease expert, and business magnate and philanthropist Bill Gates of being part of creating the virus to usher in "a new world order" by reducing the world population to 5 million people.
Robertson, who's also a mother and grandmother, said she isn't concerned about contracting the virus from one of her grandchildren.
"If I'm infected with COVID, it's because I've not been taking care of my immune system. You know how your immune system gets strong? It's by being in the dirt and getting exposed to bacteria and viruses," Robertson said.
Other organizers handed out disposable masks and asked people to write personalized messages on them with markers because they were expecting masks to be required in the commission chambers. Lee told the group masks were voluntary during his speech, so no one wore them.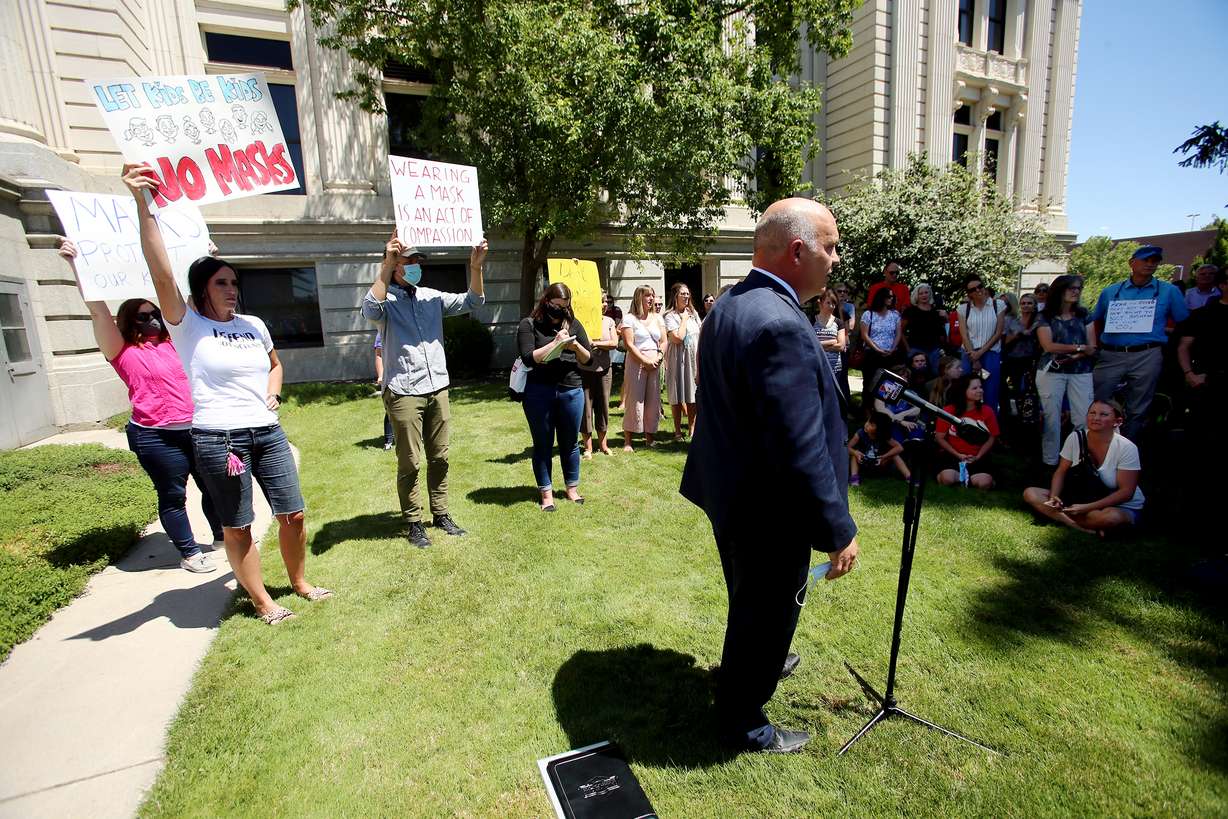 During the rally, at least three people showed up in support of the mandate, holding signs in support of the mask requirement.
Tina Cannon, a former teacher, said she was disappointed in the rally and was concerned about the message parents were sending to their children.
"I feel like people are setting up the teachers for failure when they send kids the message that they shouldn't be forced to wear a mask. That's absolutely unfair to our teachers," Cannon said.
While Cannon was speaking, children attending the rally shouted "masks are stupid" and "you can't make me wear a mask."
"I'm actually super frustrated with all the ignorance in this state. It's so frustrating," Cannon said.
Holly Cannon, Tina's daughter, said she wouldn't feel comfortable if she had to send her five siblings to school without a mask.
Related:
Rally attendees were packed together shoulder to shoulder while Lee spoke and asked him questions about protests. Several took the time to voice their opinions on masks, with many of them calling mandates unconstitutional and saying they don't think masks are effective in preventing the spread of the virus.
One woman in the crowd shouted, "take the mask off that poor boy" to a kid wearing a mask with his parents who were in attendance.
Lee said he supports wearing masks, holding his mask in his hand as he addressed the crowd, but said he doesn't support mandates. The crowd cheered.
×
Photos
Most recent Utah stories