Editor's note: This article is a part of a series reviewing Utah and U.S. history for KSL.com's Historic section.
SALT LAKE CITY — Utah will let some services resume beginning Friday, albeit with stricter rules than before.
The statewide decision to slowly reopen the Utah economy has its supporters and critics. Some fear it's happening too soon and as cases of COVID-19 continue to grow in Utah — those numbers aren't glaringly high, but they are still growing. Others feel the novel coronavirus has run its course and the ramifications of business closures are far more serious.
Regardless of where you stand on the issue, we know that global pandemics have struck the U.S. before. So, can history help give us an idea of what to expect when lifting restrictions?
The COVID-19 outbreak still pales in comparison to the 1918-1919 influenza pandemic, when you look at the number of people infected and the number of deaths worldwide. Yet, there are several aspects of that earlier pandemic that seems to rhyme with what's happening today. There are a few famous, and some not-so-famous examples of how American cities and states acted during the influenza pandemic. Their different actions led to a varying degree in consequences.
"It's a century later, but there are incredible lessons we can take from 1918 and apply to 2020," said Dr. Eddie Stenehjem, an infectious diseases physician for Intermountain Healthcare. He pointed out both examples were transmittable respiratory pandemics and both came when there wasn't an available vaccine.
"We're in the same situation, from a medical standpoint, in terms of a treatment of the virus. Yes, our standard of care has risen dramatically. We have ICUs, we have ventilators, we can support people incredibly, but we still don't have a treatment and we still don't have a vaccine.
"When that happens, you have to revert back to public health measures and infection prevention measures, which was the same then and it is now. Socially distancing yourself in 1918 was really the way to get themselves out of that pandemic, which is still the case today. … We certainly have incredible advances to our advantage, but the core tenets of how you manage a transmissible respiratory disease when you don't have treatment or a vaccine is the same."
The tales of different cities
Let's start off with a lesser-known story from the influenza outbreak, which happened in Utah. Research published in a 1990 edition of Utah Historical Quarterly tells the story of how Moab leaders reacted when the pandemic reached the southern Utah town, and the consequences of actions taken when they believed it was over too soon. At that point, there were fewer than 1,000 residents in the town, according to Census records.
On Oct. 18, 1918, three cases of the influenza were reported. Moab's health officer responded swiftly by closing schools, churches and other public gathering places within a few days. Those restrictions were lifted a week later when no new cases were reported. But the virus quickly came back. Sixty new cases were reported at a coal camp north of Moab and six new cases were reported in Moab, along with two deaths, the Grand Valley Times reported on Nov. 1, 1918. And with that, the town reinstated restrictions.
"So serious has become the epidemic of influenza throughout the county during the past two days that stringent quarantine regulations have been adopted in Moab to prevent as much as possible any further spread of the disease. All travel to and from Moab is prohibited unless it is absolutely necessary," the newspaper reported at the time. "Those who do come into Moab from the outside must submit to a four-day quarantine whether they have the disease or not."
Anyone who didn't comply with those rules faced a misdemeanor charge or even a $100 fine, historian Robert McPherson wrote in the 1990 Historical Quarterly piece. Political campaigning, military recruiting and even district court cases stopped. Authorities enforced a new law requiring that people wear masks and preventing mass gatherings. Even with those changes, new cases were reported in the region for a few more weeks.
By the end of November, no new cases were once again reported. Most restrictions — aside from travel — were once again lifted before the end of the year; however, the virus quickly came back again. As we know with the benefit of looking back at this a century later, there were three waves of the 1918-1919 pandemic, which is what made it so lethal globally.
"It was during the Christmas gatherings that a new onslaught of influenza got its start. By Jan. 3, 1919, banner headlines again proclaimed 100 cases of influenza in Moab. A week later, the number had jumped to 250. Cold, wet weather encouraged incubation of the disease, causing it to soar again to epidemic proportions," McPherson wrote.
The same restrictions that had been enacted twice before were instituted again, and Moab's high school turned into a makeshift 50-bed hospital for the sickest residents. The Moab Board of Health advised people to not go to work, saying "two or three days lost from work or business has a distinct advantage over paying the undertaker," according to McPherson. By the end, it was estimated that about two-thirds of the town ended up infected at some point, though an exact death toll wasn't known. An estimated 675,000 Americans died from the pandemic and 50 million worldwide, according to the Centers for Disease Control Prevention.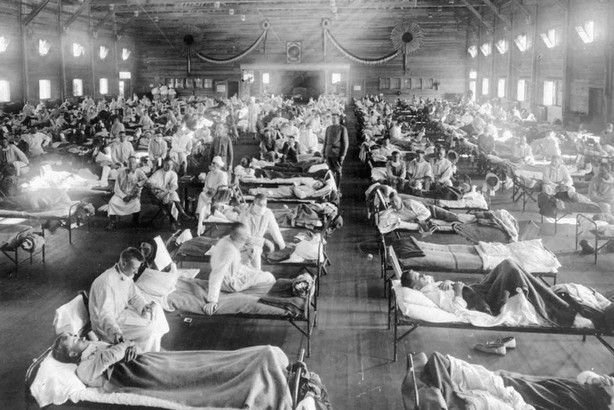 St. Louis' measures were similar to Moab's. As Vox explained, the city put measures in place, which lessened the severity of the outbreak in its city. When it eased back restrictions in December, it turned out it was too early and the city experienced a significant spike that brought restrictions back.
Perhaps the most common cautionary tale from the influenza pandemic happened in Philadelphia. John Barry, the author of "The Great Influenza" recalled the tale on an episode of "The Peter Attia Drive" podcast that aired on April 17. The city's medical experts urged the city to cancel a liberty loan parade; the city moved forward anyway without restrictions.
"Pretty much like clockwork, 48-72 hours later, influenza exploded in Philadelphia. It became one of the hardest-hit cities in the country," Barry said on the podcast. About 4,500 people had contracted influenza within weeks of the parade; in all, an estimated 14,000 of that city's residents died during the pandemic.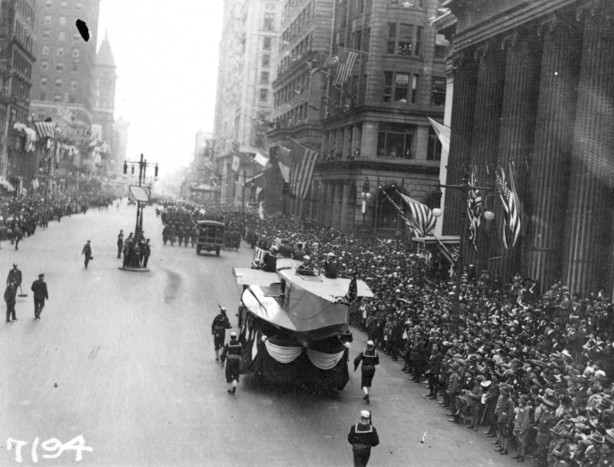 Milwaukee on the other hand, banned parades and other public gatherings, as the Milwaukee Journal Sentinel pointed out. The stricter measures — including closing down churches, theaters and public dances — experienced some blowback but appear to have worked, as fewer than 500 Milwaukee residents died from influenza during the pandemic.
Now, a century later, Utah leaders and officials from other states find themselves in the same situation. What are they doing differently to prevent becoming a future cautionary tale for experts to point to 100 years from now?
"We've got to learn from the 1918 flu from the story just in Moab or the parade in Philadelphia," Stenehjem said. "What happens if you open too aggressively and too soon? That's bound to happen in some areas in the United States."
A different route
The main difference between lifting restrictions then versus now is the approach to reopening the economy. In many cases restrictions were lifted at once, leading to giant spikes in the number of cases in 1918. Health experts believe having a tiered approach to lifting restrictions now might help prevent similar dramatic spikes.
There are also other benefits we have now that weren't available back then. Contact tracing and increased testing can provide up-to-the-minute analytics that will better pinpoint if there's a hot spot in Utah. There's also instant mass communication and other advances in technology that didn't exist a century ago.
---
If we go small, incremental changes, then the transmission of the virus won't be as great. We may see an uptick, but it won't be nearly as great as if we were to have done just an all-in approach.
–Dr. Eddie Stenehjem, an infectious diseases physician for Intermountain Healthcare
---
Dr. Angela Dunn, the state's epidemiologist, acknowledges making a move to ease restrictions now is "definitely aggressive" but added it's not uncommon. She said the system put in place will hopefully keep the overall cases down while allowing some of the state's economy to function again.
"It's a smart way to do it," she added, in regards to a tiered system. "It allows us to open up the economy while still protecting the vulnerable populations — those at highest risk for severe disease. Then we watch the data and see what happens. We're going to do everything in our power to continue controlling it. If for some reason we see an uptick in cases, we have the ability to put those restrictions back in place."
That's the way a government should handle an economic reopening, Stenehjem said. If the state were to lift all restrictions at once on Friday, he anticipates there would likely be a COVID-19 resurgence in the state within the first two weeks. In a worst-case situation, the number of cases might exceed the health care capacity, leading to many more deaths from the coronavirus.
"If we go small, incremental changes, then the transmission of the virus won't be as great. We may see an uptick, but it won't be nearly as great as if we were to have done just an all-in approach," he said. "It's not going to be this giant surge. It would be more of a stepwise increase that we can then accommodate through our ICUs in our hospitals."
Even with lifting some restrictions, he said the government should consider taking steps backward to return to the measures enacted to slow the spread of the disease — much like what happened in Moab and St. Louis a century ago. Utah Gov. Gary Herbert explained on Tuesday that local governments and health departments can work with the state to do that if an outbreak occurs after Friday.
Stenehjem said it's critical that the state's health community and government officials are on the same page so that a 1918 Philadelphia-like incident doesn't occur. That's something he said Utah has been fortunate to have so far during the COVID-19 pandemic.
While health experts and state officials are optimistic these approaches will result in a more favorable outcome than approaches taken a century ago, Stenehjem is aware that nobody has the benefit of hindsight as the state again moves into the unknown.
"We reflect back on 1918, and we have all sorts of different reflections and ideas," he said. "What are we going to reflect back on for this pandemic? What is going to be the thing we're going to look back on and say 'I wish we did this better?'
"That, we're only going to know in time."
×
Related Links
Related Stories