PROVO — It's been two months since the NCAA men's basketball tournament was canceled.
And though "March Madness" gave way to "March Sadness," and the madness gave way from basketball to things that are much more serious, college hoops fans could barely wrap their minds around it as it seemed like the sports world was crumbling under the weight of the novel coronavirus pandemic.
Things have normalized a bit, though no major American sports league has returned to play. That includes the NBA, which was the first to shut down after Jazz center Rudy Gobert tested positive for COVID-19, and MLS, which just allowed players to return to team facilities for individual workouts this week.
In the college world, things are even more quiet. Campuses have been dismissed, classes have been pushed online, and anyone who can go home has been encouraged to leave while the virus runs its course.
That means a year without the College World Series, the NCAA men's volleyball championship where top-ranked BYU was expected to play a role, or the Memorial Day weekend of the NCAA men's lacrosse championship, in addition to championships for softball and track and field.
It's already been discussed how the virus could impact the college football season. No one knows for sure, but it's looking increasingly likely that part or all of the season could be impacted — either by a lack of games, or no fans in the stands.
Conference commissioners around the country, including locally with the Mountain West's Craig Thompson, have stressed that college football — and college sports, at large — won't return to campus until students are able to attend classes.
But what about the 2020-21 college basketball season? If fall sports like football are, at the very least, postponed, could the hoops season also be pushed back due to the pandemic?
While noting he "unequivocally" believes a cancellation won't happen, NCAA.com college basketball reporter Andy Katz said recently that there's a chance — a "worst-case scenario" one, even — that the 2020-21 NCAA Tournament is delayed.
"Things may get shifted in the schedule; that's the worst-case scenario," Katz told BYUtv. "What I've been told is the worst-case scenario is that we push the NCAA Tournament and everything in front of it by a month.
"The worst-case scenario is that we won't start on time."
The good news is that the NCAA won't cancel the tournament, like it did two months ago, causing member schools to lose millions of dollars in revenue. The bad news, however, is the effects of the virus may not end by this fall.
Complicating the tournament is the timing. The Final Four is scheduled to be held in Indianapolis in April 2021, and any delay to the tournament — whether virus-related or not — could force the NCAA into considering alternative dates for a myriad of reasons.
Not the least of which is the Indy 500, one of auto racing's crown jewels that attracts close to 300,000 people to the greater Indianapolis area every spring. So there's a small window for the NCAA to work with, if they are forced into the "worst-case scenario" of delaying the tournament.
"You really have to be done by May 8," Katz said. "But that's the big contingency plan … if we don't start on time. Hopefully it doesn't have to happen, but I firmly believe we will have some form of a season and a tournament."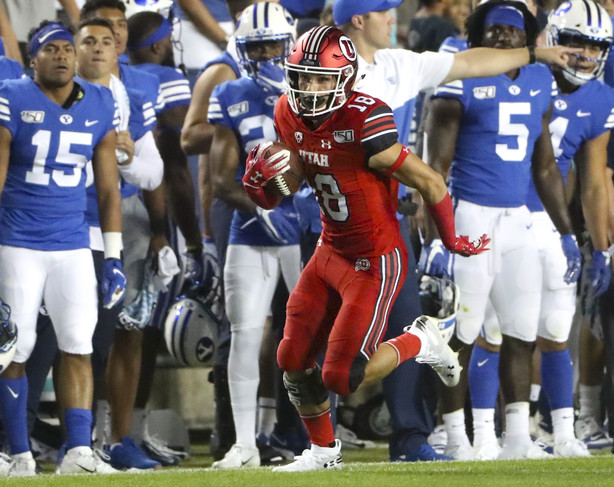 It's equally unlikely that the college football season doesn't get played. The sport makes too much money, financing around 85% of most athletic department budgets, and even more money is had with the implementation of the four-team College Football Playoff and its accompanying bowl season.
Katz has spent several weeks working with the NCAA on its "social series," examining COVID-19 and its effects on college athletics from every angle.
The final episode presented several core principles for the "resocialization" of college sports. Guided by medical professionals like the NCAA's chief medical officer, Dr. Brian Hainline, the organization has come up with several keys to restarting athletics.
First and foremost is testing — specifically, opening testing to a wide range of the population, both student-athletes and those around the game.
"If someone on a football team tests positive, what do we do for the other players? If I've been exposed, I can test negative today — but it doesn't mean I won't test positive tomorrow," Hainline proposed hypothetically. "I think you're going to see a bilateral response … of creative solutions so we can all work through this together."
An increase in testing will also lead to the country's increased ability for contact tracing, or determining how patients are infected with the virus. College sports could actually aid that cause, according to Dr. Amesh Adalja, an infectious disease expert and senior scholar at Johns Hopkins University.
"What we want to be able to do is find patients who are infected, and in order to do that, we have to have access to rapid tests," Adalja said. "That may involve screening athletes … and using that to facilitate practices and games."
In addition to following campus guidelines, college sports are likely to roll out on a regional level. That could leave conferences in a bind as some states are better equipped to reemerge from the pandemic than others.
For example, if California isn't ready at the same time as Utah, how will that impact BYU and Utah in the West Coast Conference and Pac-12, respectively? The NCAA often seeks to preserve competitive equity, and practice time — to say nothing of game restarts — is among those chief concerns.
"You want to make sure you are in an area where the infection rate is down," said Hainline, adding that "the broader society is ready to reemerge and resocialize."
Those concerns are real, but we likely won't have answers to them for several months. College sports' governing body will consult with medical and public health experts — both local and national — to determine how to phase in athletics.
Naturally, that means things could look different on a state-by-state basis. Utah Gov. Gary Herbert has recently said that large-scale sporting events — on the professional, college and high school level — will likely be among the last to open up in society. They may not be available until Utah emerges into the "yellow" zone, which is projected to be between August and October.
"Arenas and gatherings of large people will probably (be) the last part to recover," Herbert said, "as we move through this coronavirus challenge."
College sports will happen next year.
The bigger question simply shifts to when.
"I'm very optimistic and hopeful that we are going to have our normal season next season," Katz said. "When it happens, I don't know, but all the powers that be are making certain that it will happen."
×
Related Stories