Estimated read time: 4-5 minutes
This archived news story is available only for your personal, non-commercial use. Information in the story may be outdated or superseded by additional information. Reading or replaying the story in its archived form does not constitute a republication of the story.
LOGAN — There won't be any college football without college.
It's been discussed for a while. But Mountain West commissioner Craig Thompson made the decision as clear as can be Tuesday during his second conference-produced video interview.
Really, in an age of ever-expanding questions and few answers as scientists and public health experts study the rapidly advancing novel coronavirus, it was the simplest answer he knew.
"The campus will have all the say. Unless they're in full mode with dormitories and housing and all the other facilities opening, we won't have college athletics," Thompson said. "We will not have college athletics until the campuses are open."
When those campuses open is anyone's guess, however.
States are not under a federal guideline to reopen economic institutions, and individual governors — in consultation with public health experts and other officials — are making individual decisions.
Some, like Utah, are preparing to begin a rollback of restrictions. As many officials have said, including Gov. Gary Herbert and Lt. Gov. Spencer Cox in Utah, it's not a switch but a dial.
In a conference of eight states — including at least one, Wyoming, that hasn't issued any form of stay-at-home directive in response to the virus — that restart date is unclear.
The decision to resume campus activities won't be a conference decision. But it should be uniform across the league, Thompson believes.
"You can understand the clamor if certain coaches see others can practice and they can't, so no one can practice," he said. "Those are going to be some very heavy questions for us to address in the coming months."
Thompson added a decision about the upcoming college football season should be made by early July, so that teams have enough time to prepare for the traditional Labor Day weekend kickoff.
If activities haven't resumed by then, then conferences can begin to make plans for a postponement or suspension of the season. Some have considered a move to a spring football season, or playing concurrently with college basketball, setting up a "championship weekend" that includes the CFB Playoff and Final Four weekend of the NCAA men's basketball tournament.
For one local example, Utah State could be reduced to playing conference games-only, or kicking off the season with the traditional General Conference weekend opener, Friday, Oct. 2, against BYU, even.
But postponement is likely all that will be allowed — no conference commissioner wants to cancel the college football season. As one of only two revenue-producing sports in college athletics (men's basketball is the other), a missed season could be disastrous for athletic department budgets across the country.
"With CBS and Fox new media contracts, we're anticipating a three-fold increase over past rights fees," Thompson said, referring to the six-year, $270-million agreement signed this winter. "If we don't fulfill and provide them with a 12-week schedule and games over four months, there will be an impact. It's just too early to say if we will play 12 games or not."
For that reason, no student-athletes will report to campus without students being allowed to return. That includes football players, but also soccer, volleyball, and other fall sports, Thompson said in the first installment of his two-part video interview released Monday. The league's annual football media days, traditionally held in July in Las Vegas, could also shift to a virtual format, as well.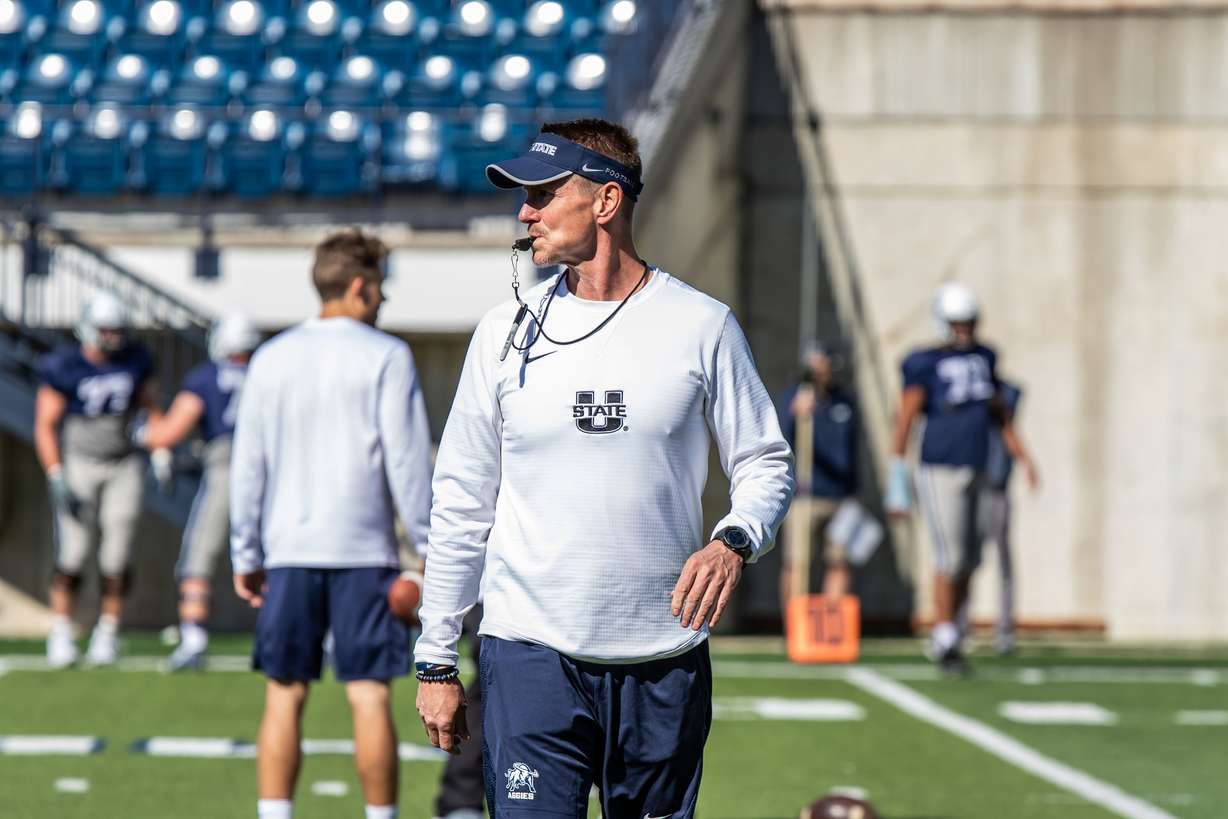 "If there's no college football this fall, there's very little likelihood there will be any other sports because 85% of revenue derived in college athletics comes from the sport of football," Thompson said.
Perhaps fortunately — or luckily, even — the Mountain West fulfilled its conference media obligations of the past year in deals for football and men's basketball with CBS and ESPN. The decision to move the league's basketball tournament up a week to avoid a frenetic hotel market in Las Vegas allowed Utah State to win its second-straight championship under second-year coach Craig Smith before the virus shuttered athletics around the country.
The decision to cancel the NCAA Tournament is costing the NCAA close to $375 million in lost revenue, which is close to half of what it would lose without the payout provided by the football bowl scene.
The CFB Playoff is expecting close to 20% in cuts to its operating costs, while Thompson projects a 15-20% cut for the upcoming fiscal year. The conference is looking at "creative" ways to manage the reduced revenues, including lowering traveling squads and reducing games played for non-revenue sports.
Program cuts to individual sports would be a last resort, Thompson added.
"I think we'll get through this fiscal year in pretty good shape," Thompson said. "But the matter of the fact is that if there is no college football this fall, there is very little likelihood there will be any other sport, because 85% of the revenue comes from football."
×
Related stories