SANDY — There's a light at the end of the tunnel.
Or at least for MLS players, a little bit more sunshine in the day.
Major League Soccer announced Friday afternoon that its players will be permitted to use team-owned outdoor training facilities for individual workouts beginning Wednesday, May 6, under compliance of local health and safety protocols in light of the COVID-19 pandemic. The workouts must be voluntary, and cannot conflict with local public health and government policies, the league's statement added.
"The individual player workout protocol prohibits access to club facilities including but not limited to locker rooms, team gyms, and team training rooms," the statement reads, in part. "Team gyms and training rooms may still only be accessed by players receiving post-operative and rehabilitation treatment, as directed by the club's chief medical officer."
The league-wide moratorium on team training exercises and group activities remains in effect through Friday, May 15. But the glimpse of a return to something more is the product of more than a month of negotiations and research into the virus by the league and clubs, in consultation with both local and national experts.
"This first stage of returning to play is very regimented, very structured, and the product of a month of work with MLS, clubs and local authorities on how we can safely allow players to return to our outdoor facilities," said Real Salt Lake general manager Elliot Fall, adding that RSL and its second-division affiliate Real Monarchs will operate exclusively out of the Herriman practice facility in lieu of Rio Tinto Stadium in Sandy.
In order to begin individual workouts, each team must submit a club-specific plan to MLS that outlines team health and safety protocols. The protocols include restricting facility access to anyone but essential staff and personnel; sanitization and disinfection of all equipment; player use of personal protective equipment before and after workouts; social-distancing guidelines where applicable, including staff maintaining a distance of at least 10 feet from players at all times; and an emergency action plan for all COVID-19-related issues.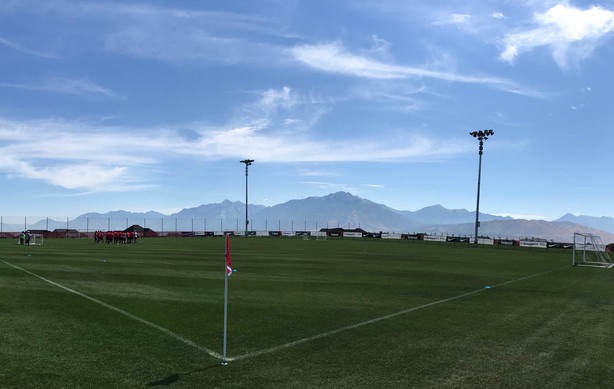 That social distancing measure will be important, Fall said, as players are moved individually from a designated parking space to the field while maintaining significant space of 6 feet or more from any other individual at all times. RSL, with its half-dozen outdoor training facilities, can even afford to be "more conservative" or strict in following the league-approved guidelines, he added.
It's all for good reasons.
"All of these are things we are going to have to have in place when we return to any form of training," Fall said. "A lot of it is stuff we've been putting in place, planning and working with our staff while knowing that this day is coming. We're going to have to do this at some point, and we've been doing a lot of it."
Here's the full list of return-to-training protocols, per the league site:
Restricting training facility access to essential staff only, with specific staff listed in the plan.
Sanitization and disinfection plans for all training equipment and spaces, including disinfection of any equipment used by players (balls, cones, goals) between every session. Completion of a Standard Screening Assessment survey by each player prior to every arrival at the training site, and temperature checks upon arrival at the facility.
Staggered player and staff arrivals and departures, with designated parking spaces to maintain maximum distance between vehicles.
Player use of personal protective equipment from the parking lot to the field, and again on return to the parking lot.
Staff use of the appropriate personal protective equipment throughout training, while also maintaining a minimum distance of 10 feet from players at all times.
Hand washing and disinfectant stations for required use before and after individual workouts.
Clubs will have the use of the outdoor fields at their training facility, divided into a maximum of four quadrants per field. A maximum of one player per quadrant may participate per training session with no equipment sharing or playing (passing, shooting) between players.
An Emergency Action Plan for all COVID-19 related issues.
All plans are required to be reviewed by team medical personnel, local infectious disease experts and Major League Soccer, and every club will designate a member of its staff to oversee adherence to league protocols and the club-specific plan.
Even under the heavy protocol, it's good to bring players back to the facility — even on a voluntary basis. Some players will opt out of the workouts, choosing instead to continue to perform their strength-and-conditioning workouts at home or in their neighborhoods. And that's OK, Fall said; no one will be forced into a situation that will make them uncomfortable as the pandemic continues across the world.
But RSL is working to make another option available to all of them, and each of the players contacted so far has expressed optimism and excitement for the additional benefit.
"There's a real benefit to getting players back to the facility," Fall added. "We're looking for some semblance of normalcy, of reality. Even if it's a very regimented version, it will be nice to do that."
MLS has been under a season-long suspension since March 12, the day after the NBA went on a similar hiatus following Utah Jazz center Rudy Gobert's positive test for the coronavirus. Initially announced as a 30-day suspension, the league extended its hiatus to May 10 before adjusting to an indefinite status with an addendum that added it was "extremely unlikely" play would resume before the end of May.
NBA practice facilities are reportedly set to reopen May 8.
The National Women's Soccer League has indefinitely suspended the start of its season until at least June, while the second-division USL Championship is on hiatus indefinitely. Like their MLS counterparts, many of whom maintain an active affiliation agreement, USL clubs are prohibited from training through May 15.
And while RSL and the Monarchs will work out of Herriman, Fall said it is anticipated that Utah Royals FC will likely use more of Rio Tinto Stadium — where many of their locker rooms and practice equipment resides, in addition to nearby America First Field — once the NWSL lifts is own training moratorium.
×
Related Stories