PROVO — In a season of some of the highest highs in more than a decade, the BYU men's volleyball team was riding the highest last week.
The Cougars had just wrapped up a two-match series at Hawaii, taking a 3-0 sweep of the then-No. 1 Rainbow Warriors on Thursday night before falling in five sets less than 24 hours later on a night when Gabi Garcia Fernandez set the BYU record for most aces in a season.
Things were looking up — not the least of which because the Cougars usurped the No. 1 ranking in the AVCA Coaches' Poll from Hawaii.
And in a matter of days, hours, or even minutes before loading a plane to go to Palo Alto, California, for what was originally a closed-door match against Stanford to open the second half of Mountain Pacific Sports Federation play, everything changed.
Because that was the moment — with BYU in an airport and everyone rushing off the Delta flight to pick up their bags before leaving for the Bay Area — when BYU men's volleyball found out its season was over, a casualty of the mass cancellations of all remaining NCAA winter and spring sports championships caused by the coronavirus pandemic.
"Even at the airport, it hadn't hit me the possibility of our season being over yet," senior outside hitter Zach Eschenberg told KSL.com. "We thought Stanford and USC, the Pac-12 schools, we knew they were out. ... I didn't want to accept that it was the case, especially considering the work and emotions that have gone into the past three years.
"I felt like I was playing the best volleyball I had ever played. … The whole day felt like a dream."
College sports are among the least concern as officials try to halt the spread, or "flatten the curve" of the COVID-19 outbreak. But sports have provided a necessary relief for Americans, even during previous public health crises — and this one is hitting the sports world particularly hard.
BYU men's volleyball is no exception.
In the middle of a season, with the No. 1 ranking and a chance to accomplish even more, the Cougars were sent home.
No trophy.
No tournament selection.
Not even with a loss in the national title match, like they have experienced far more often in recent years than they'd like to admit.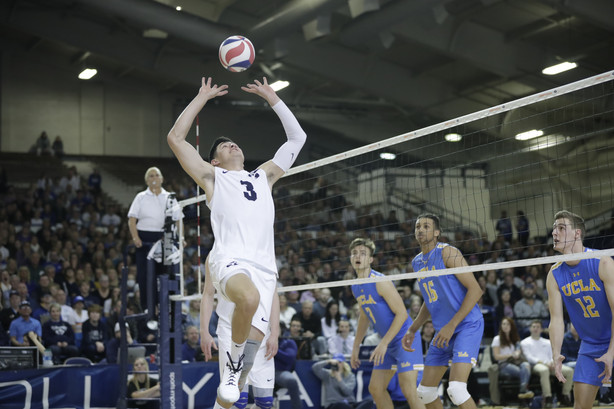 "The guys came off that weekend with so much confidence, and then to be pulled off a plane to start the second half of our conference, that made it all the more tougher," BYU coach Shawn Olmstead said. "They believed even more … and took so much from that."
For Wil Stanley, the moment of finality was a lot to hold on his shoulders. The Honolulu native had just come back from a visit home, where he put up a combined 86 assists, 15 digs and an ace in eight sets of a split with his hometown university.
The Punahou product mourned with the other seniors on the team, and it's impossible to compare or measure guilt or remorse for a season.
But the cancellation of the remainder of the season, especially in that moment, was tough for Stanley.
"Going home and doing what we did, playing the way we did, there was definitely that high," the 6-foot-4 setter said. "We knew we were a good team, and could be a national championship contender, and then to have everything taken away, it was tough.
"We were ecstatic with how we played in Hawaii. Then I thought that could be the last game I ever played. … I could've played my last game in a BYU uniform, and it wasn't in the national championship or in the Smith Fieldhouse."
The Cougars looked like a national championship contender that weekend in Hawaii. They looked like a team that, if not win it all, certainly boasted that kind of potential when all things went right.
Miki Jauhiainen was a top-10 blocker, averaging 1.143 blocks per set, pacing the No. 1 ranked block in the country (2.945 per set). Fernandez ranked No. 2 in the NCAA with .918 aces per set, in addition to his top-12 average of 4.0 kills.
His season record for aces highlighted the heights of the level at which he was playing. It was the kind of season that one uses to springboard a professional career, to be honest.
None of that mattered to Fernandez, though. The records. The individual weekly honors. Not even his pro prospects.
While the cancellation of a season is never easy — especially one like the 2020 campaign that he had been having — he also knows there wasn't much other choice.
Plus, he'll be back for next season. A junior academically, Fernandez made a promise to his parents that he would earn his college degree — and he still has a year left in BYU's Latin American studies program to fulfill that promise.
So he'll be back. So will his team. They'll get through this.
"I know I said it's a bummer, but I think the NCAA made the right call," Fernandez said. "In moments of having to do this fast, they made the right call. The health of humans is more important than a plastic or metal trophy we can raise in the air.
"The happiness will last for a couple of weeks, at most, but the health of the athletes is permanent. I think they are doing everything for the benefit of the athlete, even if it's a bummer in the moment."
Stanley was the engine behind the offense, ranking third nationally with 10.74 assists per set.
It's impossible to say who would have won the national championship; to say otherwise would be simply conjecture, and against the very nature of sport.
But the Cougars looked the part of champions.
"Shawn has been on two national championship teams, and he knows what it took to win a championship," Stanley said. "He came in and told us, you guys had it. We had the mentality that those teams had.
"I do think that this year was a special year, and we were hungry. It was a fire that we were missing since the 2017 team (that lost to Ohio State in the national title match). We had the fire, and the mindset; you never know — but I would definitely say it was a possibility this year."
Now the Cougars can only dream of what might have been — and prepare to make a similar run next season.
The NCAA has publicly stated its recommendation to grant a year of eligibility relief to all athletes in spring sports. It's not known what that means, how it will work, or what kind of an impact that might have on future recruiting classes and scholarship limits.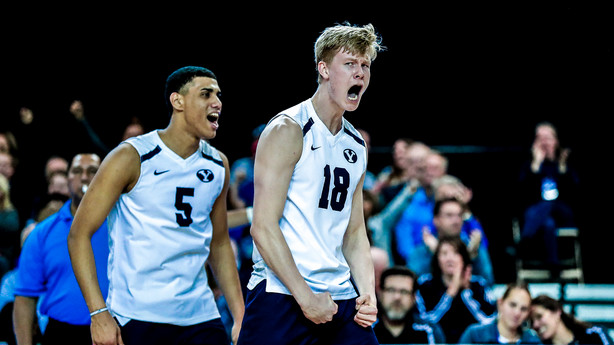 But if given the option, Stanley wants to take it. He wants to come back next year. "I feel like I haven't given a full season to BYU," said Stanley, who would also play one more year with his brother Jon, a freshman on this year's team. "There's just some unfinished business that I have. It's hard for me to say no to that."
Everyone will have individual decisions to make, and not every senior will take the Indianapolis-based organization up on an offer for another year of playing time. Some will want to become a professional. Others will receive a job offer in highly lucrative field, turning pro in something other than sports.
Still some may decide, whether for injuries or scholarship limits or getting married and starting a family, that it's time to start the next chapter.
Wil Stanley will be there. And there's a decent chance other seniors like Jauhiainen, Eschenberg and Andrew Lincoln will be there.
"Wil has loved his experience at BYU, and he feels like that was left there," Olmstead said. "As soon as we get the official word, we're going to move forward with guys like Wil, Zach and Miki, who we are going to chat with. They're definitely going to be interested in the NCAA's stance and moving forward."
Until then, all the Cougars can do is wait — like much of American during the pandemic standstill. Students around the nation are being urged to return home, with most resuming the semester via online coursework.
Even in Provo, the lack of activity is palpable, visible every day as Stanley walks into an empty weight room on a campus where many of the 30,000 students have departed or stayed home.
"It felt like a ghost town today," Stanley said. "The fieldhouse is empty. There's nobody in the parking lot. It's really weird.
"It's pretty quiet. I sat in the locker room by myself for 10-15 minutes, with nobody around, and it was weird. You don't expect a college campus of 30,000 students to be empty completely. It's a story that I'll always remember."
×
Related Stories