Estimated read time: 4-5 minutes
This archived news story is available only for your personal, non-commercial use. Information in the story may be outdated or superseded by additional information. Reading or replaying the story in its archived form does not constitute a republication of the story.
PROVO — BYU baseball coach Mike Littlewood isn't one who stays away from his superiors at work.
He's in pretty constant communication with Cougar athletic director Tom Holmoe and associate AD Brian Santiago, among the others with whom he meets regularly.
At the very least, each one of them knows if they can't find him — he's on the road or out of town or off recruiting, perhaps — they can call him and get in touch with him.
But last Thursday, he heard from Santiago three times before 4 o' clock in the afternoon. It wasn't odd that he heard from Santiago, or even that he did so frequently. It's just that the Cougars had a game Thursday evening against Loyola Marymount, the West Coast Conference home opener and a rare home game at Larry H. Miller Park.
All three calls had news about the game.
The third one is the call he wishes he never had to receive.
BYU's season was canceled last Thursday, vanishing into the ether with the NCAA's sweeping edict to cancel all remaining winter and spring championships for the rest of the academic year.
"We could kind of see this coming, with the Jazz situation (on Wednesday night)," Littlewood said. "But as soon as the SEC put their season on hold for a few weeks, we could see it coming. I think the guys knew it was happening."
It's part of a country-wide task force to slow the spread of the coronavirus pandemic, to battle COVID-19 while the medical community prepares to fight a disease that humankind had never seen before it first appeared in China and spread across the world.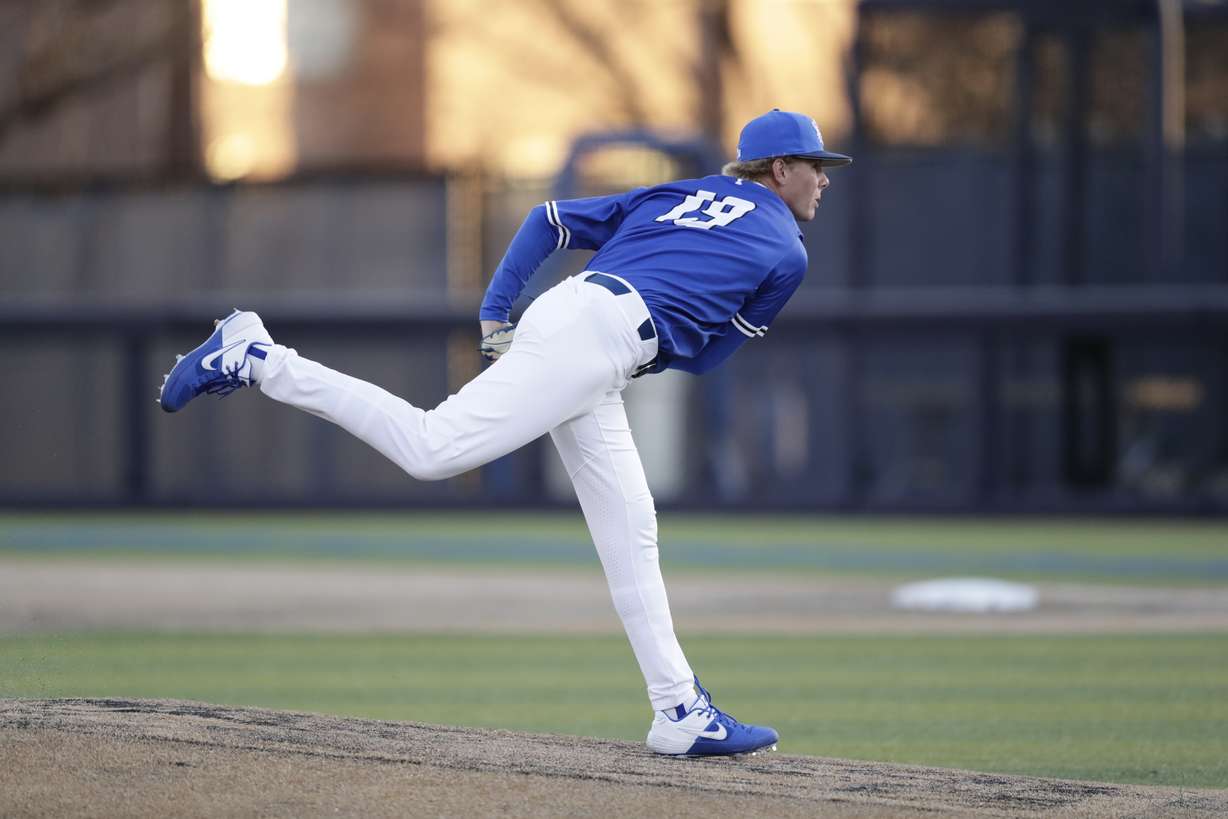 More than 175,000 people have been confirmed infected by COVID-19, with more than 6,700 deaths worldwide. Nearly half of all deaths have come in China, with Italy having recently surpassed the 2,000-death mark.
So there's a lot of worry around the Center of Disease Control's latest pandemic, and baseball is hardly a priority in the greater picture.
But that didn't make the news much easier to take.
"I think we all have a social responsibility to try to get this pandemic under control," Littlewood said. "Baseball is my life, it's my coaching staff's life; it's more than a job. It was a total shock.
"But as I went to talk to the team, I got this calm feeling that everything would be fine. We just needed to let them know that everyone else in the country was going through the same thing. It's not just us."
As he talked to his seniors, hardly a dry eye filled the room.
The ones who were the deepest hit were his three seniors — Jarod Lessar, the right-handed pitcher from Price who recently burst into the starting rotation; starting catcher Abraham Valdez; and former Mountain Crest southpaw Ben Weese.
This was before the NCAA opted to grant eligibility relief for all spring sports athletes, giving seniors another year to return to school.
But the decision, which has not been formalized, is optional. Student-athletes don't have to come back — and many likely won't. They'll be off to start a career, or a family, or turn professional. Many will graduate, and some will be unable to find graduate coursework to conclude their final season.
First home game
"We'd welcome every one of them back," Littlewood said. "But it's an unknown in that way."
The Cougars were 7-9, but Littlewood liked the promise he saw out of a young team whose season was cut short for the third time in program history, and first since 1961.
Like most college baseball programs, BYU was also likely to lose at least one more draft-eligible player following the season. In addition to the three seniors, eight juniors on this year's roster would've been eligible for the draft, as well as any other player at least three years removed from high school (including returned missionaries for The Church of Jesus Christ of Latter-day Saints).
But even that is an unknown. Major League Baseball just opted to postpone Opening Day, which could lead to a delayed draft or one that is even shortened to just a few rounds.
"It's going to be really hard to evaluate players when there are no games," Littlewood said. "We have a few guys who could get drafted early or late, and it's really concerning for those guys.
"We're going to make calls to every scout we know in the Four Corners area, and get that information to our guys. But right now, the faucet is turned off in terms of information, because no one really knows what is going to happen."
But once again, these problems all pale to the public health issues facing the nation.
So Littlewood will figure things out, consult the NCAA, and do the best he can with his program and his players.
"It seems like every hour, we get another trickle of information," he said. "We're just trying to roll with the punches, and just stay on our feet."
×
Related stories
Most recent BYU Cougars stories