SALT LAKE CITY — The potential postponement or cancellation of the college football season — and it is still only potential, far from a certainty — could wreak havoc on college athletic departments nationwide.
Strictly in terms of budget, there's cause to be concerned. And with only football and men's basketball regularly operating in the black at most schools, that leaves a lot of student-athletes, coaches and administrators in a lurch if college sports' crown jewel can't be played this fall.
The NCAA has already paid out $225 million to its member institutions for the men's basketball tournament, down from an estimated $600 million in revenue. An analysis by USA Today estimates that schools also stand to lose $900,000 in the Power Five ranks without playing spring competition.
Additional costs will be incurred as seniors return to campus for another year, and are thus forced to pay tuition for additional coursework — or even graduate studies — to continue to play the game they love. While he said his school would cover the cost of any senior who chose to return for another year, Utah State athletic director John Hartwell told the Deseret News that the Aggies could face an additional budget charge of close to $400,000 to accomplish the task.
BYU and Utah have also said they will cover the increased expense of seniors returning for another year, though many will graduate with their classmates to pursue professional careers.
That's why figures like Washington State football coach Nick Rolovich, men's basketball coach Kyle Smith and school president Pat Chun have taken a voluntary pay cut. That could save as much as $150,000 this year, according to public records. Coaches will also forego incentive and bonus payments, a move that is sure to be happening at universities nationwide.
But does it go far enough?
In some cases, no, it won't.
That's why the Group of Five conferences — those outside the collegiate power structure, or the American Athletic, Mountain West, Mid-American, Sun Belt and Conference USA — drafted a letter to NCAA President Mark Emmert. The intent was to plead for waivers of various Division I requirements for up to four years while athletic departments manage their budgets.
Among the waivers requested are guidelines requiring all Football Bowl Subdivision schools to maintain a minimum paid attendance standard of 15,000 for all home football games; a minimum of 16 varsity sports, including football, and corresponding number of men's and women's scholarship opportunities, according to Title IX regulations; various football and men's basketball scheduling requirements, such as a minimum of five regular-season home football games; and a minimum number of contests and participants in all sports.
"A blanket waiver for relief will provide institutions the ability to make prudent and necessary decisions for the financial well-being of the institution," the letter read. "Providing short-term relief from a handful of regulatory requirements will facilitate the opportunity for institutions to retrench and rebuild the financial structures of the institution. Additionally, this will allow time for the membership to engage in discussions about a vision for higher education and intercollegiate athletics in a post-COVID-19 world."
Mountain West commissioner Craig Thompson insists the waivers are not meant to put sports, especially non-revenue or "Olympic" sports like soccer, volleyball, golf and tennis, in peril.
"Other conferences have engaged in the same process and this collaborative request from the Group of Five is intended as the sort of creative alternative these unprecedented times demand," Thompson said in a prepared statement from the league. "The waivers of NCAA legislation would create a permissive environment, allowing each institution and conference across the Division I landscape the necessary flexibility to determine how best to proceed in making financial adjustments that are intended to preserve sports and opportunities for student-athletes."
Still, it's hard not to consider a university wouldn't take the easy route of cutting sports — especially if officials have already discussed the possibility in the past.
Some schools have already begun the bloodletting. Old Dominion cut its wrestling program back on April 2, and Cincinnati followed with a cut to men's soccer Tuesday. On Wednesday, Division II St. Edwards in Austin, Texas, cut six programs: men's and women's tennis, men's and women's golf, and men's soccer, while cheerleading will transition to a club team.
Perhaps the most telling point of the discontinuation came in one of the last paragraphs of the news release: "This immediate action to redistribute financial resources allows the university to continue programing for: men's and women's basketball, men's and women's cross country, men's and women's track, women's soccer, volleyball, baseball, softball and esports," St. Edwards' statement read. "With these remaining teams, the university's athletics programs remains in compliance with NCAA DII and Lone State Conference membership requirements of sport sponsorship."
The crisis will only lead to so many discontinuations. But the cuts run plenty deep.
"Never waste a good crisis," former British prime minister Winston Churchill once said.
Many schools will use the threat of a pandemic, and the economic fallout that could occur for semesters, or even years, to come, to balance their athletic department budgets, one school official told KSL.com. Most, according to the source, will have been eyeing such cuts for months — if not years.
"It's the perfect excuse," the official said, referring to COVID-19.
The cuts won't come to football or men's basketball, and women's basketball will be safe by extension. But other programs — from soccer to volleyball to swimming and diving or tennis and golf — can't feel safe. Not if their programs have ever been threatened in any way before the pandemic, at least.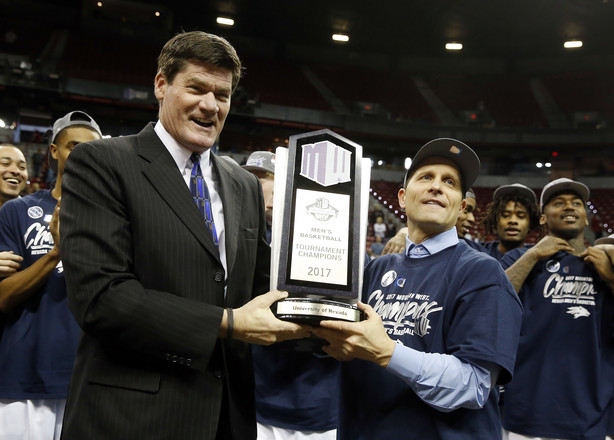 "Athletic directors are using this as a reset," one industry source told Yahoo Sports, which first reported the contents of the G5 conference's letter. "Some athletic directors have been talking about cutting sports for three years and just looking for the right time."
To be sure, all of these potential cuts and waiver applications are dependent on budgets, and those budgets are receiving federal aid to help offset the loss of revenue caused by the coronavirus.
On Wednesday, Utah Valley University — the largest public university in the state — received $23 million through the federal CARES Act, Snow College received $2.4 million and the rest of Utah's public schools received varying amounts in between, including $18.8 million for the University of Utah.
Education secretary Betsy DeVoes said in a letter that at least 50% of the funds "must be reserved to provide students with emergency financial aid grants to help cover expenses related to the disruption of campus operations due to the coronavirus."
Schools are still working through how to use the funds, but those requirements could potentially open the door to some of the emergency funds being used to offset part of the additional scholarship expenses each school will incur.
If not? It's going to be a long summer (and fall, for some sports) of waiting on the chopping block.
×
Related Stories