Estimated read time: 6-7 minutes
This archived news story is available only for your personal, non-commercial use. Information in the story may be outdated or superseded by additional information. Reading or replaying the story in its archived form does not constitute a republication of the story.
LAS VEGAS — First-year BYU head coach Mark Pope and the Cougars heard the announcement together.
It wasn't quite the same as Selection Sunday, with the group gathered in a team room, with CBS cameras and media buzzing to learn of the ultimate destination for the NCAA Tournament — the Cougars' first trip to the Big Dance since the 2014-15 season.
They were on the verge of accomplishing that long-awaited feat, one that took Yoeli Childs coming back for one final season and TJ Haws sticking around for his senior year after surviving the breakout of the "Lone Peak 3" to Alex Barcello transferring from Arizona to numerous injuries and slip-ups along the way.
And then, suddenly, with a brief statement from the NCAA, those dreams were dashed.
NCAA president Mark Emmert made the move Thursday to cancel the annual 68-team NCAA Division I men's basketball tournament from its usual month in the calendar to help mitigate the spread of COVID-19, commonly referred to as novel coronavirus.
And there was silence. Stunned, unabashed, emotional silence.
"We sat in a silent locker room with some tears for what was way too long," Pope said on a conference call with local media. "Ultimately, I stumbled around with a few things but it was not the right time.
"Those speeches are going to come because we are going to work hard. That doesn't need to be a speech. The only thing I shared with those guys was that I love them … I didn't have any wiser words for them."
NCAA cancels remaining winter and spring championships: https://t.co/qzKAS4McEIpic.twitter.com/G6XreZx35E

— NCAA (@NCAA) March 12, 2020
The cancellation goes far beyond men's and women's basketball, too. Bowling, ice hockey, indoor track and field, and wrestling have been cancelled during the winter sports season. Spring sports like baseball, softball, lacrosse and beach volleyball have been suspended indefinitely, with championships presently cancelled.
"Today, NCAA president Mark Emmert and the Board of Governors canceled the Division I men's and women's 2020 basketball tournaments, as well as all remaining winter and spring NCAA championships," the NCAA said in a prepared statement. "This decision is based on the evolving COVID-19 public health threat, our ability to ensure the events do not contribute to spread of the pandemic, and the impracticality of hosting such events at any time during the academic year, given ongoing decisions by other entities."
But the biggest takeaway Thursday was the unceremonious and abrupt end to the 2019-20 college basketball season — including for the Cougars, a top-10 team in the NET rankings that was likely guaranteed an at-large berth. BYU was 24-8, including a 13-3 record in conference play. The Cougars ranked No. 13 nationally in KenPom, with wins over Gonzaga, Saint Mary's, Houston and Mountain West champion Utah State, to name a few. Nothing is ever truly guaranteed, but BYU was as guaranteed of a tournament bid as almost any team in the country.
And then, suddenly, the Cougars weren't.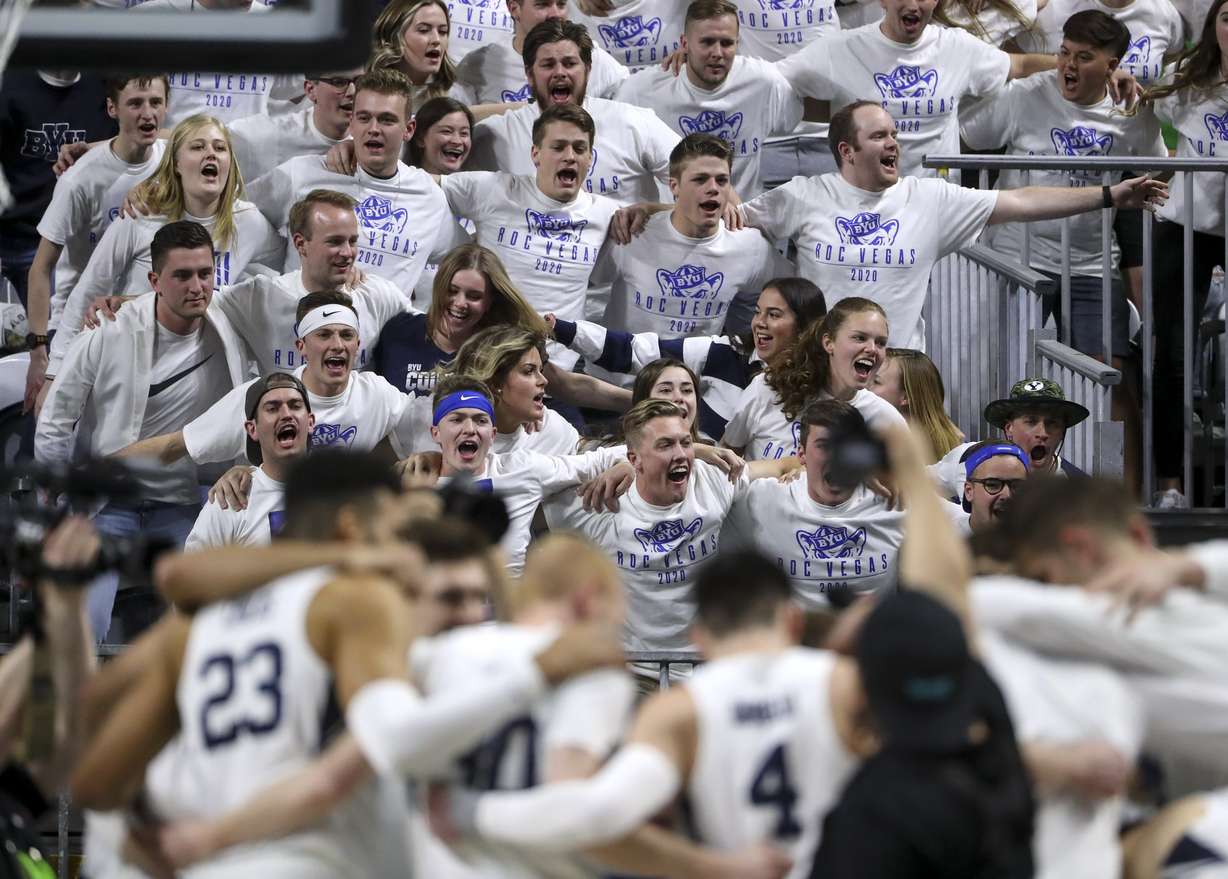 It's the end of a career for Childs, Haws, graduate transfer and West Coast Conference Newcomer of the Year Jake Toolson, Dalton Nixon, and BYU's other seniors. As of Thursday night, those players — and countless other seniors around the country — won't get that time back. They won't get back what they missed out on in cancelling the Big Dance.
And that is what hurts the most, what caused Pope to tear up and break down and have to be consoled by assistant Nick Robinson while sitting in his office in the Marriott Center Annex in Provo, talking to a group of reporters via conference call due to virus restrictions.
"I love these young men. It's an extraordinary and humbling thing," said Pope, pausing to keep his emotions in check, "when young men are willing to give you their trust. It's a real gift as a coach, and it's the building blocks and foundation of a group that is really special. These guys are unbelievably generous to each other and to us as a staff.
The decision comes shortly after the organization announced it would hold games in empty arenas without fans to prevent the widespread dissemination of the virus, then canceled the remaining tournaments — most within a 24-hour period.
It also follows a whirlwind 48 hours, when conferences from the Ivy League to the Big Ten, Big 12, ACC, SEC, Pac 12 and the American — among others — cancelled their individual tournaments.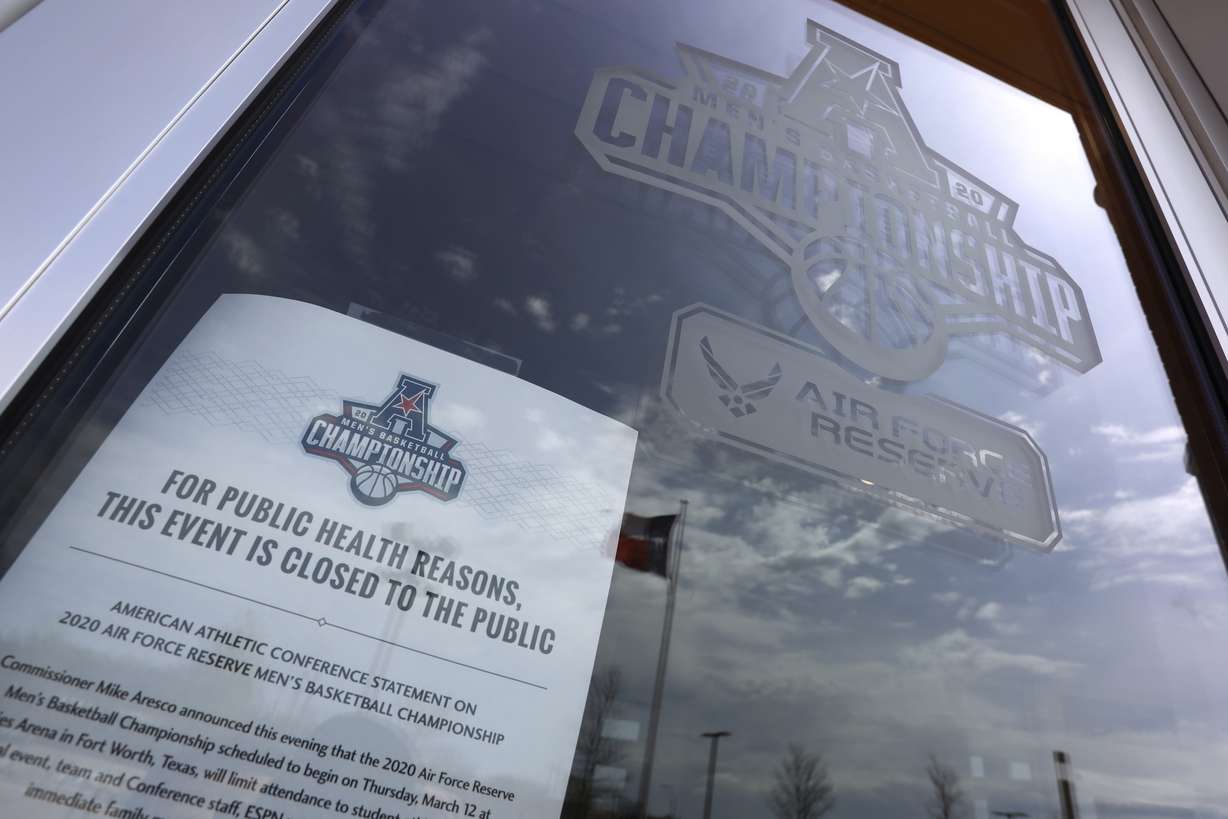 Even the Western Athletic Conference suspended play midway through its quarterfinals of the opening day before the league's board of directors opted to cancel the tournament.
"I don't think anybody wanted to cancel the tournament; in a perfect world scenario, you want to play," said WAC commissioner Jeff Hurd, also noting the conference has suspended play for all spring sports. "You want to play for a lot of reasons, and particularly for the student-athletes. But for that reason also, it wasn't a particularly difficult decision. There really wasn't another decision to make.
"Our decision this morning was based solely on what is best for the student-athletes involved, both short-term and long-term."
Also Wednesday, the NBA suspended its season indefinitely after Utah Jazz center Rudy Gobert tested positive for the virus, and the NBA G League quickly followed suit.
More than 125,000 people worldwide have been confirmed to be infected with the virus, with more than 4,000 deaths — mostly in China — according to the Center of Systems Sciences and Engineering at Johns Hopkins University. At least 30 confirmed deaths have come in Washington state, which was set to host an NCAA first- and second-round regional in Spokane.
Everyone understands why this measure had to be taken, why the NCAA Tournament had to be sacrificed to help prevent a potential outbreak of a mostly unknown disease that has caused disruptions to the NBA, NHL, MLS and every professional sports league in North America. If the pros can't play through it, how can you expect the amateurs — unpaid college students who masquerade as basketball superstars in their local communities — to safely navigate those waters?
But the abruptness of it all, the emotion swelling to the surface so suddenly? That's what got to Pope. That's what the college basketball world is struggling to come to grips with. It'll take time — time that, quite frankly, a lot of these teams have in abundance now.
"It sure does seem that the world has turned upside down in 24 hours, doesn't it?" Pope quipped. "The speed at which things have changed is pretty extraordinary. I think it's sobering for all of us."
×
Related Stories