PROVO — For good, bad or somewhere in between, the past 10 years in BYU athletics have been a wild ride.
Here are some of the sharpest turns and deepest lows in a roller-coaster decade in Provo.
Football's declaration of independence
BYU athletic director Tom Holmoe changed the course of the university over the decade (and potentially longer) back in 2010 with the decision to go independent in football and join the West Coast Conference in all other sports. Buoyed by an exclusive contract with ESPN, the Cougars' decision to depart the Mountain West ultimately left a lasting impression on the legacies of Holmoe, former football coach Bronco Mendenhall and current coach Kalani Sitake.
Women's volleyball advances to two Final Fours
BYU women's volleyball coaches Shawn and Heather Olmstead took a historically great program to the next level this decade, first leading the Cougars to the program's first-ever national championship match in 2014 and following up with a trip to the NCAA semifinals in 2018.
Jimmer Mania sweeps the country
Jimmer Fredette's senior season at BYU wasn't just a local sensation, it was a national craze. "Jimmer Mania" wrapped up with 2,599 career points, 296 3-pointers and 515 assists in 139 games that prompted then-President Barack Obama to call him the "best scorer, obviously, in the country."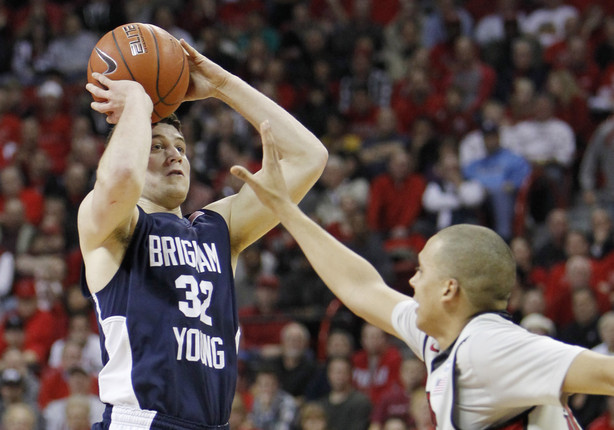 Dave Rose retires from BYU basketball
After 14 years in charge and at just 61 years of age, BYU basketball coach Dave Rose stepped down from his position following the 2018-19 season. Rose took over a program that won just nine games the season before his tenure, and took it to 348 career on-court victories, four conference titles, eight NCAA Tournament appearances, and six consecutive 25-win seasons.
Mark Pope, a former assistant under Rose who spent four years at Utah Valley, took over in Provo prior to the 2019-20 season.
Nine-straight losses to archrival Utah
The Cougars have found just about every way to lose to rival Utah on the gridiron over the past decade, with close losses, blowout defeats, come-from-ahead meltdowns, and an offensively stagnant array in the latest loss to open the 2019 season in Provo. It's the second-longest streak in the state's preeminent series, and the longest since BYU won nine in a row from 1979-1987.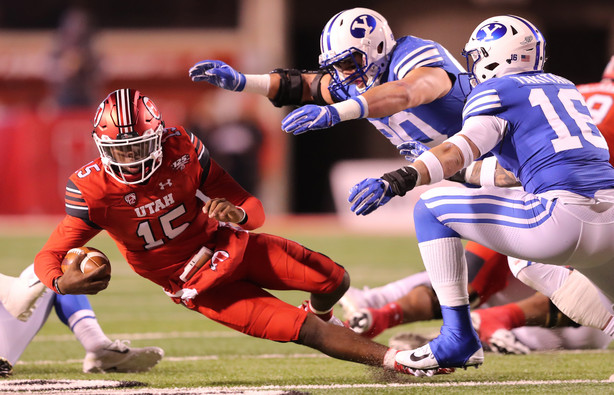 Bronco Mendenhall leaves for Virginia; Kalani Sitake comes home
After a record of 99-43 in 11 years at the helm of BYU football, Bronco Mendenhall left for the east coast, for Virginia, and for the Atlantic Coast Conference — where he's built a Coastal division champion in just his fourth season. In his stead, former BYU fullback Kalani Sitake (formerly Fifita) took his first head coaching job at his alma mater, and earned an extension through the 2023 season.
The beef between Larry Krystkowiak and the Cougars
The cantankerous relationship between Utah basketball coach Larry Krystkowiak and BYU has been, if nothing else, amusing theater — from Nick Emery punching Brandon Taylor to a suspension of the 'toxic' rivalry series that led to the Utah legislature auditing the university's athletic department, to the creation of the Beehive Classic at Vivint Smart Home Arena.
Mr. Triple Double
Fredette wasn't the only BYU basketball player to take the nation by storm this decade: former Provo High star Kyle Collinsworth set the record for most triple-doubles in a season, and in his career. Collinsworth set the mark after less than two seasons with seven triple-doubles in 2014 and 2015, alone. He still owns BYU career records for rebounding (1,047) and assists (703), and is 12th in scoring (1,207 points) and second in steals (229).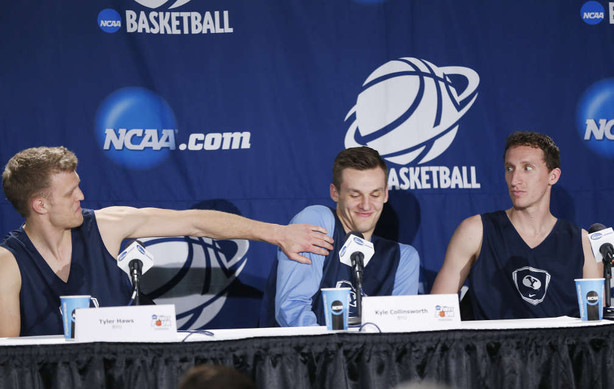 Rise (and fall) of the 'Lone Peak 3'
After a storied prep career that included a mythical national championship in 2014, the Lone Peak trio of Eric Mika, Emery and TJ Haws signed with BYU basketball with hopes of bringing the same notoriety to the program. And yet, it didn't work out that way: Mika left after just two seasons (plus a two-year church mission), and Emery retired from basketball after an NCAA investigation found him guilty of receiving improper benefits. Only Haws played all four seasons with BYU, and he currently ranks No. 15 all-time with 1,638 points, No. 7 with 491 assists and tied for 13th with 129 steals.
Cross country wins first national title in men's program history
For all its past success, All-American honors and top-10 finishes, BYU men's cross country finally captured the big one — a national championship, the ninth in the history of the athletic department — in the final fall of the decade. Head coach Ed Eyestone became the first collegiate harrier to win an individual and team title, and the women's team also finished second in its own meet.
×
Related Stories