Estimated read time: 4-5 minutes
This archived news story is available only for your personal, non-commercial use. Information in the story may be outdated or superseded by additional information. Reading or replaying the story in its archived form does not constitute a republication of the story.
SALT LAKE CITY — For the first time in school history, the BYU men's cross country team is coming home from Terre Haute, Indiana, with the ultimate hardware.
Conner Mantz finished third individually to lead the Cougars to their first-ever men's cross country national championship, edging top-ranked Northern Arizona 109-163 at LaVern Gibson Championship Course.
Mantz capped off his best-ever finish at the national meet in the 10K with a time of 30 minutes, 40.0 seconds to lead BYU.
It's the first national championship at BYU since men's volleyball won the NCAA Tournament in 2004.
"It was a huge day for us, for the program," BYU coach Ed Eyestone said. "I'm incredibly proud of Coach Taylor and how the women performed. Seeing them rise up was really inspiring. We knew it could be a great day for BYU. Proud of the way the guys fought through the elements; it was raining for most of the race. I think our guys proved that they are 'mudders.' These guys that we have here on our team are tough; they overcome adversity and can compete through anything."
BYU's women's team finished second in the earlier meet, led by a trio of top-10 finishers in Courtney Wayment, Erica Birk-Jarvis and Whittni Orton.
Eyestone became the first person to win and coach a national cross country championship in the history of the collegiate sport. A two-time Olympian, Eyestone won the individual title in 1984 before leading the Cougars to victory 35 years later.
Senior Daniel Carney added a 17th-place finish in 31:05.7 for the BYU men's team, senior Jacob Heslington was 21st in 31:10.5, sophomore Brandon Garnica finished 31:21.3 for 42nd, and sophomore Matt Owens added a 45th-place finish in 31:25.4.
Weber State sophomore Christian Allen finished 14th overall with a time of 31:04.9, and Wildcat teammate Taylor Dillon was 59th in 31:34.6. Utah State's JD Thorne led the Aggies with a time of 32:01.7, followed by James Withers in 32:05.5 and Adam Hendrickson in 32:05.8.
The Aggies placed 16th as a team, the best-ever finish at an NCAA championship meet in Utah State history.
"I could not be prouder of the guys," Utah State coach Artie Gulden said. "They ran in some of the sloppiest conditions I've ever seen and ran so tough. To put it in basketball terms, we made the Sweet Sixteen. It's been a wonderful season and ended on a great note at the national meet. Each race we've had different guys step up, and today was no different."
Iowa' State's Edwin Kurgat won the individual title in 30:32.7.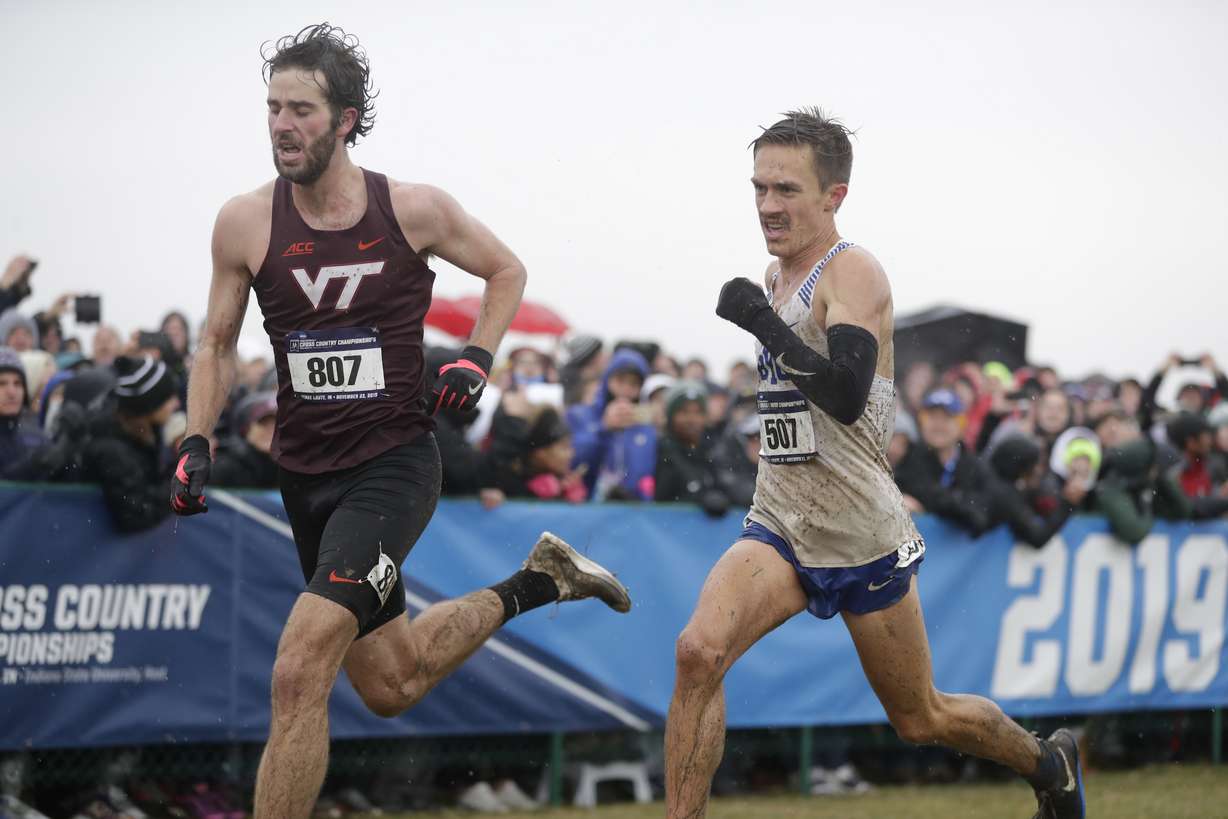 Wayment finished fifth in the women 6K race, finishing in 20 minutes, 16.1 seconds to lead BYU, but she was followed immediately by Birk-Jarvis (20:16.1, sixth) and Orton (20:17.0, seventh). Olivia Hoj finished 56th in 20:59.4 and Anna Camp was 60th in 21:01.3 for the West Coast Conference champion Cougars.
The second-place finish ties the best mark since winning the national title in 2002 for the 21-time top-10 finisher Cougars.
"Our women ran amazing," said BYU women's coach Diljeet Taylor, who won NCAA Mountain Region Coach of the Year. "That was an overall great performance. I'm really proud of how tough they were out there. Getting NCAA runner-ups after finishing so close is a little bit bittersweet when you're a competitor. We were ranked third coming in so we knew we had a shot to win it ... so I'm really proud of that. We had some crazy dreams; no one expected this out of us before the season. We fought for that crazy dream and I'm unbelievably proud of our women and how hard they worked."
Arkansas won the team title through third-place finisher Katie Izzo (19:59.3) and fourth-place Taylor Werner (20:11.1). Stanford, New Mexico and North Carolina State rounded out the top five.
BYU led the field after the first 2,000-meters, with Birk-Jarvis in the lead pack to help set the pace. That was when New Mexico's Weini Kelati initially raised the standard, and the Lobo junior held on to win individual medalist honors with a time of 19:47.5.
Utah's Poppy Tank paced the Utes to a 16th-place finish in 21:05.8, followed by Sarah Feeny (21:14.8) and Bella Williams (21:17.4) for the 14th-ranked Utes. It's the best finish in program history for the Utes.
Weber State's Lexie Thompson posted a time of 21:16.8 to lead the Wildcats.
×
Photos
Related stories
Most recent BYU Cougars stories