This archived news story is available only for your personal, non-commercial use. Information in the story may be outdated or superseded by additional information. Reading or replaying the story in its archived form does not constitute a republication of the story.
PROVO — The dam could only hold for so long.
But after holding the Utes out of the end zone (on offense) and to just 125 yards in the first half, BYU's defense finally gave way to the dam that turned into nine straight.
As in, nine-straight losses. Nine-straight opportunities for Utah fans to play the fight song.
One loss for each of the nine pick sixes the Utes have taken off BYU in the same span.
BYU lost to Utah 30-12 for the ninth-straight time Thursday night, or Friday morning, because of an hour-long weather delay amid a deluge at LaVell Edwards Stadium.
But the Cougars' latest defeat — one that drops them to 0-1 for the first time since 2013, when Bronco Mendenhall was head coach — was lost well before the end of the late night.
It was lost well before Zach Wilson threw his second interception, another pick six, this one to his second cousin, Layton High grad Julian Blackmon in the fourth quarter.
"We talk about execution and playing clean," BYU wide receiver Micah Simon said. "That's what we try to tip our hats on, and we weren't playing clean tonight and lacked execution. That's what really hurt us.
"We spotted them 14 points. We need to not put our defense in such bad situations."
The frustration was mounting: from the players, from the coaches, from the fans eager to see the second-longest streak in the history of the rivalry series end; but also for the defense, whose work of holding Utah to 9 points in the first half vanished faster than the emergence of a late-night storm cell in Provo.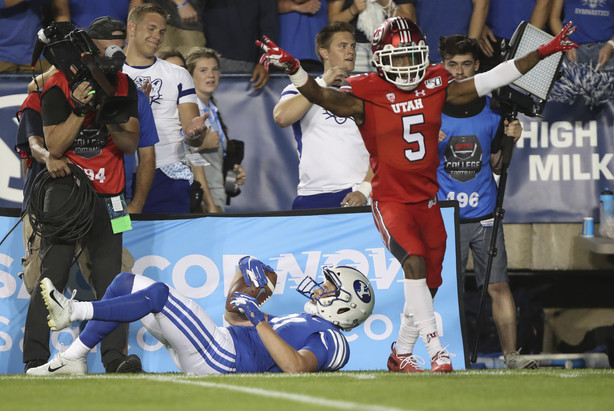 "Yeah, it's frustrating," said BYU linebacker Isaiah Kaufusi, who had five tackles and a tackle for loss. "But I think the frustrating part is not being able to put together a complete game. The first half was great, and the second half wasn't as great. The missed assignments killed us in the second half, and that's what was frustrating, because those are the things you can control.
"Overall, when we put together a full game, we will be a great team."
The Utes haven't lost a rivalry game since 2009, when now-infamous BYU quarterback Max Hall uttered his impassioned speech about how much he "hates" Utah. In that time, Utah has moved on to the Pac-12, up the totem pole from doormat to bowl team, to South champion and now preseason favorite to win the conference.
And BYU has moved — well, everywhere else. Across the country, through time zones, and around the ESPN dial as they've tried to navigate an independent schedule filled with September highs and November lows.
Not even a near-sellout crowd of 61,626 fans, most of whom were clad in royal blue, could make up the gap between the two teams.
"Utah is a really good team," BYU coach Kalani Sitake said. "They've been given a lot of predictions, accolades and rankings, and they deserve it. I thought we made way too many mistakes and turnovers. I thought it was competitive and they did some really good things early, but way too many mistakes and turnovers. At the end, we were just surviving. They were able to get the ball to Zack Moss and do some really good things."
By the time the rains ceased and lightning had drifted across Utah County, there as much red in the House that LaVell built as blue.
The Utes held BYU to 104 yards of offense in the second half, shutting them out until recent South Carolina transfer running back Ty'Son Williams scored on a 10-yard run with 9:19 left in the fourth.
Perhaps more embarrassing than the 18-point loss or the ninth-straight defeat was the manner in which it happened. Utah outgained BYU 237 yards to 104 after halftime and never even let the Cougars on the field after the weather delay with 9 minutes remaining.
"It was tough. It's not ideal, but it happens in football," Kaufusi said. "There are games when you are always on the field, and there are games when you aren't. Either way, it's football and you just have to get out there and give it the best you can.
"I give credit to Utah. They played a great second half. They executed well and we had some missed assignments that really got us. Overall, it's just football, whether you're on the field or not."
After an offseason of preparing — nine months of film study, practice, stewing and stirring over a come-from-ahead 35-27 loss at Rice-Eccles Stadium, the Cougars are 0-1. And it doesn't get any easier, with games against Tennessee, Southern California and Washington in the first month of the season.
"It was a tough situation, and we didn't do great things when we did have the ball," Simon said. "The feeling on the sideline was that we would come back, play fast and make things happen. That was our attitude, even when there were only 2 minutes left."
×
Related Stories