This archived news story is available only for your personal, non-commercial use. Information in the story may be outdated or superseded by additional information. Reading or replaying the story in its archived form does not constitute a republication of the story.
PROVO — BYU's formerly named "Lone Peak trio" is down to two.
Cougar center Eric Mika will remain in the NBA Draft, he announced in a news release from the university Tuesday night.
Mika, who has not signed with an agent but said he intends to do so, will forego the remaining two years of collegiate eligibility in favor of a professional career.
"My wife and I are excited for the next step in this journey and we know it's just one among many," Mika said in a statement. "I loved my time at BYU and it truly was a dream come true playing and studying here, and I wouldn't trade the memories I made here for anything. I have tremendous love and respect for the coaches, staff and players and loved working with them all. I'm excited to see what happens in the next five weeks."
The sophomore center was one of the invitees to the 2017 NBA Draft Combine in Chicago last week, where he scored favorably but did not improve his draft stock enough to propel himself into the top-two rounds by most recent projections of NBA draft hopefuls. He's also worked out for several NBA teams, including meetings with the Utah Jazz and New York Knicks, and will continue through the pre-draft workouts until the NBA Draft on June 22 in Brooklyn, New York.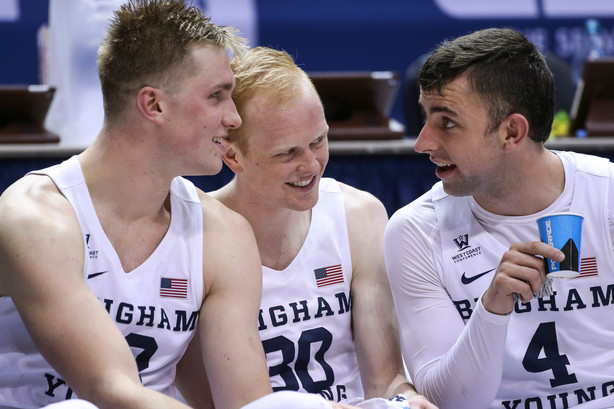 Mika returned as a sophomore after serving a two-year mission for The Church of Jesus Christ of Latter-day Saints in Italy, and immediately rekindled a chemistry with former Lone Peak teammates Nick Emery and T.J. Haws.
Dubbed a key part of the "Lone Peak three," Mika averaged 20.3 points, 9.2 rebounds and 1.9 blocks per game for the 22-12 Cougars that played in their second straight National Invitation Tournament.
The Cougars' loss to UT Arlington, we now know, was his last time donning a BYU uniform.
Head coach Dave Rose expressed support for Mika's decision in a statement.
"He has the potential to be a great pro because of his amazing work ethic and the great support system around him," Rose said. "It was a privilege to coach Eric and he will always be remembered as a great player at BYU."
Related Story
Two other players with local ties previously committed to stay in the draft as early signees. Utah wing Kyle Kuzma announced last week his intention to forego his final season of eligibility, while former Lone Peak star Frank Jackson announced last Friday he would remain in the NBA Draft after just one season at Duke.
BYU has until Wednesday, which is the final day of the current national letter of intent signing period, to fill Mika's vacated scholarship spot. The Cougars most recently added junior college transfer Jahshire Hardnett from Chipola (Fla.) College.
The Cougars reportedly hosted Jerell Springer on campus Tuesday afternoon, as well. The 6-foot-6 shooting guard from North Las Vegas, Nevada is a three-star recruit by ESPN.com, and has received interest from Pacific, Southern California, UCLA, Virginia Tech and Weber State, among others.
×
Related Stories