This archived news story is available only for your personal, non-commercial use. Information in the story may be outdated or superseded by additional information. Reading or replaying the story in its archived form does not constitute a republication of the story.
SALT LAKE CITY — After a three-year run at the Beehive Classic, an event that brought the state's four largest college basketball teams together for one neutral-site weekend at Vivint Smart Home Arena, the standings are as such:
BYU 3-0
Utah 2-1
Utah State 1-2
Weber State 0-3
Maybe that doesn't surprise many people, with the Aggies staying close to both top teams before falling, by four to BYU on Saturday night and by 10 to Utah two years ago. The team from Logan with the most recent NCAA Tournament invitation in the state will finish the Classic with only a 10-point win over regional rival Weber State to its credit.
Maybe that's a reason for the Aggies to embrace the end of the three-year blessing to college basketball fans in the Beehive State.
But second-year Aggie coach Craig Smith was disappointed by the end of the Beehive Classic, which will be discontinued by the Larry H. Miller Sports and Entertainment Group after its initial three-year contract expired this weekend.
"What a great college atmosphere. What a great venue to play in," said Smith, who went 1-1 in the series. "When you play BYU and Utah State, both programs have a ton of kids from the state of Utah. It's really cool for every student-athlete from both teams to play in an NBA arena — but it's even more special for the local kids, for the kids who grew up watching the Jazz, to do it at this level in a spirited atmosphere. It was a great college basketball game."
While the limitations are real — a lack of funding, corporate sponsors, consistent broadcast partners, and (probably most notably) low ticket sales — the positives of the event outweighed the negatives, at least from the perspective of the teams, players and coaches. It was a neutral-site game that brought back together several in-state rivalries that had laid dormant for nearly a decade. The one-off series was necessary, as a tournament would've counted as each team's lone NCAA-approved exempt tournament of any of the past three seasons.
"I think it's a great game for the state," Smith said. "It's a great game for everyone who is a part of it."
With the upcoming demise of the Beehive Classic now on the immediate forefront, it was Weber State coach Randy Rahe who stumped the most for the event.
BYU and Utah can bring almost any program in college basketball to play them — many on their home court. Utah State isn't far behind, with the Aggies scheduling upper-tier mid-majors like Saint Mary's this year, as well.
But the Wildcats? Their schedule has been replete with low-major programs, "guarantee" games with expensive payouts, and even non-NCAA programs like West Coast Baptist, Westcliff and Bethesda. Even a trip to Provo, where the Wildcats will play BYU in a regularly scheduled series Saturday (7 p.m. MST, BYUtv) is a welcome respite for Weber State.
Which makes events like the Beehive Classic — guaranteeing a game with each of the other top Division I programs in the state on a rotating basis — all the more welcome.
"They're high-level teams with seniors. This is a good basketball team." said Rahe, whose team played Utah for the first time in eight years Saturday afternoon. "What it does is expose your weaknesses, so you can go back and correct them. But you've got to play and compete at a high level to hang with them. We did that, but now we had some exposed weaknesses … and that's good for us. Even if you don't get the results, we're going to look at it as a positive. We're going to grow from it. We're going to embrace it."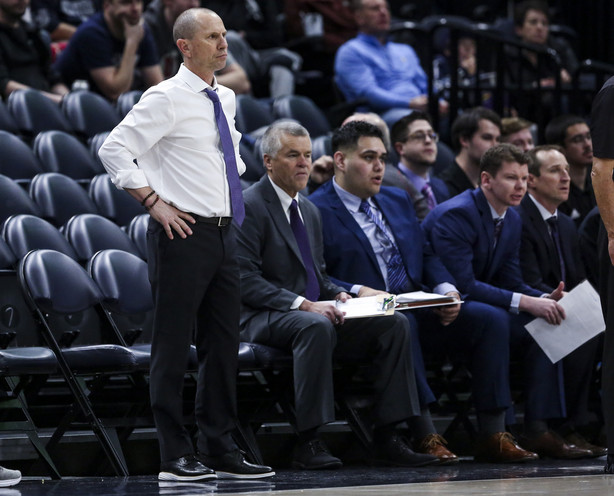 Truthfully, Rahe doesn't — or probably shouldn't — feel like his program is that far behind the other programs. Fight. Toughness. Compete. All were words he used to describe the Wildcats' effort at the Beehive Classic, showing that recruits like Jerrick Harding aren't on a demonstrably lower level than the rest of the state.
Even losses like Saturday to teams like Utah lead to benefits for teams like the Wildcats (3-6), with Big Sky play opening Dec. 28 in Ogden.
"I'll be honest: our improvement has been stunted a little bit because we've been dealing with guys in and out, and hurt," Rahe said. "We've been plugging holes, moving guys around. When you do that, it's hard to make the kind of improvements you want.
"We're a little bit late in getting there, but I think we are this last week. I thought the Utah Valley game was a good start for us, playing well down there, and guys started to get a little rhythm here. That's the type of progress we're looking for before league starts."
Each university can continue to play these in-state games at their discretion, and maybe moving them to each college's campus will bring out more fans (and certainly, more students). But there were plenty of Utah State fans in attendance to watch an Aggie squad that opened the season in the AP Top 25 and just fell out last week in favor of Mountain West rival San Diego State.
Playing an in-state rival like BYU — the longest continuous running series on the Aggies' schedule, and their "oldest rival," according to athletic department officials — will bring out the fans. So much so, in fact, that the lower bowl at Vivint Smart Home Arena felt, at times, like a road game for head coach Mark Pope and the Cougars.
For a few moments during Saturday night's thriller, Vivint Smart Home Arena became Spectrum South.
Sure, there were plenty of BYU fans to mix it up. But when The Scotsman was blaring at full blast, Aggie fans brought a little Spectrum Magic to the court where Donovan Mitchell and Royce O'Neale (who were both seated courtside) make a living.
"Utah State fans are beautifully insane, and our fans are so incredibly loyal and great," Pope said. "It's a big-time game. It's two top-50 teams playing right here in Vivint, and that doesn't happen all the time.
"It was a high-caliber game. They're 10-1 and we're playing really well. It was a perfect atmosphere for this game."
The Cougars love playing at Vivint Arena; they're currently riding a 15-game winning streak there that dates back to a Dec. 8, 2007, matchup against then-No. 9 Michigan State, with a 19-4 record since that includes an 83-50 win over UNLV just a week ago, so BYU can schedule games at the home of the Utah Jazz to its liking. BYU fans will come — both those based in Salt Lake City and those elsewhere.
And there's some kind of voodoo magic on the court that the Cougars have embraced, too.
"If you can find out what it is, let me know. We'll take it back to the Marriott Center," BYU forward Yoeli Childs said. "I think we just trust our shots, and we try to stay really confident wherever we are."
Pope will continue to play games against in-state opponents; outside of the Beehive Classic, he inherited home games against Southern Utah and Weber State, as well as the annual rivalry series at Utah a few weeks ago.
Even the series with his former employer at Utah Valley will soon come off its current hiatus, though new coach Mark Madsen is probably more concerned with establishing himself as a collegiate coach than his schedule. With Dixie State moving to Division I next year, the Trailblazers are likely to factor into a rotation, as well — and they'll play annually in Orem, as members of the Western Athletic Conference in basketball. So the in-state rivalries won't go away.
But the Beehive Classic? It's a shame that didn't last.
"This was a great way for the Beehive Classic to shut it down, I guess," Pope shrugged. "I'm really happy for basketball in the state of Utah. There are good teams, and good spirit, good juice. Basketball in this state is great.
"This was a special way to finish it up."
×
Related Stories