This archived news story is available only for your personal, non-commercial use. Information in the story may be outdated or superseded by additional information. Reading or replaying the story in its archived form does not constitute a republication of the story.
SALT LAKE CITY — Utah basketball head coach Larry Krystkowiak said Monday he stands by his decision to pause the rivalry between BYU and Utah, saying the pattern of physical play and lack of safety necessitates the "cooling off period."
"I need to remind everybody that I'm a basketball coach and my responsibility is the welfare of our basketball players and our basketball program. And that's always going to be first and foremost moving forward. I really respect this rivalry," Krystkowiak told media at his weekly press conference. "I also believe I would not be doing my job, in the description that is given to me for the well-being of our players and program, if I didn't have reason to pause in concern of the nature of some of the recent games."
Following Utah's most recent game against BYU where BYU's Nick Emery punched Utah's Brandon Taylor, Krystkowiak said he reflected on the past few games in the days after and felt it was time to sever the rivalry until there could be a change between the two programs.
"With the lack of a better term, it was the straw that broke the camel's back when this year's episode took place where I feel it's kinda escalated each year," he said.
"Within this matchup exists a highly venomous and toxic environment that fuels irrational behavior and has nothing to do with enhancing relationships or appreciating differences," Krystkowiak said in a written statement prepared for media ahead of the press conference. "I feel that this basketball rivalry has a virus in its operating system and it's time to turn the computer off and reboot it at a later date."
Utah President David Pershing and Athletics Director Chris Hill said they support Krystkowiak's decision to put the rivalry on pause as the two institutions work to create an atmosphere that is less contentious.
"While we respect and value the rivalry between our athletic programs, several negative aspects have emerged over the last several years that need to be addressed," Pershing said in a written statement.
"I think from my standpoint, the last three or four years have seemed more and more toxic to me," Hill said. "I'm not as close to what's said on the court, at least what's said on the bench, but I watched it and I observed it. It's been a little more toxic than it ever has been."
Related:
Although there was no communication with BYU ahead of the break in its contract, Krystkowiak said he felt there was no other alternative than to put the rivalry game on hold.
"I've never been in the same conference as BYU, I've never experience that. But I do understand the rivalry," he said. "I don't know what the solution would be short of having a cooling-off period."
BYU Athletic Director Tom Holmoe responded to Utah's stance Monday, saying that he was "disappointed" in the decision.
"I am disappointed in the University of Utah's decision to cancel the 2016 basketball game with BYU," he said in a statement. "As a former player, coach and now administrator, I believe BYU-Utah is one of the great college rivalries in the country. It is bigger than any of the individual participants and should be played every year.
"We value the long-standing relationship with Utah and are hopeful the basketball series, which has been played for more than a century, will continue on a yearly basis in the very near future," Holmoe added. "I believe the game is important to the players, coaches, alumni and fans."
The decision to put a hold on the matchup between BYU and Utah may not actually change anything, but Krystkowiak said he wanted to be able to control what he could control.
"I'm not saying a year off is going to change it. I just know what I can control is that we're not going to play. I'm hopeful that it can," he said. "I'm not sure that a year off is going to solve it. All I know is I don't want to put ourself in a situation a year from now. That's kind of my mentality that you can control what you can control. And that's all I'm really looking to do."
Krystkowiak said he recognized the importance of playing the rivalry for more than a hundred years, but said his players' health was more important than a game and that it was also a way to protect himself from his passionate, don't-back-down attitude to the game.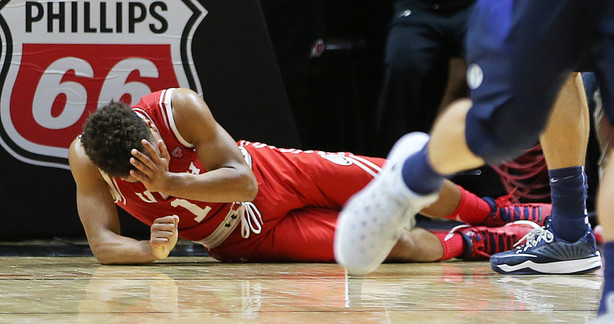 "If this needs to be put on me as I'm the coach that blew it up, that I'm the coach that couldn't handle it, so be it," he said.
"I think if you know me, I'm not interested in backing down. That's probably been one of my shortfalls — it's kinda the eye for an eye mentality. But do you see my dilemma as a basketball coach if you're kinda made up that way and you're put in this environment? There's part of this that I'm actually protecting myself from myself.
"I don't know how I would come across with our players in the week leading up to the BYU game maybe with a little bit of a toxin and a venom that I have inside of me. It puts me in a little bit of a quandary," he added. "I don't have any problem with what people think and I know what I know. I know what I feel and I also know that I'm in charge of a bunch of young men right now. And I need to talk about discipline and self-control and I'm not a player anymore."
With at least a year off, Utah will explore opportunities to play other in-state basketball programs or try to establish a game with an out-of-state program.
Pershing said he has been working with BYU President Kevin Worthen to create a better atmosphere for these games.
"We are committed to working together to make this historic rivalry a healthier one," Pershing said in a statement. "During the next few weeks, I will create a working group of faculty, staff, students and fans to assist in identifying changes that can be made to ensure future athletic contests are exciting and respectful for all."
Worthen echoed Pershing's statements, saying he is working to help "positive collaborations" with the University of Utah.
"Like President Pershing, we hope this relationship continues," Worthen said in a statement. "Our desire is to continue the athletic relationship on an annual basis. It is unfortunate the basketball game with the University of Utah will not be played during the 2016-17 season.
"We appreciate the plans President Pershing has in place to establish a working group at the University of Utah to identify changes that can be made to ensure future athletic contests are respectful for all," he added. "We too have worked to identify where changes can be made, and we will continue these efforts. Our hope is that both schools can work together to achieve our shared goals."
Contributing: Rod Zundel
×
Related Stories