Estimated read time: 3-4 minutes
This archived news story is available only for your personal, non-commercial use. Information in the story may be outdated or superseded by additional information. Reading or replaying the story in its archived form does not constitute a republication of the story.
SALT LAKE CITY — A Utah woman said she's led too many yoga classes to count. The Salt Lake City resident has helped many Utahns get certified to teach the ancient practice. It's where she's been coaching lately that caught our attention: prison.
"My mentor says, 'If you want to know where to serve in the world, go to your wounds.' My wounds are here," said Denise Druce, choking up.
"My dad lived here for 15 years. That was when I was a teenager. It was a painful place for me to come," she said.
Druce spoke with KSL inside the gymnasium of the Timpanogos Women's Correctional Facility at the Utah State Prison in Draper on Monday.
Yoga isn't new at the prison. Volunteers have been teaching it there for more than a decade now.
With the direction of Druce, the dedication of the women, the approval of the Department of Corrections, and scholarships from "Yoga Assets," a state teacher training program, inmates are now becoming yoga teachers behind bars.
"I just wish while he was alive, he would have been able to do something like this, let alone when he was incarcerated," said Druce about her father.
With just weeks of training, fit in-between an already regimented inmate schedule, Druce said she has seen these women transform.
"They express to us that they're getting along much better with their cellmates and the guard mates. They just carry themselves with a dignity that I don't think you can put a price on it," she said.
At the start of this inaugural program, 10 women were enrolled in the 200-hour teacher training course. They meet every six weeks for a week of training. It will take six sessions to fill the hours necessary to complete the course. The program takes a year to complete the training and receive a Yoga Alliance Certification.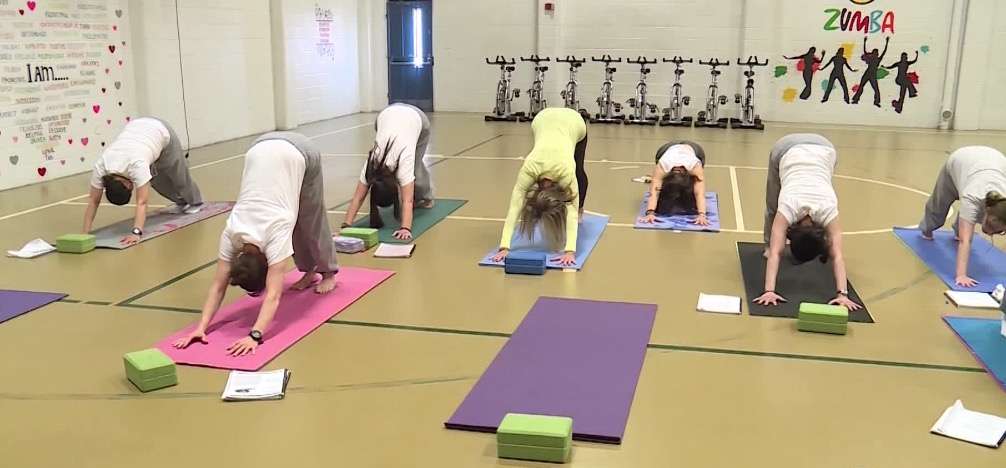 "She had to really convince me that I was going to enjoy yoga and once I started doing it, I loved it," said participant Andrea Atwood about another inmate who got her into yoga. "We come in here broken and kind of lost and there's no outlet for us and for me, yoga has helped in that area."
The women we spoke to were thankful for this opportunity.
"I'm going to take it home and want to try something new with a pop-up yoga thing," said Eileen McLaughlin, who was to be released in just days.
"It's rare to have something so positive and so enriching in this type of environment," said Ferosa Bluff.
"I will be a free women some day and I'll bring this with me," said Caroline Ashby.
"Not only do we work hard and we're dedicated, but it shows true reform," said McLaughlin.
The yoga teacher training was an opportunity some may argue these women don't deserve, but Druce believed they do.
"This is where my pain was, who better than me to come here and see these people—these beautiful women—as people, like my dad, that have a family out there that cares about them," she said.
For the women who are released before finishing their yoga teacher training, they can complete their scholarship outside of the prison walls.
×
Photos
Most recent Utah stories