This archived news story is available only for your personal, non-commercial use. Information in the story may be outdated or superseded by additional information. Reading or replaying the story in its archived form does not constitute a republication of the story.
CHOW TOWN — Burgers and summer belong together.
If you are looking for other places in Salt Lake City to get a burger other than Crown Burger and Hires Big H this summer, we've put together a list of joints that serve a good burger.
Our criteria were as follows: First, good quality beef with a robust flavor. Second, fresh buns and toppings, and third, affordability.
Below are the ones that made the cut.
Overall
Lucky 13
The fresh buns, good-quality patties and fresh greens pushed these generously portioned burgers to the top of the list. The basic hamburger costs $6.50 and comes with fries, while the gourmet burgers will cost up to $10. If you decide you need a gargantuan burger, it will set you back $17, but I can't recommend chomping down on 28 ounces of ground chuck.
Smoked bacon, barbecue sauce, caramelized onions and cheddar top the Celestial Burger that is truly delicious. The Breath Enhancer may leave you with garlic breath the rest of the day, but it is the price you pay to enjoy the homey flavors of garlic and rosemary.
The classic bacon stinky cheese burger is topped with bleu cheese crumbles, bacon and greens and tastes like the burger you might make on the grill, if you were so inclined.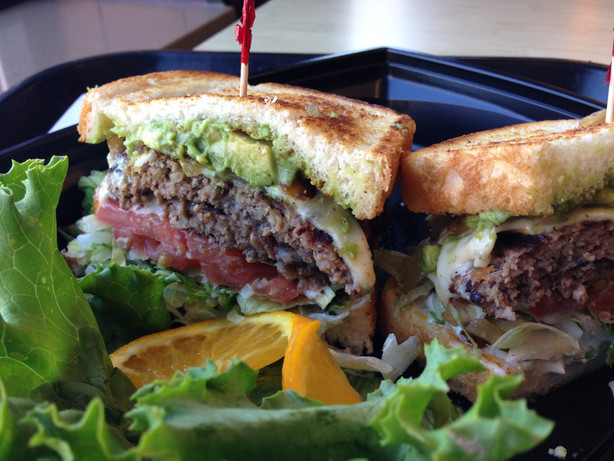 We also tried the Ring of Fire, which might have brought tears to more than one set of eyes (and we all like spicy food). Our waitress informed us people had been angry at the intensity of this jalapeno — and habanero-topped burger — and I understood why after I swallowed my first bite. It was like the single act of swallowing activated the heat.
21 and over, requires ID 135 W. 1300 South, Salt Lake City (801) 487-4418
Best variety
Rich's Burgers 'n Grub
Rich's serves Southern food and burgers to downtown residents and workers in its little restaurant. If you go during the lunch rush, anticipate standing while waiting for your order, as it can be busy and full.
Once seated, however, take a swig of your cane sugar soda from a bottle and dig into your meal. Try one of Rich's sides, including the surprisingly good fried green beans. (Why are we still surprised battered and fried vegetables are delicious?).
Though this is not an article about fries, the queso fries — topped with melty cheese, roasted tomatoes and jalapenos — are worth a digression. Just get a plate to share with your friends.
Now for the burgers. This place has a variety of burger toppings, including the southern coleslaw burger. Sitting slaw between soft buns and on top of a beef patty, I couldn't imagine a better way to eat cabbage slathered in mayo.
If you want to try something truly outrageous, the mac 'n cheese burger is a patty of elbow macaroni in bechamel and cheese sauce. While it's kind of a carb nightmare, it's also amazing.
These burgers are on the expensive side for the list, priced at $7 for a burger without a side. For an additional $4, you can turn the burger into a full meal with a side and drink.
30 E Broadway, Salt Lake City 801-355-0667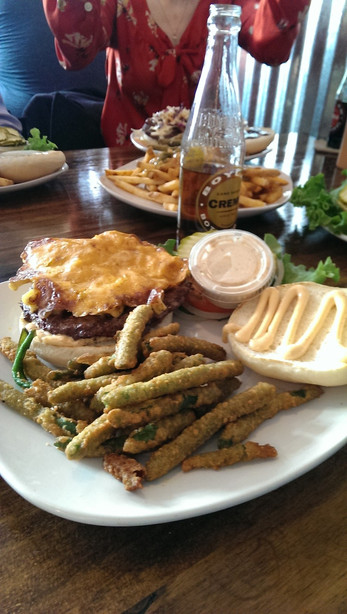 Best BBQ
R&R BBQ
It almost felt wrong to eat a burger when brisket was on the menu, but once I got past that feeling, I was able to enjoy a flavorful and hearty burger.
This ⅓ pound burger is topped with onion rings, bacon and bleu cheese. I got all the fixings, making the burger almost sway atop its fresh bun.
R&R was generous with the bleu cheese and bacon, and with a big portion of fries, I could understand why this burger cost $8.99.
The classic cheese burger, topped with cheese and tomatoes, costs $7.50 and comes with fries.
307 W. 600 South, Salt Lake City 801-364-0443
Best classic
Ruth's Diner
The burgers are only enhanced by the ambiance. On a summer afternoon or evening, ask for a patio seat, order a burger and enjoy the canyon breeze in the shade.
Ruth's favorite is the meat-loaf burger, and we tend to agree. Served atop the restaurant's fresh white buns, the smoky flavor of the generous slab of meat loaf with melted cheese shines and reminded me of evenings at home.
For the health-conscious or vegetarians among us, Ruth's garden burger is filling and flavorful. The patty boasts lots of veggie flavor, the sprouts give a nice crunch to the sandwich, and fresh guacamole is never a bad idea. Combine the three and you've got yourself a delicious burger that won't make you pine for meat.
4160 Emigration Canyon Rd., Salt Lake City 801-582-5807
Best national chain
Habit Burger
For less than $4 you can order a classic cheeseburger with a punch of charbroiled flavor. The crispy edges of the meat give it a contrasting texture, while the mayo, tomatoes, lettuce, grilled onions and pickles make you feel like you're getting something special from a chain.
If you want something a little different, try the off-the-menu Santa Barbara burger. Habit serves its Santa Barbara on slices of bread instead of buns, and tops it with two patties, grilled onions, mayo, tomatoes, lettuce, grilled onions, avocado and Swiss cheese.
2121 McClelland St. #101, Salt Lake City (801-484-6132
×
Photos
Related Stories