Estimated read time: 9-10 minutes
SALT LAKE CITY — A little over a year ago — Kaitlin Eskelson, the president and CEO of Visit Salt Lake, isn't exactly sure when — Salt Lake County tourism leaders learned that Outdoor Retailer had started requesting bids for cities to host the large outdoor retail show.
The large outdoors gear trade show called Salt Lake City home for two decades before bolting for Denver over politics. Abrupt exit aside, Visit Salt Lake officials did what she says they always do. They started asking questions and kicking around the tires to see if Outdoor Retailer would like to change its mind.
"We submitted a bid, and over the months, it just gained more and more traction," Eskelson said. "Probably in the last three to four months, it's been a daily conversation over logistics and dates, venues, hotels and all of that. It's been a slow process, picking up over the past couple of months."
In those daily conversations, Salt Lake City and Salt Lake County leaders expressed how much they wanted to bring the show back to Utah. As it turns out, Outdoor Retailer missed the city and county just as much.
Outdoor Retailer's organizers, along with Salt Lake City and Salt Lake County officials, jointly announced Wednesday that the outdoor industry trade show is returning to downtown Salt Lake City beginning next year.
It will remain at the Salt Palace Convention Center for at least the next three years, with shows every January and June.
"Outdoor Retailer will, again, be one of our significant shows here in Salt Lake County," said Salt Lake County Mayor Jenny Wilson. "We know there's genuine excitement out there by the O.R. staff, by volunteers and attendees — they're ready to yet again receive our amazing Utah hospitality but also enjoy (our) trails, waterways and canyons."
In a public letter Wednesday, Outdoor Retailer executives wrote that they are thrilled to return to the place "we grew up and where our industry matured into the dynamic and powerful community it is today."
The organization has plenty of goals for the next three years, including putting revenue toward programs that "support and protect public lands." Discussions are ongoing as to exactly what that looks like are ongoing.
"As we plan for the coming years back in Salt Lake City and (Salt Lake County), we move forward with the same optimism and values that have always guided our industry, and we're ready to work with you to explore endless opportunities to help our industry grow," the public letter stated.
Gov. Spencer Cox also weighed in Wednesday, tweeting that the announcement is "great news for Utah's expanding outdoor industry and all those who love getting outside and experiencing the state's natural beauty."
Plans are still in place to hold the upcoming Outdoor Retailer show in Colorado this June. Marisa Nicholson, senior vice president and show director at Outdoor Retailer, and Jeff Davis, group vice president at Emerald, wrote in the letter that they will let their deal with Denver expire as it runs out this year.
"We're incredibly grateful to Denver for nourishing these passions and embracing our amazing community," they wrote. "We'll gather in Colorado once more this June to reconnect in person, enhance relationships, and celebrate our milestone anniversary."
How Salt Lake won O.R. back
The trade show first began in 1982 and came to Salt Lake City in the 1990s. While both the show and Utah grew, politics started to create a rift between the two sides over time.
Outdoor Retailer executives eventually announced the show was leaving Salt Lake City for Denver in 2017, citing philosophical differences with state policymakers regarding the use of public lands, especially through the state's opposition to the designation of Bears Ears National Monument and its support for shrinking it. The show has remained in Denver ever since.
But, as the saying goes, time heals all wounds. When Visit Salt Lake submitted its bid about a year ago, it turned out there was mutual interest. Yet Nicholson and Davis say the show didn't shift its politics; they credit Salt Lake City Mayor Erin Mendenhall for their decision to return to Utah.
"We have a strong relationship with Salt Lake City and a committed partner in Mayor Erin Mendenhall, whose values align with ours following tremendous investments in clean energy and a strong commitment to public lands," they wrote. "This proved to be a real turning point in our recent negotiations."
Mendenhall said the city didn't really have to pitch anything to Outdoor Retailer to come back because its organizers had spent so much time in Utah, and had enough good experiences to remember what the old shows were like.
She said city leaders didn't offer any incentives or financial deals; they knew that Outdoor Retailer's executives were aware that Salt Lake City and Salt Lake County's stances on many outdoor issues aren't the same as the state's. In the end, their shared values were all it took to be on the same page again.
"The Outdoor Retailer show is really in Salt Lake City's DNA," she said. "That's because we share the same values that the show and most of the customers who come and patronize the event share. ... It really returns a piece of our city's identity."
What remains to be seen is how difficult outdoor gear companies react to Outdoor Retailer's 2023, 2024 and 2025 shows.
When the rumors that Outdoor Retailer might return to Utah grew louder, several retailers, including Patagonia, REI and North Face, pledged in February to boycott Outdoor Retailer shows if they moved back to Utah.
It's unclear if that will still be the case for all the companies when the show returns to Salt Lake City; however, REI and Patagonia both say they are sticking with their decision to boycott.
In a statement to KSL, Ben Steele, REI's executive vice president and chief customer officer, said the company is "very disappointed" in the Outdoor Retailer's decision to move back to Utah.
"Utah's elected officials have repeatedly refused to protect — and are actively working to undermine — duly designated national monuments and natural treasures, including Bears Ears and Grand Staircase Escalante," his statement read, in part. "As we made clear in February, REI will not participate in any O.R. trade show in the state so long as Utah's leaders persist in attacking our public lands and the laws that protect them."
Patagonia tweeted that it won't return to Outdoor Retailer in Utah either "unless the state's leaders abandon their legal threats seeking to roll back protections for Bears Ears and Grand Staircase Escalante National Monuments."
---
All in all, this feels right. This feels right for Outdoor Retailer and for Salt Lake City. This is the home for people who want to be outdoors.
–Salt Lake City Mayor Erin Mendenhall
---
But both Mendenhall and Wilson didn't mince words to all the companies that plan to boycott, saying that they can't influence climate discussions by pulling away from the discussions.
"The world we live in today and the well-being of our planet has no patience for those on the sidelines," Mendenhall said. "That's why I'm standing before you today. I knew if I didn't get engaged, I couldn't affect any change."
Nicholson and Davis agree. They wrote Wednesday that the relocation did not bring "the change we had hoped for," adding that they ultimately decided to "push back, not pull back" by choosing to come back to Utah.
The announcement comes as Outdoor Retailer celebrates its 40th anniversary and organization executives say they will remain engaged and "collectively contributing to the ongoing discussion" related to the outdoors.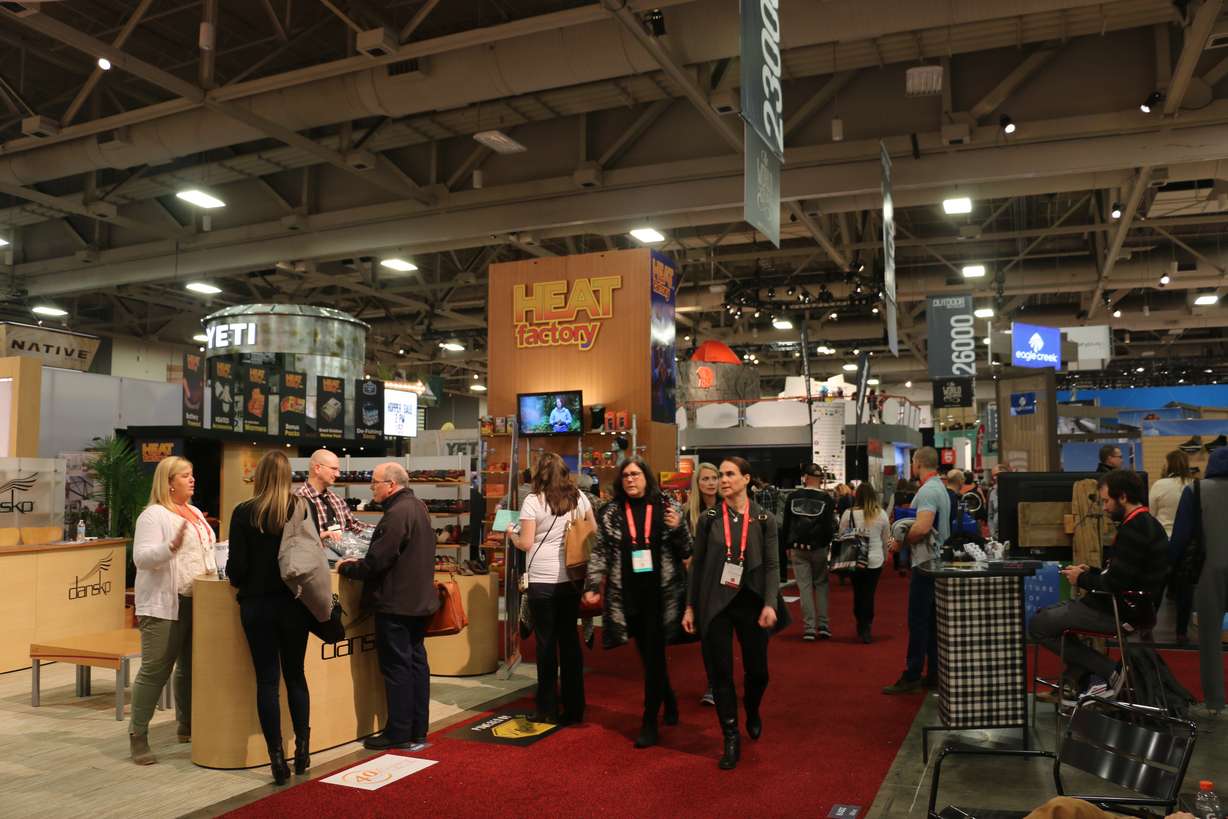 As part of the agreement to come back, Nicholson and Davis say they plan to use revenue from the Outdoor Retailer events in Utah the next three years to fund programs that support outdoor recreation and protect public lands.
They also plan to form a partnership with Visit Salt Lake to help bring people to Utah to focus on "addressing challenges, influencing policy, assisting advocacy efforts and directing resources into protecting natural and cultural spaces and improving access."
There will also be more "panel discussions, educational activities and volunteer projects" related to the outdoors in the future, according to Outdoor Retailer.
Eskelson said residents will see some of these programs but it's still too early to say what they will look like as the planning continues for the future shows. The point, she explained, is so there is more community engagement and Outdoor Retailer isn't just coming, setting up shop and leaving.
But in the end, Mendenhall said the decision just makes sense for both sides.
"All in all, this feels right. This feels right for Outdoor Retailer and for Salt Lake City," she said. "This is the home for people who want to be outdoors. People in Salt Lake City care deeply about our wilderness and about our environment, and we choose to live here because those values are intrinsic to being a Salt Laker."
The value of O.R. returning
Outdoor Retailer brought almost 30,000 visitors to the Wasatch Front at its height. City and county leaders say it resulted in $565 million direct delegate spending in its first 22-year stint in Salt Lake City, which, in turn, resulted in $52 million in local, county and state taxes.
All of that was, of course, prior to COVID-19, which decimated the county's tourism industry beginning in March 2020. The county accounted for nearly half of the state's $10.1 billion industry in 2019. While the county's tourism industry hasn't fully returned to pre-pandemic levels, Eskelson said it's slowly rebounding.
So much has changed since then, too. Salt Lake City itself is growing, with a new airport, several new downtown buildings and dozens of new restaurants. Getting Outdoor Retailer back only helps in the recovery.
As it stands, most of the shows in the county are about half full. Eskelson hopes that by January 2023, which is when Outdoor Retailer returns, that industry shows will be "back to normal."
What makes Outdoor Retailer so special for the county's tourism industry is its consistency. Hotels and restaurants can once again plan for a surge in January and June — the January rush is arguably more important because there usually aren't many trade shows or events scheduled for downtown Salt Lake in January.
"This is a huge win for Salt Lake," Eskelson said. "It is a show that had so much notoriety with it when it was here, so when it left, it felt like there was a loss. ... In many ways, it's a very, very big deal."
×
Related stories
Most recent Outdoors stories