Estimated read time: 13-14 minutes
This archived news story is available only for your personal, non-commercial use. Information in the story may be outdated or superseded by additional information. Reading or replaying the story in its archived form does not constitute a republication of the story.
Editor's note: This is the fourth installment in a series looking into the state of tourism in Utah following COVID-19. Be sure to read parts one, two and three.
SALT LAKE CITY — In normal years, downtown Salt Lake City is buzzing — not just with state residents heading to their jobs but visitors attending conferences in the city or just checking out various sites.
The same could be said about other sites or event venues scattered throughout Salt Lake County — or the Wasatch Front, for that matter. University of Utah's Kem C. Gardner Policy Institute found that about $4.7 billion of the state's $8.5 billion in total visitor spending came from the four Wasatch Front counties of Salt Lake, Davis, Utah and Weber counties.
Add in Summit County's revered resorts and the Wasatch region accounted for a significant portion of the state's visitor spending two years ago. In all, tourism was a $10 billion industry in 2019.
But, of course, 2020 wasn't normal for anyone. As COVID-19 created a public health situation, its secondary impacts struck the economy. No industry in Utah was hit harder than tourism's key leisure and hospitality sector, according to another Gardner Policy Institute report that was published earlier this year.
"We know Salt Lake and the Wasatch Front was hit pretty hard, relatively speaking with the lack of business travel and people avoiding city travel and urban travel," said Jenniffer Leaver, a research analyst for the Kem C. Gardner Policy Institute, during a presentation of the report findings in February.
Even a year later, as rural, outdoors-based tourism rebounds at a stunning pace, urban tourism is still piecing together its plan to recover from the impacts of COVID-19.
Salt Lake County's tourism is at the center of it. Its lag is one key reason why tourism industry experts believe it will take a few years for Utah to reach the same revenues reported in 2019.
Understanding Salt Lake County's tourism relevance and COVID-19 impact
When you think Utah, you probably think outdoors. That's because of the state's highly successful "Mighty 5" and "Greatest Snow on Earth" tourism campaigns. In fact, state tourism officials even liken the "Mighty 5" national parks to France's Eiffel Tower in that the parks are a global symbol of Utah.
The Gardner Policy Institute's annual tourism report found snow recreation and national parks to be Utah's top two individual tourism drivers.
Business is a much quieter tourism draw but a big one nonetheless. Salt Lake County conventions alone brought in close to $331 million in 2019, according to a 2020 report from the Gardner Policy Institute. It was the third-largest single tourism factor, resulting in nearly double the amount the Sundance Film Festival generated that year.
Since many hotels and restaurants are located in Salt Lake County, over $1 billion — or close to 15% of the entire state's visitor spending — went toward either restaurants or accommodation in the county. Nearly another $450 million in spending came from recreation or performing arts or spectators sports combined.
---
Salt Lake really is a huge piece of that economic pie, especially related to traveler spending. What we're able to produce from the visitor economy side is really beneficial to all Utahns and all Salt Lake County residents.
–Kaitlin Eskelson, president and CEO of Visit Salt Lake
---
There's also Salt Lake International Airport, which is a major driver in travel into the state, especially from the East Coast and internationally. All of these factors helped it account for $3 billion in visitor spending two years ago, according to the policy institute. Visitor spending in Salt Lake County was close to three times more than any other county in the state.
Its successes are why people like Kaitlin Eskelson, president and CEO of Visit Salt Lake, a private, nonprofit organization that promotes Salt Lake County tourism, are quick to rifle off statistics related to what tourism means for the state and local economy. The industry supports 1 in every 11 jobs in the state and the annual visitor economy equates to $1,166 in annual tax relief for county residents, according to the organization.
"Salt Lake really is a huge piece of that economic pie, especially related to traveler spending," she said. "What we're able to produce from the visitor economy side is really beneficial to all Utahns and all Salt Lake County residents."
All signs were pointing to another banner year for Salt Lake County in 2020, as well. But when COVID-19 struck, it left a dent in the county's tourism and the urban tourism industry as a whole. How big was that dent? A more scientific number is still being calculated, but it's safe to say it was a significant one.
"We have been hit very dramatically," Eskelson told KSL.com during an interview Thursday.
The threat of COVID-19 spread meant many wanted to avoid large gatherings — the type of events that urban tourism thrives on. Nearly 100 group bookings or conventions were canceled after March 15, 2020, according to Visit Salt Lake.
The organization estimated those cancellations resulted in a loss of over 350,000 travelers and more than 550,000 downtown hotel stays, which in turn meant a $357 million economic hit for the county based on previous spending trends.
Concerts and all sorts of other events were also canceled. Restaurants suffered from the lack of in-person dining and hotels struggled to bring in out-of-state guests. The list of impacts could go on and on.
In its preliminary 2020 tourism report earlier this year, the Gardner Policy Institute found a few staggering statistics tied to urban tourism. First, there were travel statistics into Utah.
Even by November 2020, the number of passengers at Salt Lake City International Airport was 50% below the numbers reported at the same time the year before. Leisure and hospitality sales had improved from a 50% dropoff in April but remained below 2019 levels, while car rentals and U.S. travel spending were also down significantly.
In its March report, the U.S. Travel Association stated that national travel remained down 60% in February compared to February 2020.
The policy institute report also provided one of the starkest contrasts in national parks versus urban tourism, too. One graphic showed hotel occupancy rate percentages in 2020 between Springdale and downtown Salt Lake City.
Springdale, by Zion National Park, had returned to 2019 occupancy levels by the end of summer 2020. It ended the year with occupancy rates exceeding December 2019 as the park experienced record visitation numbers to close out the year. Those trends carried into 2021 and haven't really leveled off.
Salt Lake City's occupancy rates didn't experience the same story. After March 15, the rate plummeted to a fraction of occupancy rates at the same point the year before.
"There was a long period of time that our downtown hotels didn't hit 20% occupancy," Eskelson explained, noting that the entire fleet of rooms would normally be about two-thirds full. "And on some days, there were simply just a handful of rooms taken; so, 20% was a good day back last summer."
While that deficit slightly improved as the year went on, it ended 2020 nowhere near December 2019.
In addition to lost revenue for businesses and for the state, the Gardner Policy Institute estimated that Salt Lake County's transient room tax revenue fell 48.5% in 2020 compared to 2019. That's tax money that goes toward organizations that promote tourism. Lost tax revenue there makes it more difficult for those groups to promote more tourism, which could result in fewer tourists and a downward cycle for the leisure and hospitality industry.
Like the Utah Office of Tourism, funds were provided to Visit Salt Lake so it could continue advertising the county. Visit Salt Lake received a grant from the money provided to the Office of Tourism to keep operations afloat.
Eskelson said the organization "went dark" at times to save money as they shifted their short-term marketing model from drawing in national and international travel to more about "staycations" and road trips. The organization also provided incentives for small groups to book in 2021 to keep hotel rooms booked.
The economic conditions are still sluggish for the bastion of Utah tourism, but there are now signs the industry is slowly rebooting.
On the rebound in 2021
As documented earlier in this series, national parks tourism has recovered with vigor. Updated preliminary National Park Service visitation data now show Zion National Park's visitation through the first three months of 2021 is up about 40% from the first three months of 2017, which was its busiest year on record.
Related:
It's been much slower for the business conference side of tourism, but it's starting to show signs of life again. For instance, that aforementioned U.S. Travel Association report in March stated that the number of airport screenings and hotel bookings had reached the highest levels seen since the COVID-19 pandemic hit in full force back in March 2020.
In Salt Lake County, the Salt Palace Convention Center will begin allowing "modest-sized groups" on May 15. Visit Salt Lake announced last month it had booked 27 future large meetings, athletic events or conferences over the course of the first two months. The events were expected to draw in 64,000 attendees, provide over 100,000 hotel room nights and spend over $62 million into the economy.
Among them, Kiwanis International will hold its 2021 conference in Salt Lake City this June for a hybrid in-person and telecast conference. The county won't collect economic benefits from telecasts but tourism experts like Eskelson believe it's a gamble that could pay off in the long run. That is, she believes those attending virtually won't feel like they are gaining the same experience as attending in-person and will travel once they feel safe to do so.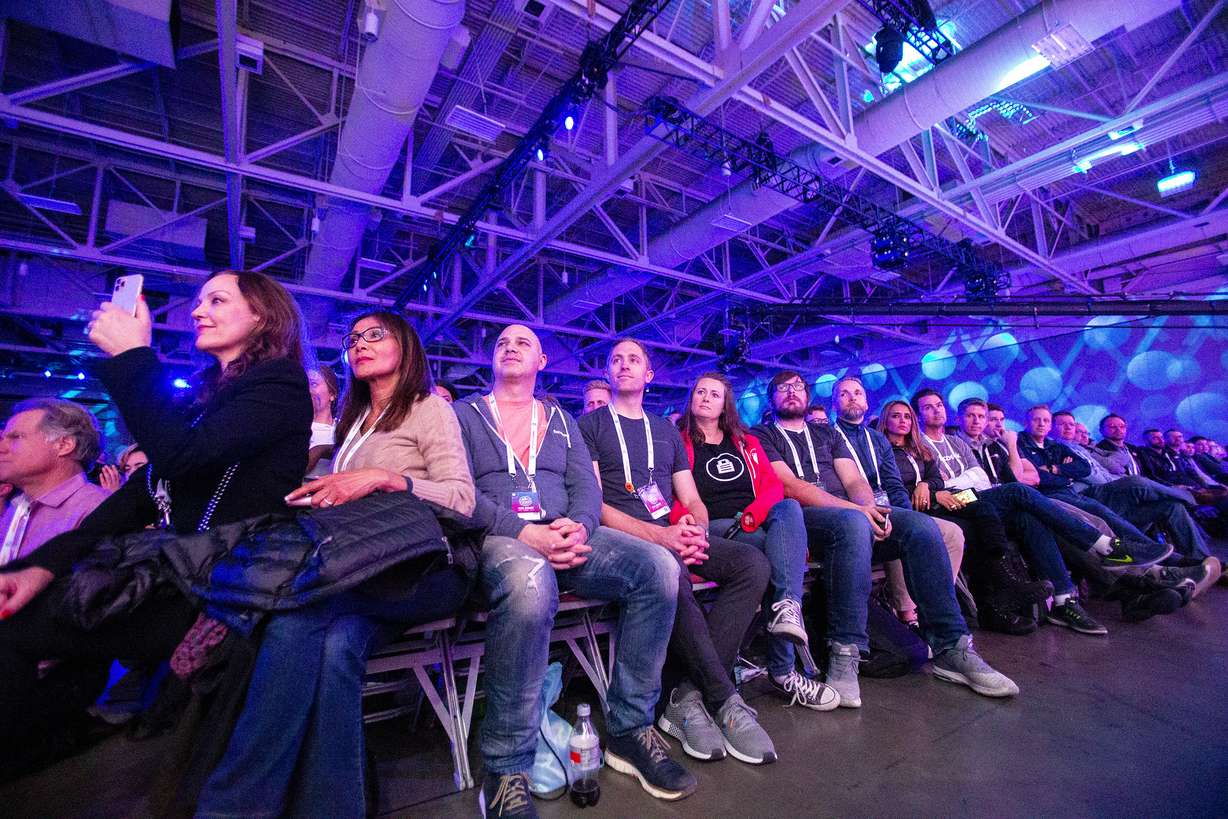 Other business conference regulars like doTERRA, Silicon Slopes and the National League of Cities have also booked events in the city for the tail end of 2021. Lehi-based financial tech giant MX booked Snowbird Resort in the mountains outside of the city for its conference in September, as well.
"Really, our second and third quarter numbers this year are looking extremely, extremely strong," Eskelson said. "We're seeing pent-up demand. We're seeing that consumer sentiment start to shift. We're seeing conventions that want to move forward with in-person events. It's becoming stronger and stronger."
A few of the events now booked for Salt Lake County were actually supposed to be held elsewhere in the U.S. but were switched to Utah. For example, the Association for Talent Development moved its 2021 conference from Los Angeles to Salt Lake City. That's expected to bring 7,000 people to Utah at the end of August.
Last-second switching like that is pretty rare in the industry but something Visit Salt Lake promoted as Utah's COVID-19 situation improved faster than other cities. The American Clean Power Association was one of the latest bookings to Salt Lake City. It is scheduled to have a downtown event in early December.
Another important aspect is that many events are booked a few years in advance. So while many events in 2020 were canceled, Visit Salt Lake still compiled a top five year in terms of booking future events — events years from now and likely beyond the concerns of COVID-19.
"The future of events is extremely promising," Eskeleson added.
A longer road to recovery
Still, experts believe it will be some time before Utah's urban tourism fully recovers. Vicki Verela, the director of the Utah Office of Tourism told KSL.com in January that she didn't expect the entire state tourism to return to pre-pandemic revenue levels until at least 2024.
Urban tourism was a major reason for her assessment. Even as urban tourism shows signs of life, Eskelson said she still agrees with the assessment for how long it will take for the industry to recover.
"It's going to take a couple of years for everyone to get back to where they were, and I think there's a lot of outside influences that contribute to that," she said.
The largest factor remains COVID-19. Unlike national parks visitation, where attendance figures rose even in the middle of Utah's worst COVID-19 wave to date, most urban tourism struggled when COVID-19 cases were high.
Concerns over a "fourth wave" of COVID-19 or variants breaking past fully vaccinated people have obvious public health concerns but could hold economic ramifications.
On a global scale, there's an uneven distribution of vaccines and some countries are still dealing with lockdowns to avoid further spread of the coronavirus. As long as that continues, Eskelson said it's unlikely that the "lion's share" of normal international travel to Salt Lake City will resume anytime soon.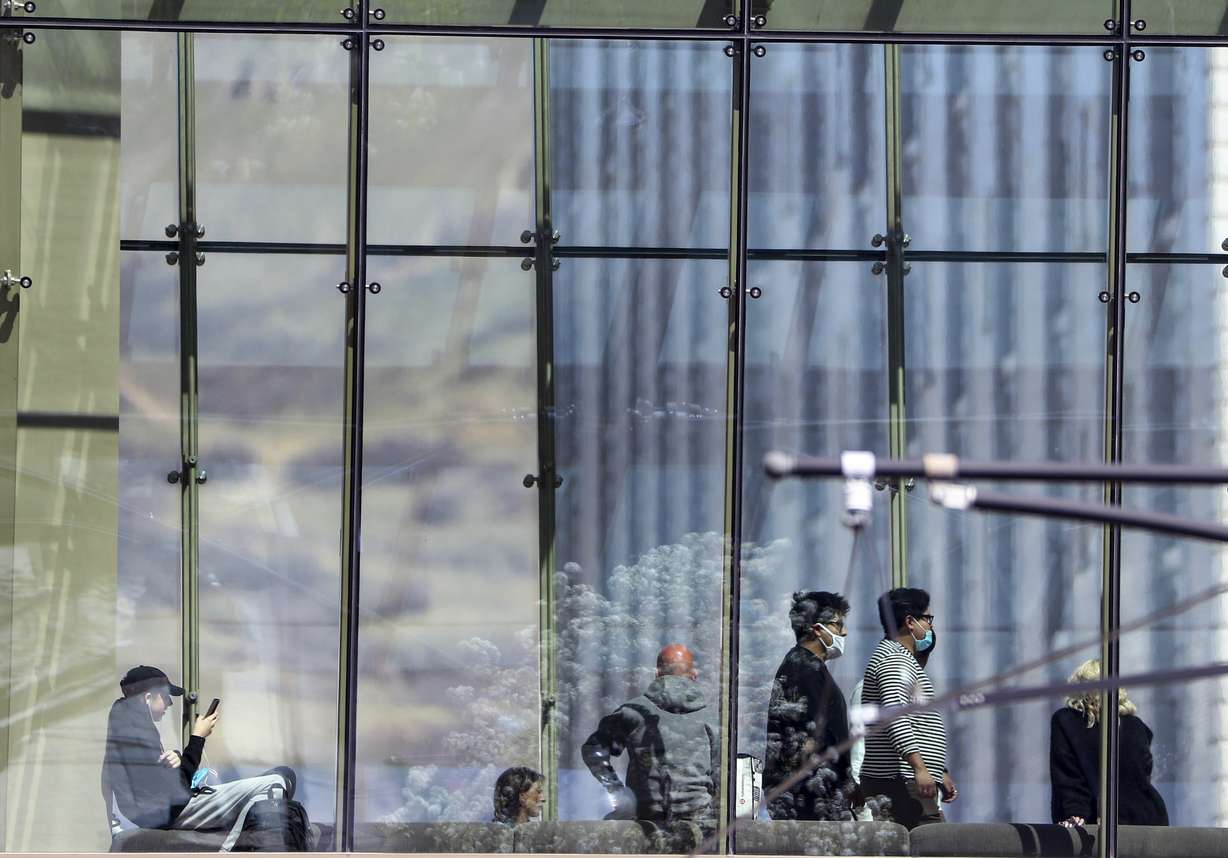 Urban tourism, in many ways, could be viewed as a barometer for progress made in combating the coronavirus. If outdoors tourism's rebound is proof the desire to travel still exists in the age of COVID-19, urban tourism is the test of how comfortable travelers are in attempts to reach a "new normal."
"When business is looking up for us, it's sort of like all business is looking up. Comparatively, all business is looking down when (our business is down) as well," Eskelson explained.
Given the safety measures in place and its closeness to nature, she added that she believed Salt Lake City might be better positioned than most city tourism markets nationwide.
---
We are going to find a way out of it ... It's just the matter of having the grit and the patience to get through these hard years.
–Utah Office of Tourism director Vicki Varela
---
At the same time, there are a few projects completed or closing in on completion that could expand urban tourism to new levels once the recovery does occur. City, county and state officials celebrated the arrival of the new Salt Lake City International Airport terminals last year, which was completed ahead of schedule. The new airport allows for more traveling capacity into the state.
Work is still underway for the new Hyatt Regency convention hotel. The project is expected to be completed next year and an opening date is slated for fall 2022. Like the airport, it's expected to increase the number of hotel rooms in the city and allow for more to attend conferences.
Visit Salt Lake viewed those projects as something that could put Salt Lake City on another "tier" when it comes to drawing in conventions, which would then trickle down to nearby retail businesses and restaurants. Both projects could also help the county reach pre-pandemic economic figures ahead of schedule.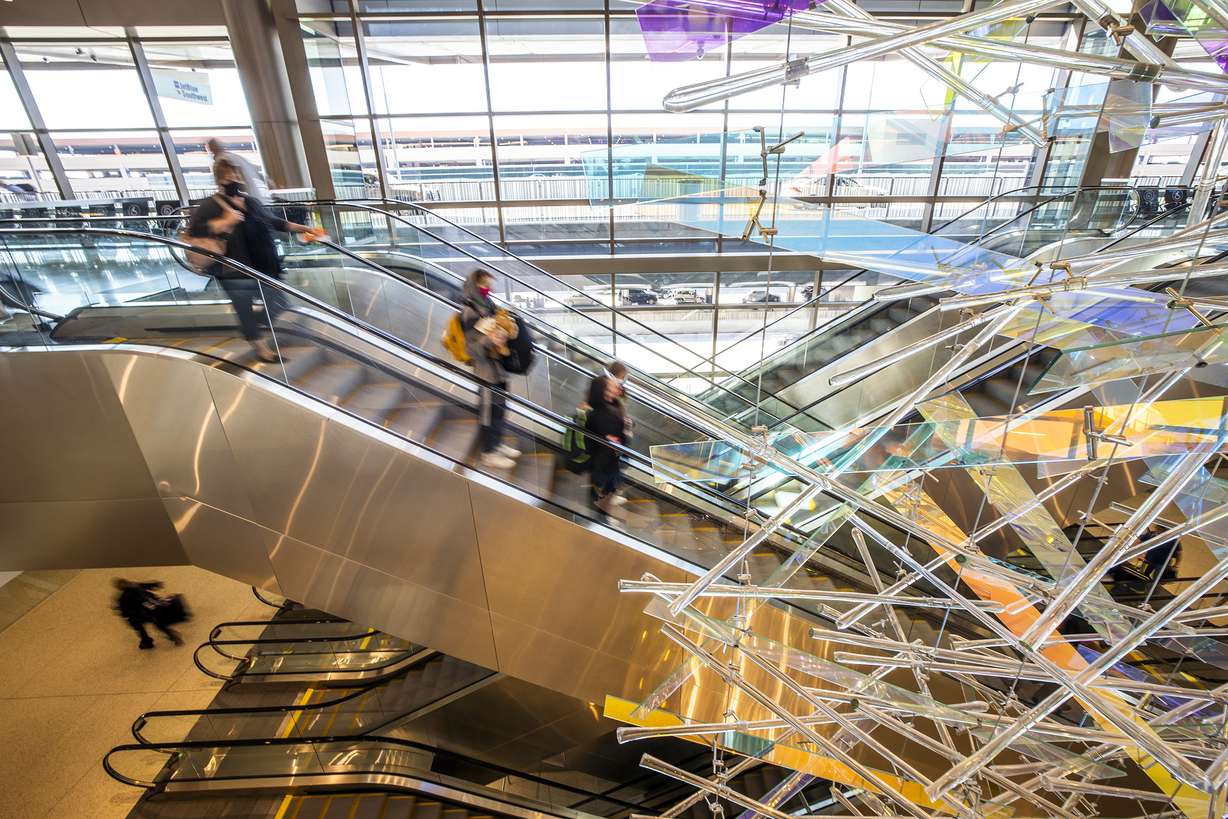 "I think everyone loves shiny new objects in or out COVID and I think both that Hyatt Regency (hotel) and the Salt Lake International Airport are those, and they're now starting to grab the attention of meeting planners and travelers that want to come and experience it," Eskelson said.
Time will only tell exactly when the urban industry recovers and that will likely be when the state's tourism industry, as a whole, returns to pre-pandemic economic revenue numbers.
When Varela spoke with KSL.com in January, she was optimistic that Utah tourism would return to normal one day in the near future.
"We are going to find a way out of it," she said. "It's just the matter of having the grit and the patience to get through these hard years."
×
Most recent Business & Tech stories