Estimated read time: 2-3 minutes
This archived news story is available only for your personal, non-commercial use. Information in the story may be outdated or superseded by additional information. Reading or replaying the story in its archived form does not constitute a republication of the story.
SALT LAKE CITY — A state trooper is recovering from some minor injuries after he made the split-second decision to force a wrong-way driver off the road.
That driver somehow traveled the wrong way on the 600 South freeway on-ramp in Salt Lake City early Sunday, going against the flow of traffic along Interstate 15.
"I was around 7200 South, northbound already," said Utah Highway Patrol Trooper Devin Henson.
Henson caught up with the wrong-way driver at around 4500 South in Murray.
"All my emergency equipment is on — all my red, blue lights, sirens, all of that — trying to get the guy to slow down and react to my lights," he said, adding that he even swerved side to side, but the driver simply tried to pass him.
"And at that point, I did what is called a wrong-way intercept and swerved my car back to the left, into his vehicle," Henson said.
The front corner of Henson's cruiser struck the driver-side of that red sedan. It's the reason why Henson is recovering from whiplash and a sprained ankle.
"A split-second decision to be able to make that impact and stop his vehicle, as opposed to (having) him keep driving on and put someone else's life in danger there," Henson said.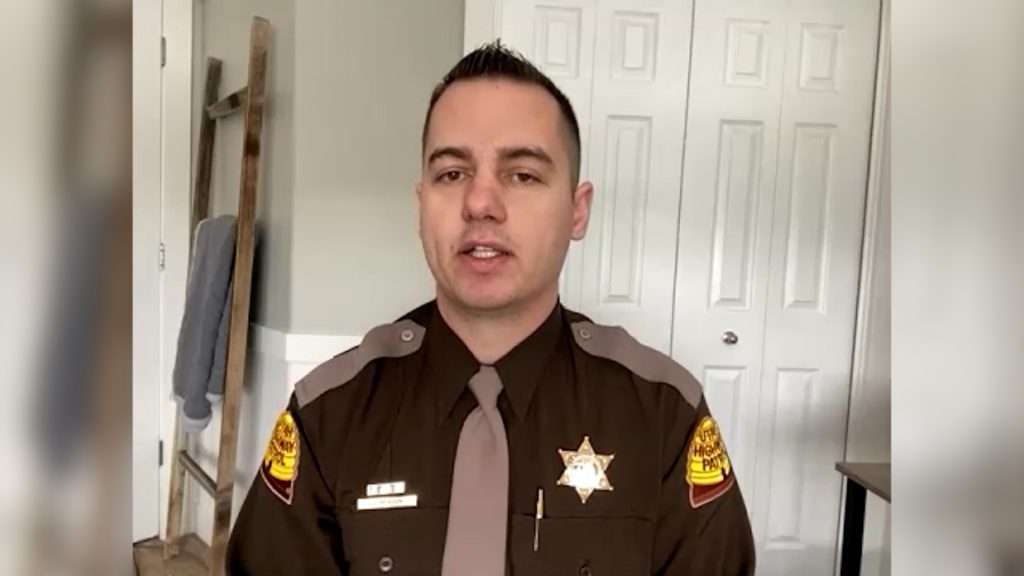 Those head-on crashes can cause some very serious injuries.
Utah has already had 30 wrong-way crashes in Utah this year, with two of them ending in deaths, according to the UHP. The latest was Sunday night in North Salt Lake, when a wrong-way driver struck motorcyclist Greg Workman, of Weber County, who was 24.
The agency reports there were nearly 300 wrong-way crashes in 2021 and 340 in 2020.
"In 2021, we saw a little bit of a decrease, but it's still a trend that's alarming," said UHP Sgt. Cameron Roden. "And a lot of times, ends in a very tragic situation."
Roden says a driver's best defense against a wrong-way car is simply to focus on safe driving and slow down.
"Giving yourself as much time to be able to react to a hazard as possible, such as a vehicle coming at you, is going to give you as much of a chance as anything," he said. And, as safely as possible, call 911, to give law enforcement a chance to try and get that driver off the road.
Roden says the big message they want to get out of this is don't drink and drive. He says the bulk of those wrong-way crashes come because of impaired drivers.
×
Related stories
Most recent Utah stories