Estimated read time: 3-4 minutes
This archived news story is available only for your personal, non-commercial use. Information in the story may be outdated or superseded by additional information. Reading or replaying the story in its archived form does not constitute a republication of the story.
SALT LAKE CITY — Here are 10 stories you may have missed over the weekend. As always, click on the headline to read the full story.
1. Utahns rally for health officials — not politicians — to determine COVID policies
A couple hundred individuals rallied on the state Capitol steps Saturday in favor of letting health officials make public health decisions instead of politicians. The attendees are frustrated at the Utah Legislature majority's actions to outlaw mask mandates across the state and asked for local control and health department control over health issues.
2. Family of slain Hunter High student condemns bullying, but says it doesn't justify killing
The family of a 14-year-old Hunter High student who was shot and killed earlier this month said they stand against bullying in every form, but said that doesn't justify taking a life.
3. 11-year-old learning to drive crashes SUV into West Jordan home, police say
An 11-year-old being taught how to drive by her stepfather crashed into a home in West Jordan on Sunday. The stepfather was teaching the child to drive "in case there was ever a need," West Jordan police officer Sam Winkler said.
4. Home detention ordered for airman who set police car on fire during Salt Lake riot
A federal judge granted mercy to a man who set fire to a Salt Lake police car during a downtown riot on May 30, 2020. Larry Williams, 24, walked out of the federal courthouse after sentencing on Friday with an order to serve two years of supervised home detention, when he could have been sentenced to several years in prison.
5. Couple arrested in Utah charged with having 11 pounds of fentanyl in car
Police arrested two people following a traffic stop who they say had 11 pounds of fentanyl pills in their car.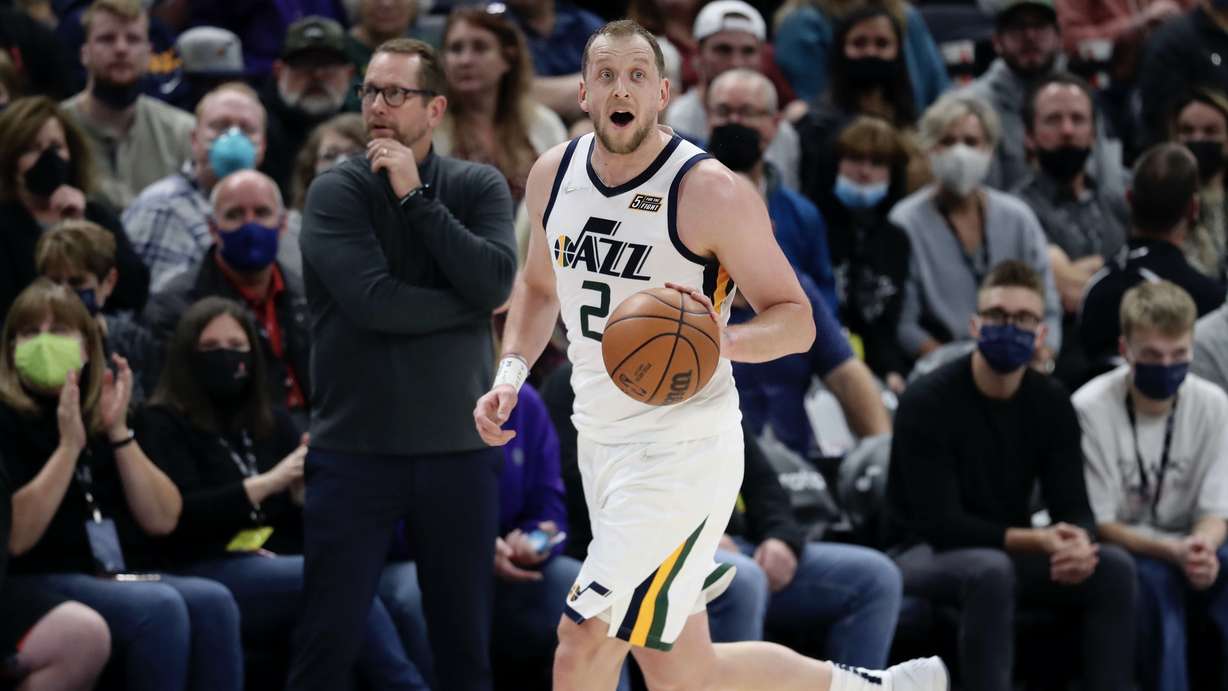 Sports
1. Joe Ingles suffers knee injury in Jazz loss to Timberwolves
Minnesota took full advantage of a Jazz team without its two biggest stars and its head coach (among others) and rolled to a 126-106 win.
For the Jazz, it was the team's fifth straight loss as they move to just 2-11 in their last 13 games.
2. Bad loss alert: Pacific stuns BYU for first WCC win in over a year
Freshman Nick Blake scored a season-high 20 points, and the Tigers snapped a seven-game losing streak with a 76-73 win over BYU, handing the Cougars their first Quad 4 loss of the year and instantly pushing the visitors from Provo to the brink of NCAA Tournament at-large consideration.
3. Balanced attack gives Utah State a decisive win over Nevada
Nevada students donning white shirts, ties and bike helmets, stood sheepishly as former Nevada Reno missionary Justin Bean led the Aggies to a balanced victory.
4. Maile O'Keefe scores perfect 10.0 on beam as No. 2 Red Rocks beat Stanford
In a Saturday afternoon meet, Utah used a season-high beam event to beat the visiting Stanford Cardinal 197.675-196.000 in front of an announced crowd of 11,138 raucous fans in the Huntsman Center.
5. Hotty Toddy: Former Utah prep star Jaxson Dart transfers to Ole Miss
After a year at USC, the former Corner Canyon and Roy High standout is headed for Oxford, Mississippi.
×
Most recent Utah stories